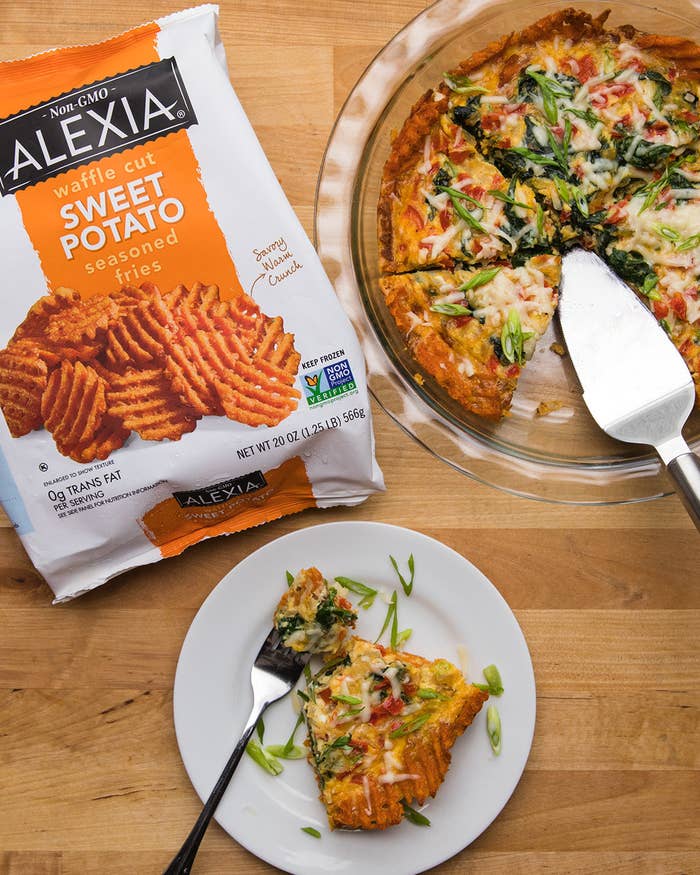 Servings: 6

INGREDIENTS:
1 bag Alexia Sweet Potato Waffle Fries

1 tablespoon olive oil

½ small onion, diced

1 red bell pepper, diced

2 teaspoons salt, divided

2 handfuls baby spinach

5 eggs

1 cup milk

½ teaspoon pepper

¼ cup scallions, thinly sliced, plus extra for garnish

¼ cup parmesan, plus extra for garnish

PREPARATION:
Preheat oven to 400ºF/205℃.

Coat a 9-inch pie dish with cooking spray. In the dish, lay out the Alexia Sweet Potato Waffle Fries in a single, even layer to form a crust, including a wall of waffle fries going up the sides of the dish.

Bake for 20 minutes, until hot and crispy. Remove from oven and lower temperature to 350ºF/175℃.

While crust is baking, prepare filling. Heat olive oil in a saute pan. Add onion and saute for 3 minutes. Add the bell pepper and 1 teaspoon of salt, then saute for 3–4 minutes. Add spinach and saute for 1 minute, until wilted. Remove pan from heat.

In a large bowl, whisk together eggs, milk, 1 teaspoon salt, and pepper. Pour in vegetable mixture, scallions, and parmesan, then stir to combine.

Pour egg filling into crust and bake for 25–30 minutes, until egg is completely cooked.

Let cool for 10 minutes, then garnish with extra parmesan and reserved scallions.