Loaded Pulled Pork Fries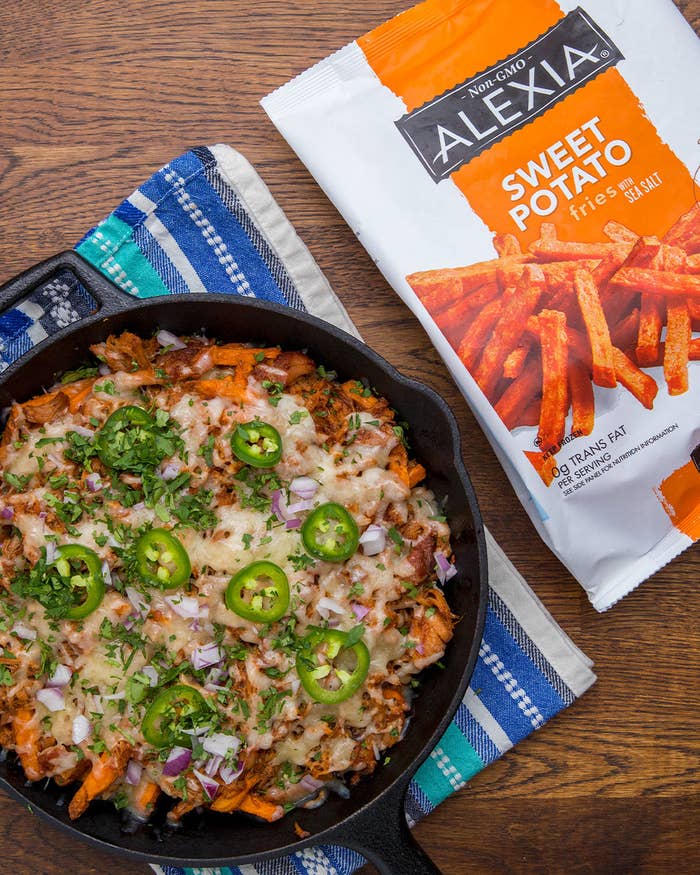 Servings: 6–8

INGREDIENTS
Pulled Pork
2 pounds pork shoulder

2 tablespoons olive oil

3 tablespoons apple cider vinegar

1 teaspoon Worcestershire sauce

3 tablespoons tomato paste

1 tablespoon dijon mustard

2 garlic cloves, minced

1 ½ tablespoons salt

3 tablespoons brown sugar

1 teaspoon pepper

1 teaspoon paprika

1 teaspoon chili powder

¼ teaspoon cayenne

Fries
1 bag Alexia Sweet Potato Fries

6 ounces grated white cheddar cheese

2 tablespoons diced red onion

2 tablespoons minced cilantro

Jalapeño, optional

PREPARATION:
Cut pork shoulder into large chunks, 3–4 inches wide, and add to the base of a slow cooker. Whisk together the rest of the pulled pork ingredients and pour over pork.

Cook on high for 4–6 hours, until completely tender and easy to pull apart. Add a splash of chicken broth or water if it needs more liquid while cooking (check every hour or two). Shred the pork.

Preheat the oven to 400ºF/205℃

Evenly spread out sweet potato fries on a sheet tray. Bake for 20 minutes. Remove from oven.

Scatter half of the fries in a cast-iron skillet. Layer pulled pork on top of fries, then top with a heavy sprinkle of cheese. Repeat layer of fries, pork, and cheese. Bake in oven for 5–7 minutes, until cheese melts.
Remove from oven and garnish with red onion, cilantro, and jalapeño. Serve!