Khloé Kardashian is no stranger to making headlines because of her appearance...but she never really lets on about how much it affects her.
The Keeping Up With the Kardashians star often deflects negative commentary about her appearance with humor, recently telling a troll that her often-changing appearance comes from a "weekly face transplant."
But after Khloé watched a TikTok video where a fan defended her in response to an unflattering headline from a media outlet, she decided to speak out.
In the video, TikTok user @mackincasey called out the outlet's comparison photos of Khloé from 2007 and 2021 and noted how anyone could drastically change over more than a decade.
Khloé took to the comments section to respond, writing, "I don't want anyone to kiss my ass. I'm not asking for that. But what I am asking for is for people to realize just what articles like this [do] to someone's soul and confidence."
Khloé continued, "I am so very grateful and appreciative of anyone who stands up to bullying or people writing [stories] simply for clickbait. Defending someone, Especially when we don't know one another makes [my] heart happy. That's the person I am. I like to defend what is right."
She went on to thank everyone who left kind comments, and personally thanked Casey for coming to her defense.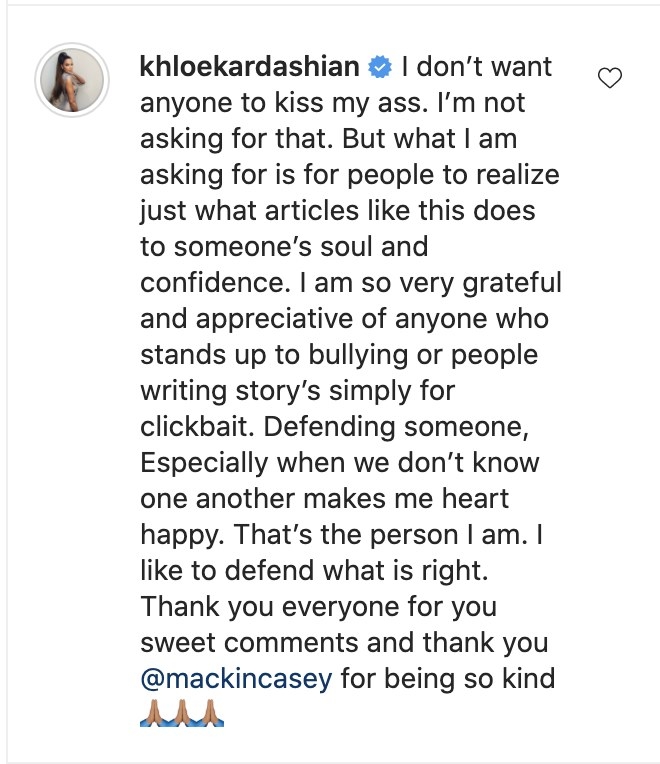 Khloé will no doubt be sharing more feelings like these on the final season of Keeping Up With the Kardashians, which begins tonight.