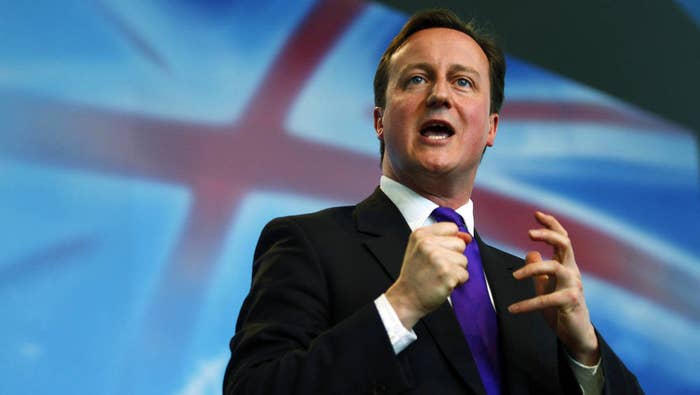 David Cameron is the second most popular leader in the EU - according to a new poll.
He finished second behind German Chancellor Angela Merkel, with 35% of those asked saying they viewed the Prime Minister positively.
However, almost a quarter of Europeans - 24% of those questioned - said they didn't even know who he was.
And the same poll also shows Cameron to be the second LEAST popular leader, equal with Merkel, with 20% saying they had a negative opinion of him.
Overall, 4% said they had a 'very positive' opinion of Cameron, 31% said 'fairly positive', 15% said 'fairly negative' and 5% said 'very negative', while 21% knew of him but had no opinion either way.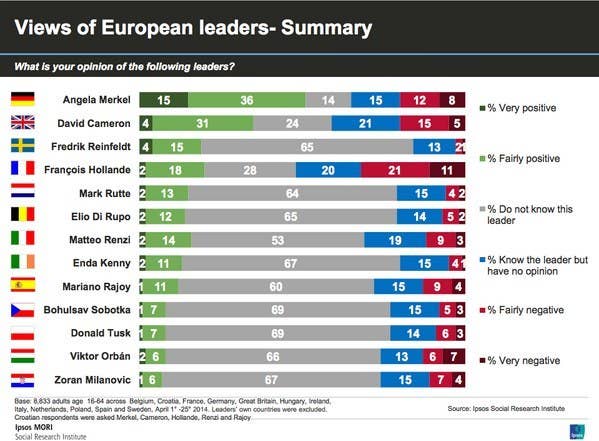 The results were collected by market research organisation Ipsos MORI, who asked 8,883 adults across Europe their opinions of the leaders
People between the ages of 16-64 in Belgium, Croatia, France, Germany, Great Britain, Hungary, Ireland, Italy, the Netherlands, Poland, Spain and Sweden were polled, while Croatian respondents were asked only about the British, German, French, Italian and Spanish leaders.
People were not questioned on their own leaders, which helps explain why the percentages for 'do not know this leader' were so high.
A huge 51% said that Angela Merkel had made a positive impression on them, while just 14% said they didn't know who she was
This only helps cement Germany's place at the top of the EU pecking order.
Meanwhile, French President François Hollande comfortably gained the unwanted honour of being the most unpopular leader - 32% said they had a negative opinion of him, while just 20% viewed him positively.
A wider trend in the finding shows that a lot of people just don't know who other EU leaders are
Only 60% could name such prominent people as Spain's Mariano Rajoy and 53% had never heard of Italian Prime Minister Matteo Renzi.
Ireland's Edna Kenny was among the least known on the list, but 13% did at least see her positively, as opposed to just 5% negatively.