This week, Latinas on Twitter created a discussion using the hashtag "HispanicGirlsUnited."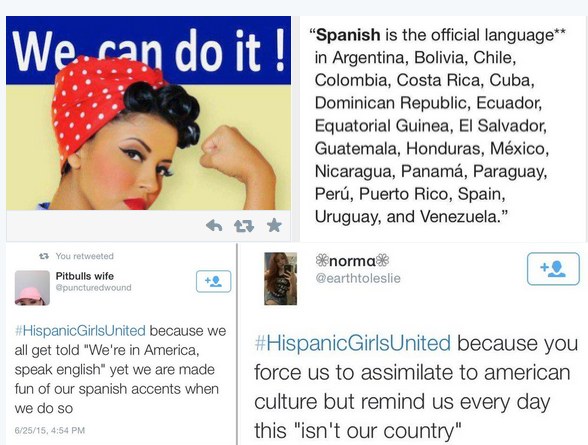 1.
Some of the Tweets were as hilarious as they were on-point.
2.
While others delved into serious issues surrounding citizenship.
3.
Some pointed out the inherent hypocrisy of embracing aspects of Latin American culture while rejecting its people.
4.
Jane the Virgin star Gina Rodriguez added her voice to the chorus.
5.
And Latina magazine reminded us that there is much work yet to be done.
6.
Many Tweets noted the vast diversity within the Hispanic/Latina community.
7.
And some even noted that the names we choose carry much weight.
8.
Others focused on that the fact, while we're all so different, we can still stick together.
9.
Many pointed out the way others fail to understand just how vast and varied a people we are!
10.
In fact, the United States? Has been home to Latinos for generations.
11.
Some looked to pop culture...
12.
Others looked to the sacrifices and accomplishments of their mothers...
13.
...And the dedicated fathers who forged a path for their kids to follow.
14.
While others turned to the strong women who have kicked ass throughout history.
15.
Some reminded people that being Latina doesn't necessarily mean having an accent.
16.
And still others noted that you don't need to speak Spanish to be Latina.
17.
...Nor do you have to be of any particular faith.
18.
Others pointed out the fetishization Latinas often face.
19.
And some highlighted the struggles we face within our own families and cultures.
20.
As others have pointed out: It's our time.