Becky G, 17, is standing in the middle of a crowded living room in Los Angeles' Lawndale neighborhood, where everyone is talking about her underwear. She's wearing a dangerous-looking skirt: vintage and covered in metal spikes, with a sheer panel that shows off her entire leg, ankle to hip. It's nine in the morning and her mom is there, as is her aunt, one of her cousins, her style team, and a seamstress. They're all studying her intently.
"Less butt," Becky's mom says. The stylist, looking on from another angle, considers a different undergarment. "The American Apparel kind," she says. "It has fuller coverage." Everyone nods and hands fly, each carefully marking what should show and what must be covered.
The stakes here are a bit higher than your average prom — Becky is a pop singer and rapper, preparing her red carpet look for MTV's Video Music Awards. In a couple days she'll be attending the awards show for a second time, but this year she'll be promoting a bonafide hit — her song "Shower," released in April, climbed to the No. 16 spot on Billboard's Hot 100 chart over the summer. (In May, she reached No. 1 on the Latin Airplay chart with another song, Pitbull collaboration "Can't Get Enough.")
But playing out against a backdrop of family photos and a plaque announcing that "Mi casa es su casa," the scene at her home feels extremely familiar. The intersecting precepts of a traditional family upbringing and burgeoning pop stardom have come to define Becky's life. She lives with her parents and her aunt and cousins are next door. From her 2013 remix of J.Lo's "Jenny from the Block": "I still walk to the Kelso Market / Even though I get to walk them red carpets."
This duality hasn't gone unnoticed by Becky's label, Kemosabe/RCA, which is banking on the fact that in Becky, pop listeners will find a relatable human to adore. And not just pop listeners in general, but a growing number of young people who can see themselves in a young, second generation Mexican-American woman who speaks both English and Spanish, and sings about both crushes who make you sing in the shower and "praying the rosario."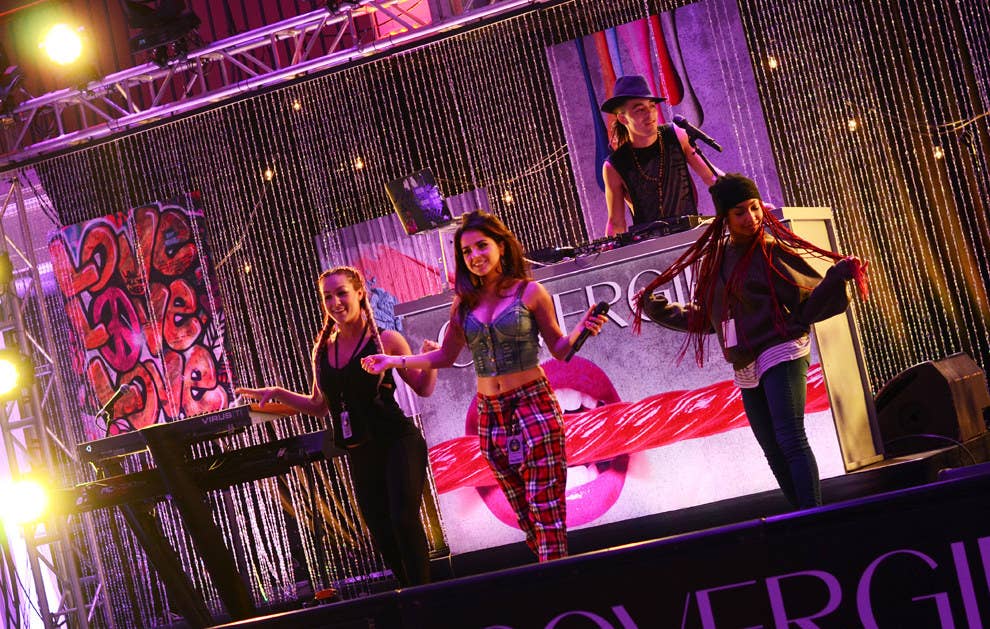 Becky G was born Rebbeca Marie Gomez, in 1997. At age 9, she had what she's curiously described as a "mid-life crisis." At the time, she was living with her family in her grandparents' garage and wanted to help out, so she began writing her own music, performing at local venues, and going on auditions to act in commercials. She started uploading videos of her remixes of popular songs to YouTube. In the video of her version of Jay Z and Kanye West's "Otis," released when she was 14, Becky raps about signing a bad music deal in the sixth grade, costing her family money. "I'm just keeping it real," she says, making her way through an empty building as boys in masks break TV sets and glass tanks around her. "I never lie to my fans."
It's that video that caught the attention of Lukasz Gottwald, the songwriter and producer who's made hits for Katy Perry, Miley Cyrus, and Rihanna under the name Dr. Luke. "Towards the end of that video, if you look when she's sort of in that last room, she says something like 'Power 106 did the verse without rehearse,' and at the end, she looks at the camera," Gottwald says over the phone from Los Angeles. "And you just see this crazy determination. You know? [Laughs.] She's serious."
In the Lawndale living room, Becky's been up since 1 a.m. the night before, when she was in the studio putting finishing touches on her forthcoming debut album. But if she's tired, it doesn't show. "Coffee is my water now," she says, not entirely joking.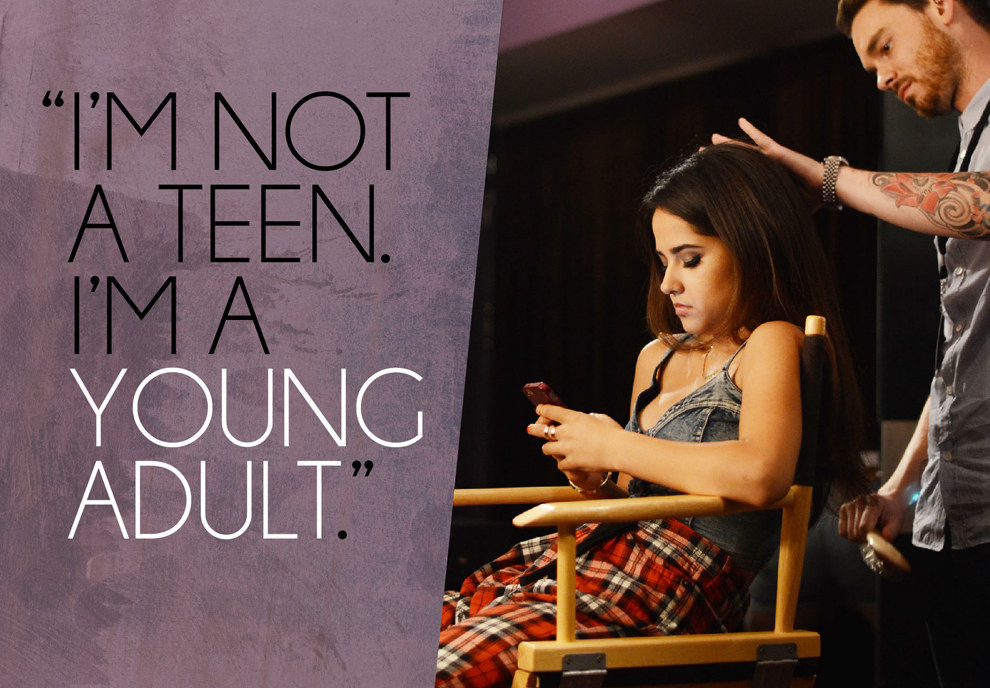 The skirt fitting kicks off a long day — Becky has a press junket and a performance at an official VMAs pre-party to prep for. Her mom, Alex, combs through looks Becky's stylist has pulled for the week, holding them all up. Alex is fond of using the words "fresh" and "dope." She has a son starting his freshman year of high school, and, as she'll readily tell you, glowing, he's taking AP classes and trying out for the soccer team. She's proud of all four of her kids.
One of Becky's managers, Ben, deems one outfit — a denim two-piece number — "very Latina." It's the only time during the day that Becky's background is explicitly mentioned, but "being Latina" is folded into her work and her image. Or, rather, the implications of "Latina" as a brand. As Variety Latino editor Angie Romero puts it, "no matter how much Becky grows and evolves into a mainstream artist, entrepreneur, etc — and she's headed in that direction, for sure — the core cultural identity aspect of her will always be there. And that's a huge credit to the way she was raised, by the way."
"When her family fell on hard times and lost their home and had to pack into a garage," she adds, "Becky says her parents did the best they could to make it seem like an extended fun sleepover at her grandparents' house. Nowadays she says she likes to pay for groceries and gas, little things like that. And you'll often see her sharing this side of her on social media, things like Instagram videos of her singing rancheras with her abuelos. These are the kinds of things you can't really force or erase. They're who she is. And I think her fans, who aren't just Latino by the way, really appreciate her for it."
At a makeshift makeup station in the family kitchen, Becky gets made up for the day. She sings while her style team work their mascara wands, rehearsing a Snoop Dogg verse she'll be performing later that night and a melismatic rendition of Christina Aguilera's "Genie in a Bottle." Word comes in that another one of Becky's two managers isn't too sure about the VMA skirt. "She is short and that's a long dress," her other manager, Ben, reads off his phone. "Needs to look long."
Becky is unfazed. She likes the skirt, so the skirt is going to happen. While her hair is being volumized — a process that involves something like a head massage and a lot of fierce concentration — Becky takes a moment to tease her mom after being called a teenager. "I'm not a teen," she tells her. "I'm a young adult." Her mom laughs, shaking her head, and, although Becky doesn't look like she's entirely kidding, she retracts her statement. "Just kidding," Becky continues, offering her mom a high five. "I'm your baby."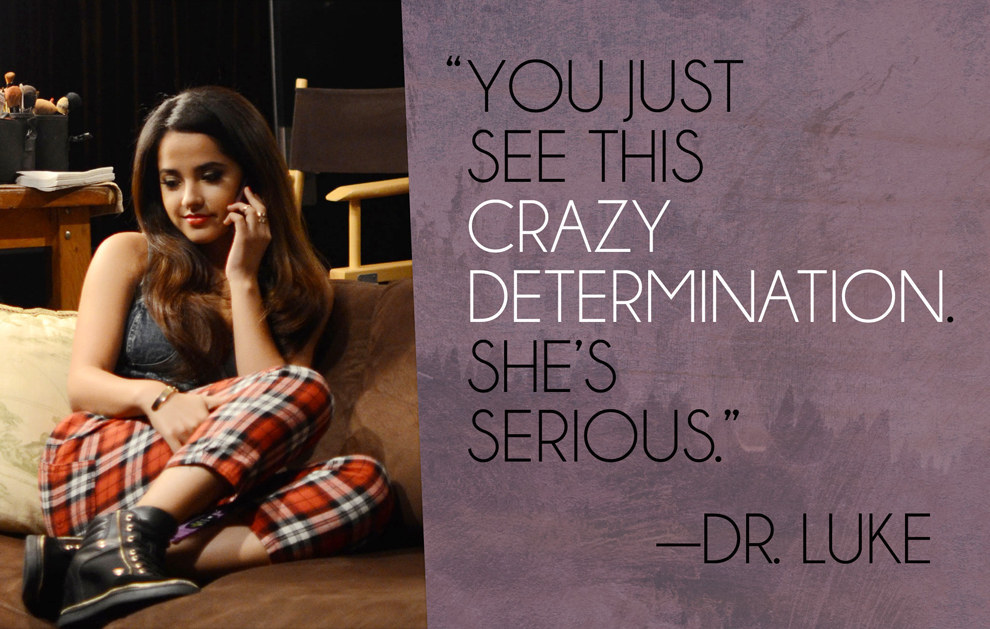 Overnight successes rarely ever are and, as a teenager, Becky G already carries herself with the air of a seasoned professional. Throughout the day we spend together, when a question is asked, by a driver or reporter or MTV handlers, it is Becky who answers. In an industry where stars, rising and established alike, are rarely ever without their solar system of managers, publicists, and hangers-on — all employed to guard their charges' image from their fans and the press — Becky speaks for herself.
In the afternoon, she completes a press junket at The Forum, this year's VMA location and an Inglewood landmark that features prominently in Becky's video for "Becky from the Block." The junket is a loud affair, involving Becky answering the same five questions to different outlets (Yes, she's excited to see Beyoncé's VMA performance).
Afterward, she insists on In 'N Out. On the drive there, she checks Instagram (Becky G's social media team = Becky G) and takes a few selfies. In the backseat, her cousin Freddie takes a few selfies, too. Starving, Becky says she's supposed to be eating healthy these days, and abstaining from "KFC four times a week." Still, she's quick to add: "It's nothing crazy. I'm not going to give up my happiness."
When we pull into the restaurant Becky is still dressed in her junket outfit, drop-crotch plaid pants topped with a denim corset. Her makeup is heavy enough to read on camera and she looks like a pop star, not like someone who's waiting on a burger and fries (with peperoncini, always) on a Thursday afternoon. I check to see whether anyone in line recognizes the girl who sings "Shower." One red-faced man, lurching towards the bathroom, does a double-take.
I ask Becky if there's anything that's surprised her about being famous, now that she's easing into it. She thinks about it for a while. "No," she says. "Not really." She thinks some more. "Except the hotel rooms! I go in and I'm like, wow, I'm used to staying at the Holiday Inn!" She laughs, and so does Freddie. He's just found out that he's accompanying his cousin, as her DJ, on her upcoming tour with Demi Lovato. "I fought for this," Becky tells him. Ben chimes in: "See? It's a family affair."
After lunch we make our way from Inglewood to Hollywood, where Becky soundchecks for tonight's show with Jessie J. The show is sponsored by COVERGIRL, for whom Becky is an official ambassador. Her screentime during the VMAs will mostly come from her role as a correspondent for the brand.
Flanked by four backup dancers and with Freddie as DJ, Becky runs through her set. Onstage, her entire demeanor changes. Her eyes narrow, she lifts her chin and rolls her shoulders back, taking on the kind of presence required to effectively sell lines like, "They saying that I'm the best / And I ain't drop an album yet / I got them waiting, anticipating." (For the record, Becky says her as yet untitled album will be released sometime early next year.)
At one point in her rehearsal, Becky sits, accompanied by an acoustic guitarist, and performs a stripped-down version of Katy Perry's "California Girls," including the Snoop rap she'd been practicing all morning. Slowed down and given a sultry edge, the lyrics "Sippin' gin 'n' juice / Laying underneath the palm trees," sound far more plausible coming from Becky G than they ever have coming out of Katy Perry. Nevermind that Becky is legally prohibited from sipping gin underneath palm trees (young adult though she may be).
One of the new songs Becky has been working on has a line about waking up to find "your side of the bed" empty. Her mom Alex thinks it's good enough to be a single, but Ben, who has been juggling a phone, a laptop, and conversation all day, isn't convinced that it's not too racy. But Becky "wants it in," he says, "so I'll push for it tooth and nail."
When I ask Becky about changing the lyric, she shrugs. She's not looking to offend people and she wants to handle the transition from teen performer to adult star as smoothly as she can. When I ask her if there's an example she looks to for how to manage that, she doesn't hesitate. "Hilary Duff," she says, nodding to the former Disney star who's now her labelmate. "She's been able to do that."
"You know, it's new for me," Dr. Luke says later, talking about working with someone as young as Becky. "Sometimes we'll just write the song and then we'll re-look at it and figure out what we need to take out. At the same time, we try to keep it as real as possible. So it may be more of a challenge for me than her, because my natural tendency is to write a song, you know, for, uh... of legal age artists." He laughs. "Artists that can drive and vote."
Becky's soundcheck performance is carefully practiced, but doesn't feel fabricated. It's the kind of performance that convinces you some people are meant for the stage. When I ask her if she misses out on experiencing some of the more normal trappings of teen life — high school, dances with friends in school auditoriums — she's not wistful. "My family are my friends," she says, adding that she "never really had friends at school, more like acquaintances." She remembers a time that she showed up to school wearing a tutu, much to the apparent confusion and disgust of her classmates. "I tried to explain to them that, you know how you play baseball or soccer? That's what entertainment is for me," she says. But when she was cast in a Kidz Bop video, her classmates never let her hear the end of it. Eventually, Becky switched to homeschooling. And these days, she schedules her classes around things like going on tour with Demi Lovato, Katy Perry, and Jason Derulo. And a possible trip to Scandinavia. She is, as Ben points out, "big in Scandinavia."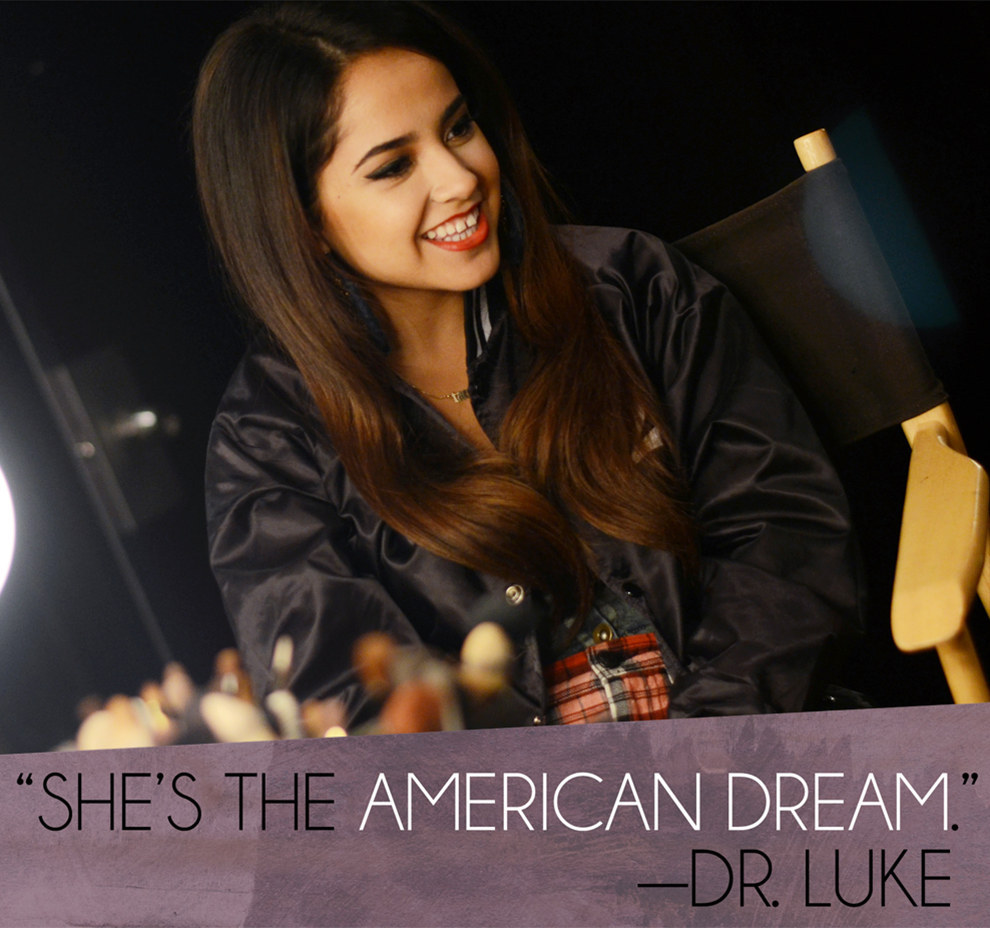 Of course, growing fame comes with its own problems, some of which aren't too different from discovering your classmates aren't exactly impressed by your clean-cut YouTube covers. I ask Becky how she deals with negative comments these days. "I don't know how mean this sounds," she says, "but I don't care." I believe her.
After soundcheck, Becky hangs out in her dressing room. In between getting made up and preparing to do more press, she watches videos on her phone. "Look at all these chickens!" she howls, cracking up. Her mom is beside her, laughing too. In a matter of hours, Becky will be on stage, and I remember exactly how young she is. I'm exhausted and her night hasn't even started.
"I think she's a great role model for her generation," Dr. Luke tells me when we speak on the phone. "You know, she's the American dream."
The "American Dream," of course, makes for a good marketing plan, and in this case it has the added benefit of being grounded in something genuine. Becky, despite her preternatural maturity and almost unnerving confidence, is very much real. She isn't a product and she's not yet a brand, lacking the household recognition of Beyoncé or her idols Jennifer Lopez and the late Mexican-American singer and actress Jenni Rivera. If everything goes according to plan, Becky will get there. Like Rivera, she'll be a superstar in a designer skirt and false lashes who still eats home-cooked food, loves her family, and walks the line between polished and edgy, alternating between sneakers and stilettos to do so.
She also calls to mind another, similar star, who will forever remain in that place between hometown realness and untouchable glamour. "Becky loves to quote that line in Selena when her dad goes, 'You're either too Mexican for the Americans or too American for the Mexicans. You can't be in the middle,'" says Angie Romero. "She's living proof that you can. Selena didn't live long enough to see that dream fully realized, but with Becky I get the feeling we haven't seen anything yet."
A previous version of this article incorrectly identified Jessie J as an official COVERGIRL brand ambassador.