This is Johnathan Lower, a real estate agent in South Carolina whose home improvement videos have blown up on TikTok. His DIY home movie theater, gym, and garage remodel have hundreds of thousands of views, but it's his most recent project, a doghouse for his 2-year-old pup Teddy, that has brought in millions.
"He likes to show people his house by leading them to it when they come in the front door!" Johnathan shared with BuzzFeed.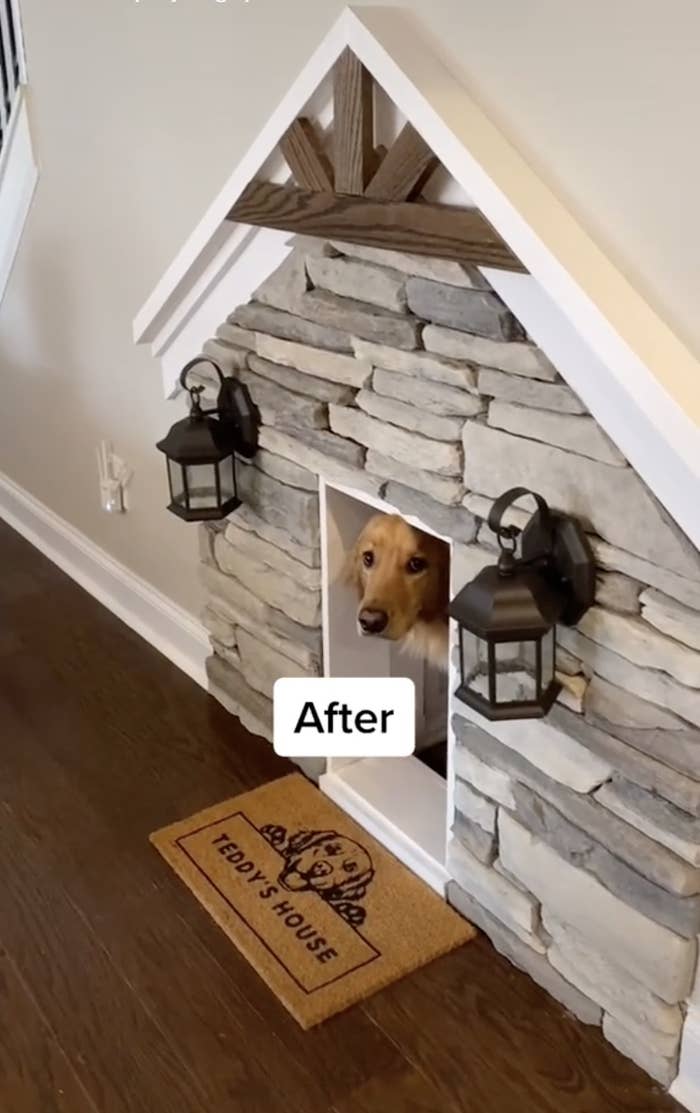 And can you blame him? Teddy's house has a ton of curb appeal. I mean, look at those sconces!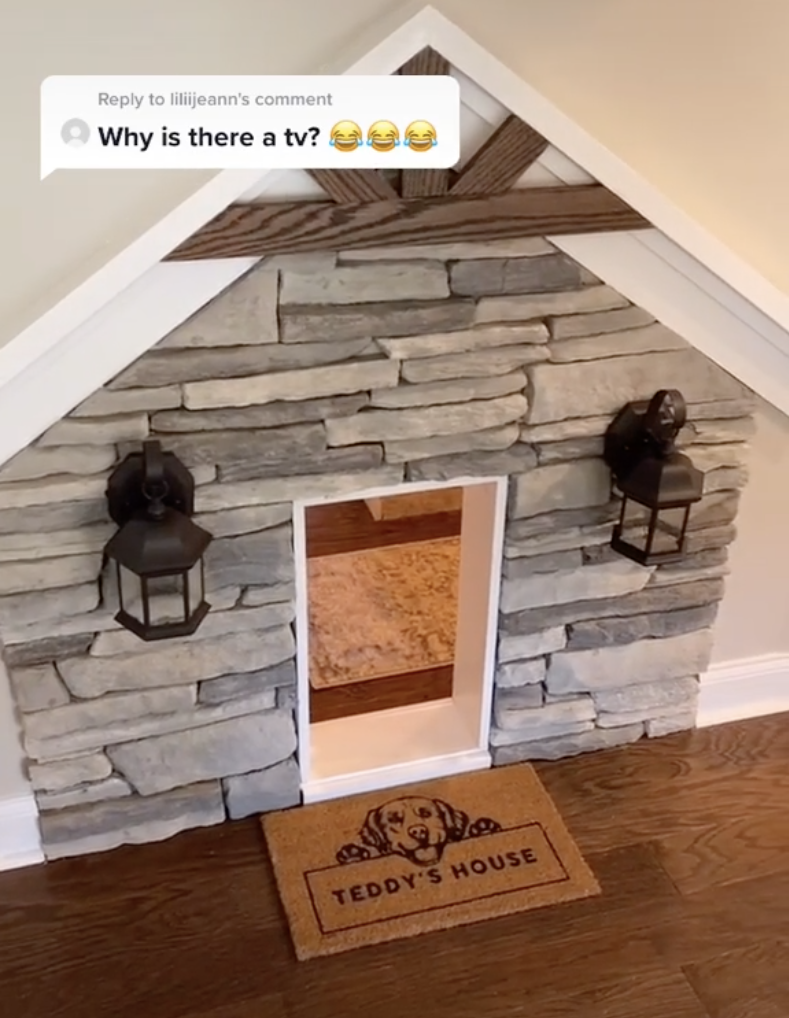 And the adorable welcome mat with Teddy's name and face.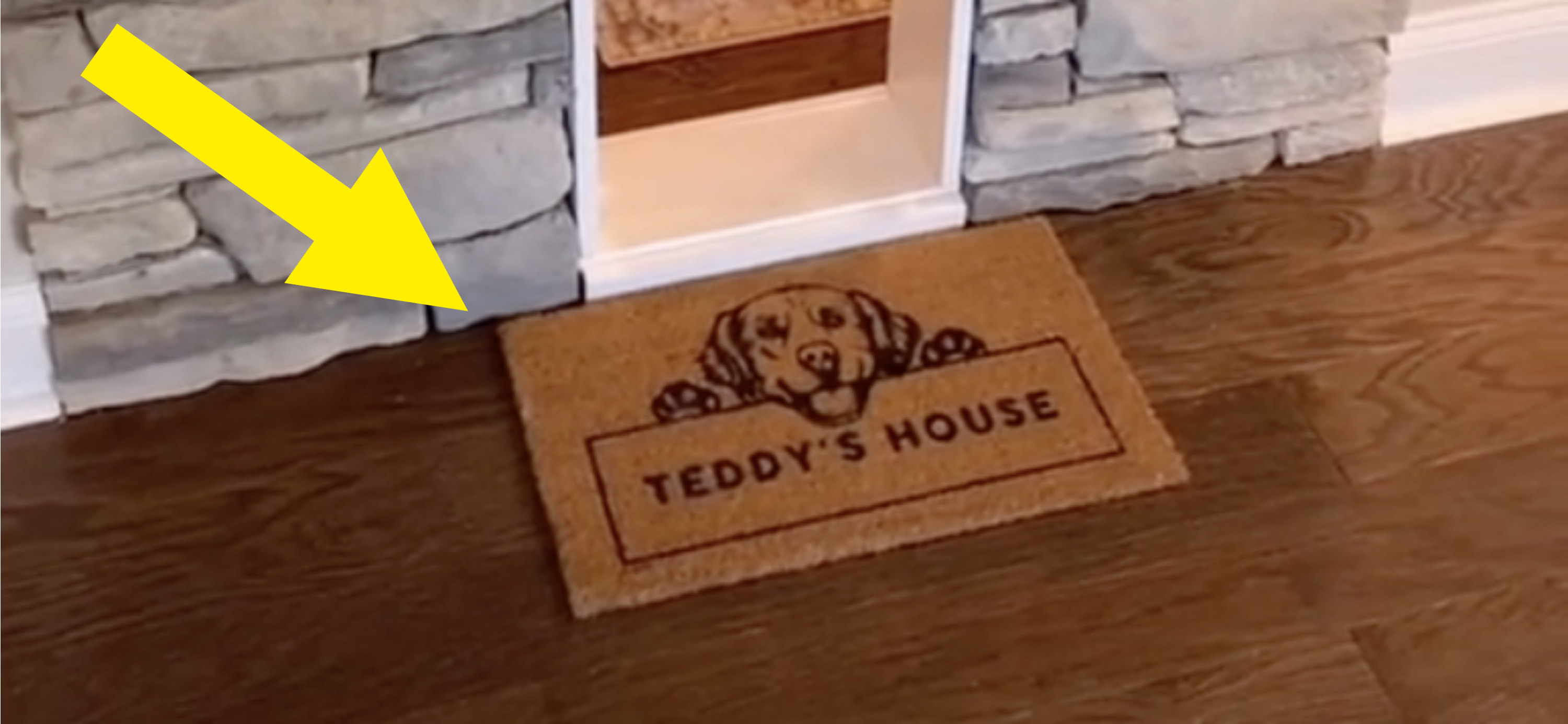 Inside, the walls are decorated with shiplap and Teddy's cozy bed is bordered by greenery, a family photo, and even a little window.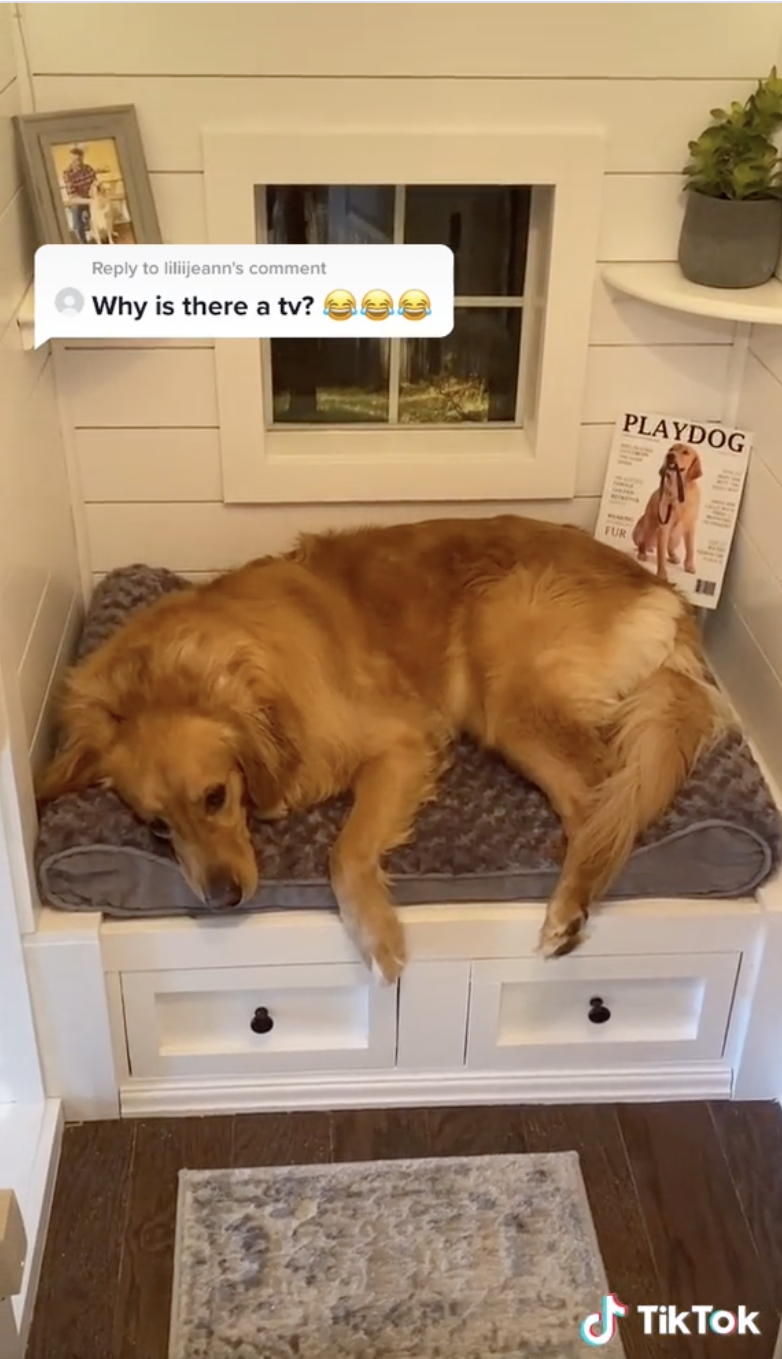 Johnathan also featured a cheeky copy of "Playdog" magazine.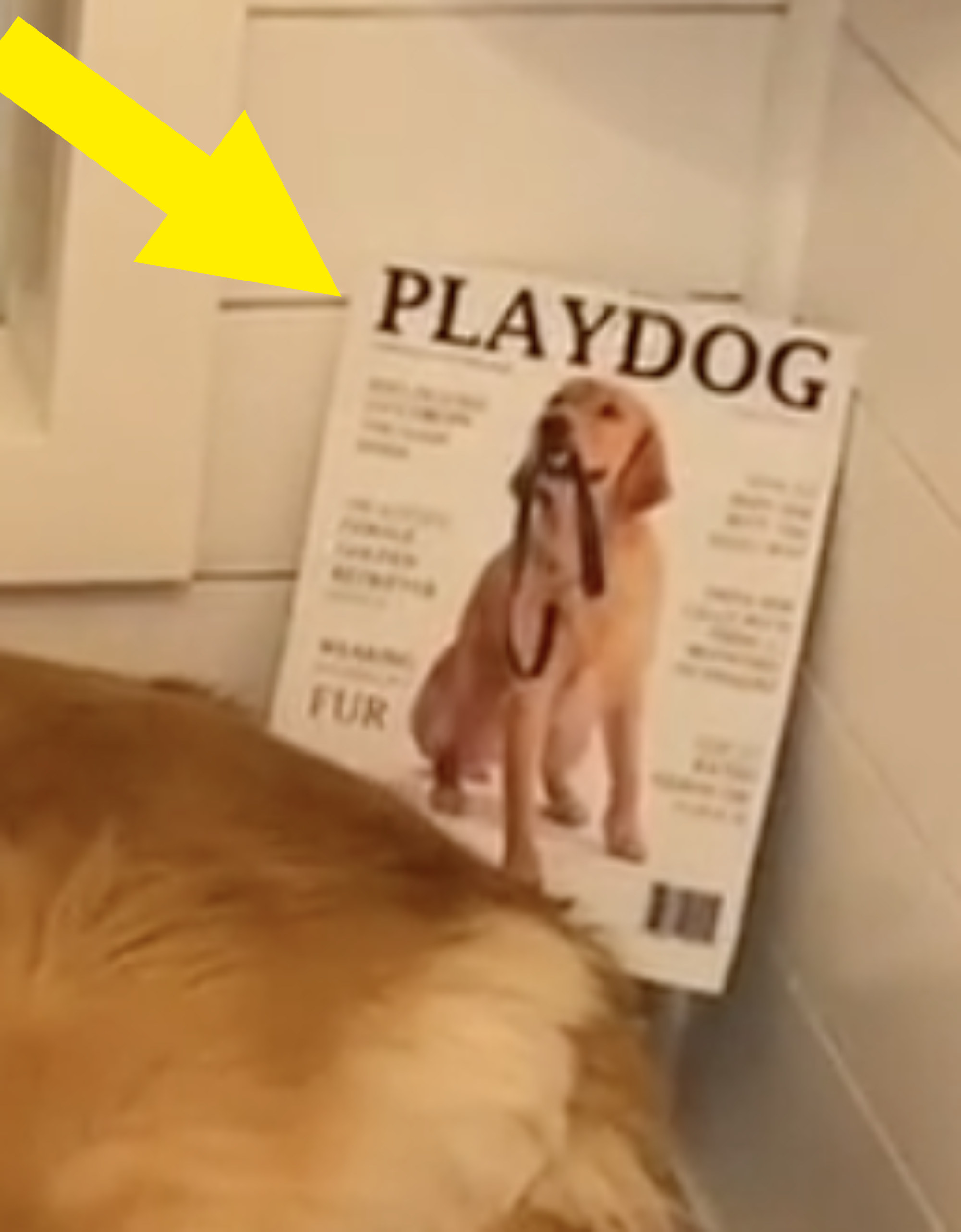 Opposite Teddy's bed is a TV that plays Air Bud, a fireplace...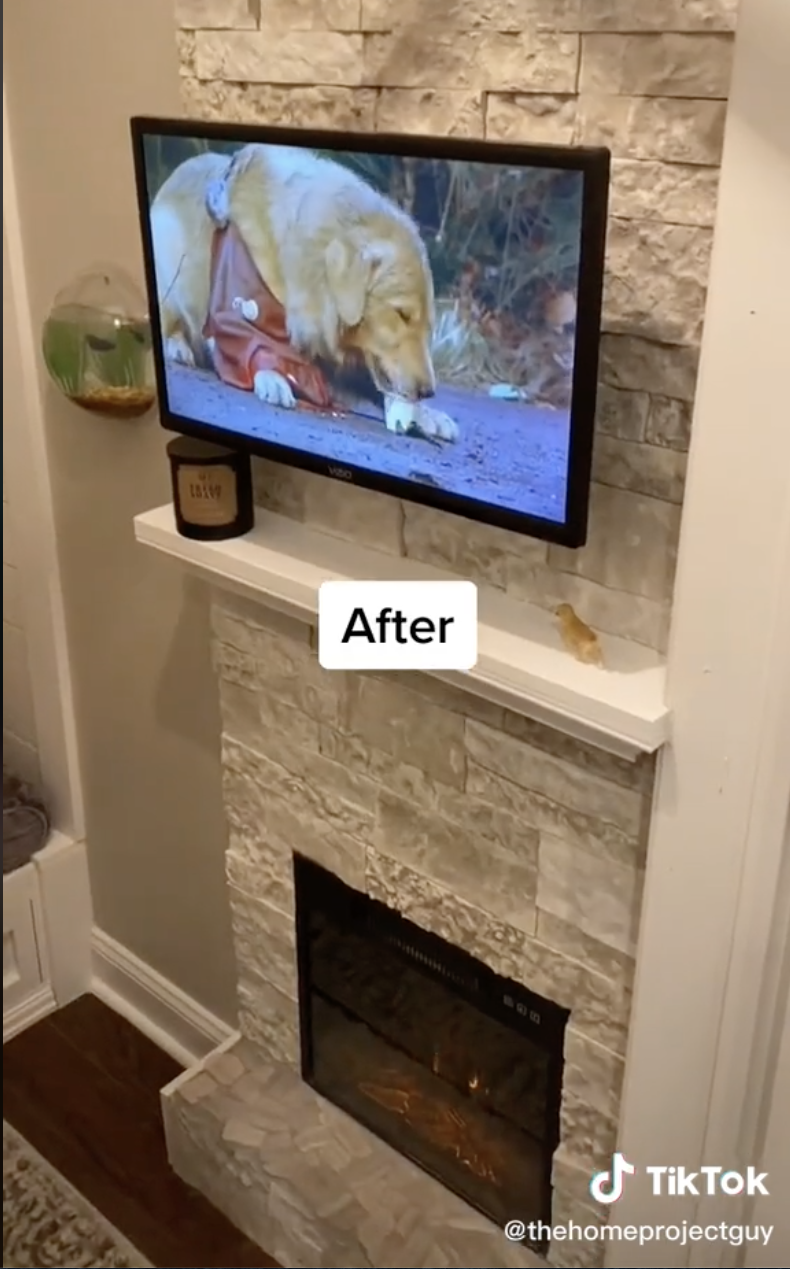 ...and a massive — and quite majestic — portrait of Teddy.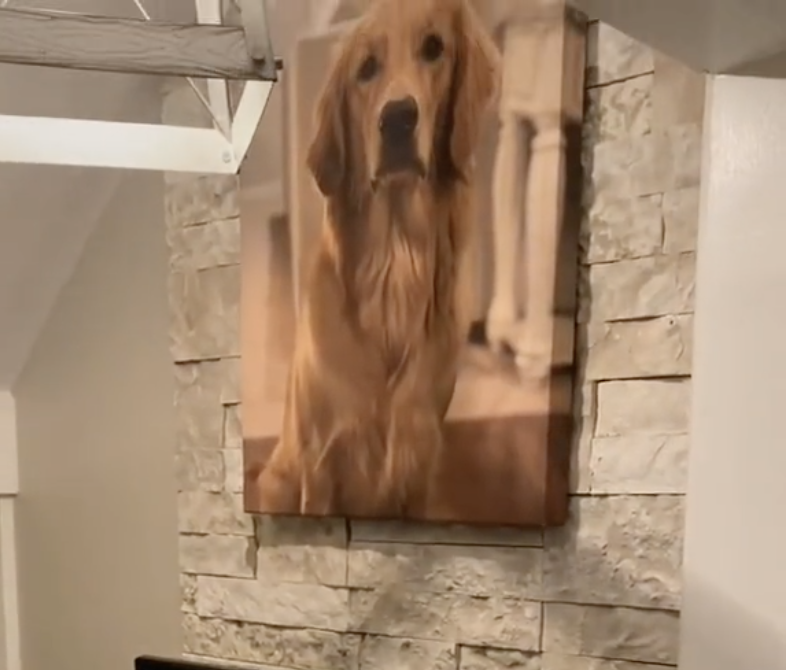 Johnathan was originally inspired to build Teddy's puppy pad while taking a client to view a house: "The sellers had a playhouse for their daughters under the stairs. It was just an open space with toys, but for some reason, the thought popped into my head that it would be neat to have a doghouse exterior with a doggy door going into that space."
"Once [we] settled into [our] new house in February...I designed Teddy's interior in my head and began on that first," he continued. "I built him a custom bed with slide out drawers, custom golden retriever fairy lights above, new lighting, shiplap, a functional fireplace, TV, and a custom portrait. Once that was done, I constructed a stone and craftsman-style outside and finished it with a custom mat. The inside took me about a week and a half [while] working in the evenings, [and] the outside took me one full day."
Upon seeing Teddy's life of luxury, many quickly took to Johnathan's comment section to express both their jealousy and love of his dedication to the pup:



But for Johnathan, his connection to Teddy is more than just one of a pet and owner: "In the last couple years, I've lost a young sister, grandpa, aunt, and, a month ago, my father. Teddy has been there for me and I couldn't repay him enough. He truly is my best friend and I will continue to spoil him for all he has done for me!"
And spoil him, he shall! Johnathan already has his next DIY plans in the works, including a side car for his bike that Teddy will ride in and a safe room featuring a 450-pound vaulted door that will protect the two during emergencies.