Around this time of year, many families across the US plan and pose for their annual Christmas cards, which often include a note about what each member has been up to that year. Recently, though, lawmaker Thomas Massie put a spin on the once-wholesome tradition by introducing assault rifles into the mix.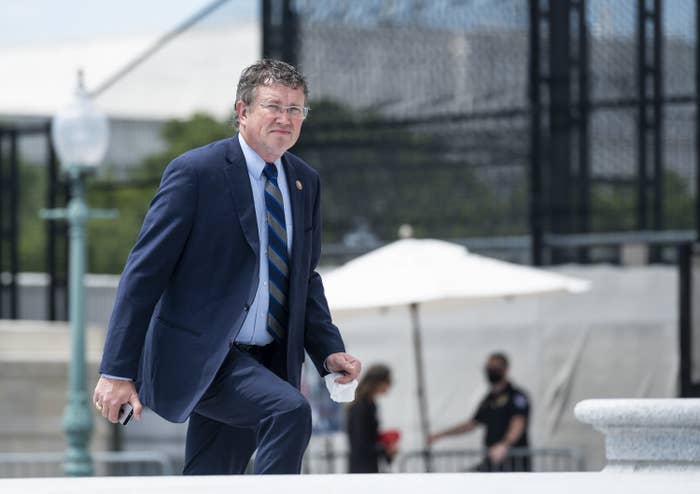 On Saturday, Rep. Massie shared a photo of his family toting guns and large smiles in front of their Christmas tree, along with the note: "Merry Christmas! P.s. Santa, please bring ammo."
The photo was posted just a few days after Michigan and the rest of the States were stunned by a shooting at Oxford High School. The gunman, a 15-year-old who has since been charged with terrorism, murder, assault, and possession of a firearm, took the lives of four students and injured several more. In light of this tragedy, many online have called Massie's post insensitive and an example of gun glorification.
Organizations like March For Our Lives, whose mission aims to prevent future acts of gun violence, immediately condemned Massie's actions by pointing out that, "There are too many families that have to spend the holidays without their loved ones because of gun violence. This glorification of firearms fuels gun violence."
Fred Guttenberg, the father of a student who died during the Parkland, Florida shooting at Marjory Stoneman Douglas High School in 2018, replied to Massie's post with the last photo he took of his late daughter. "The Michigan school shooter and his family used to take photos like yours as well," he said.
Even other gun-lovers chimed in, like US Air National Guard Lt. Colonel Adam Kinzinger, who called the Christmas card's imagery a "gun fetish."
And in a world where Tamir Rice, a 12-year-old Black boy, can be shot and killed by police when playing with a toy pellet gun, some have wondered how a photo of this nature would be perceived if the family was Black instead of white.
But not everyone was outraged over the photo. Conservative Candace Owens condemned connections between Massie's gun-heavy photo and the recent school shooting...
...and the National Association for Gun Rights said they'd be hanging the photo on their refrigerator.
What do you think about Massie's post? Let us know in the comments.