Over 39.4 million people have viewed Emily's now-viral video of her amputation countdown, which she jokingly captioned, "50% off pedis, let's gooooo." And now, only about three weeks post-op, the 24-year-old is inspiring other young — and old — cancer patients and their loved ones with her story.
"I was originally diagnosed with osteosarcoma, bone cancer, in 2019 after a big hike in Whistler, BC," Emily told BuzzFeed. "I had a ton of pain [in my knee] and needed to go to the emergency room. [Doctors] took an X-ray of my knee and they could tell right away that it was bone cancer. From then on, my life was flipped upside and filled with appointments, fertility treatments, etc."
After the initial discovery, Emily underwent 10 rounds of chemotherapy and had the bottom half of her femur and knee joint replaced — an operation known as limb salvage surgery. Afterword, she was declared cancer-free for two years, until a follow-up X-ray revealed her cancer had returned, and this time it took the aggressive form of a high-grade osteosarcoma, which are defined by their quick growth and spread.
Emily's viral video led us to her hip disarticulation surgery, a removal of the entire leg through the hip joint, which was presented to her as a final measure and the best chance at survival.
"My heart absolutely broke at first, it was really difficult to accept that amputation was my only option," she said. "I had started doing research and reaching out to people who had this surgery before, and that's what really helped normalize the thought of having this serious surgery. I still have my moments, but I know this was my only option for good reason, it was the surgery that would save my life."
Besides general well wishes — of which there are many — Emily's comment section is filled with viewers who are inspired by her story, strength, and open book attitude. Up to about 1,000 new cases of osteosarcoma are diagnosed every year in the US, and about 1,806,590 cases of cancer in general are expected to develop, leaving those affected in need of hopeful stories just like Emily's.

When considering why she's willing to share her story — even as she recovers from a surgery that took place a few short weeks ago — Emily said: "Sharing my story helps others; connecting with people who have gone through similar experiences is so nice because it can be really difficult to relate to others, but when you find someone that you can genuinely relate to, it's extremely rewarding."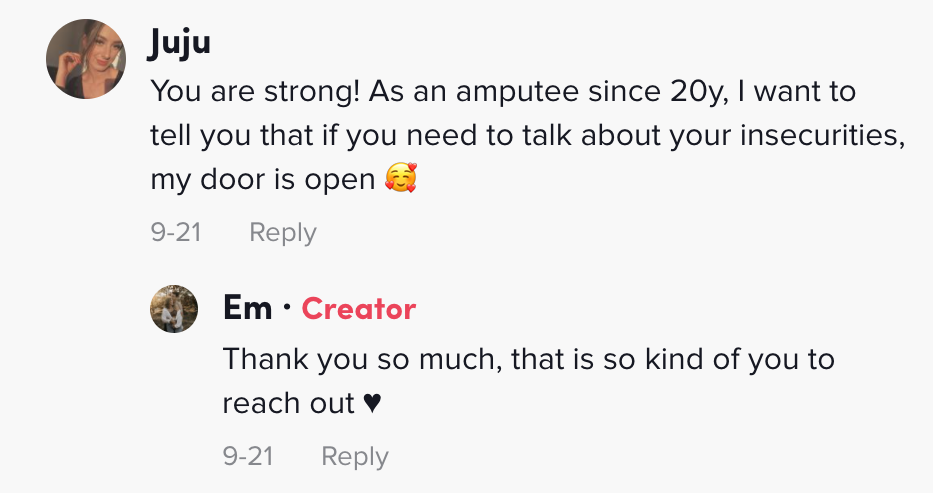 "By sharing my story and showing people my story, it has really inspired others," she continued. "Being able to be strong throughout this journey of mine has been hard at times, but having the love and support I have going through this has been the key to pushing through the hardest parts of it all."
"After posting my video on TikTok, so many have reached out [about] family or friends or even themselves, [while saying they] have gone through the same thing...[and] that by smiling through the hard time I'm going through, [I've] inspired them — which is crazy to me!" she concluded.
You can also donate to the American Cancer Society, which pledges to support patients through research and offers rides to treatments, lodging, and community support.