SPINACH ARTICHOKE BEEF WELLINGTON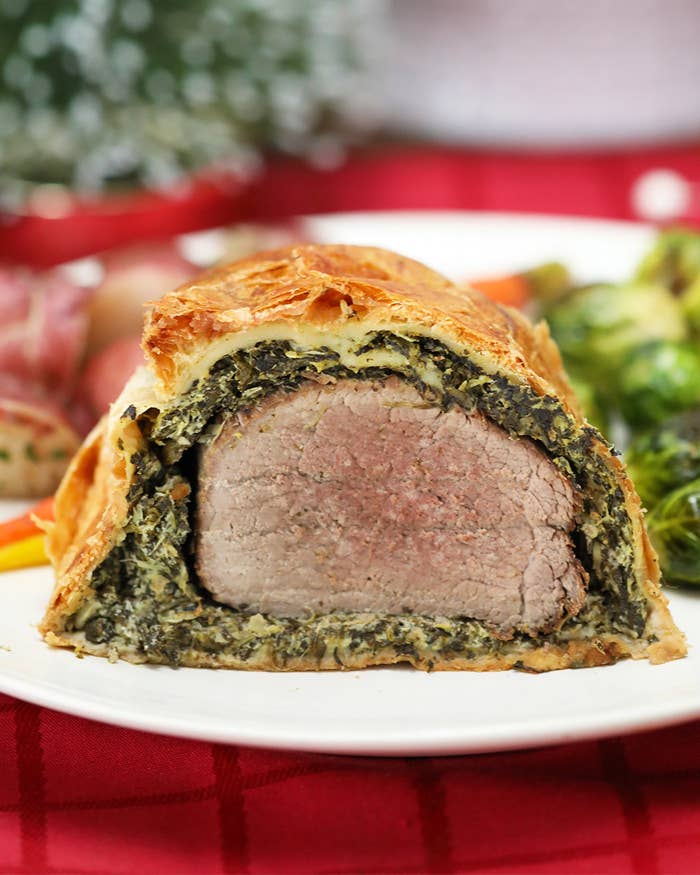 INGREDIENTS
Servings: 2
1 cup Season's Choice frozen spinach, thawed
1 cup Tuscan Garden artichoke hearts, drained
1 teaspoon fresh thyme
1 teaspoon Stonemill salt
1/4 teaspoon Stonemill garlic powder
1 teaspoon Stonemill pepper
1/4 cup Happy Farms cream cheese
1 tablespoon Burman's dijon mustard
1 sheet puff pastry
8 ounces Specially Selected USDA Choice beef tenderloin
3 tablespoons Carlini olive oil
1 egg
PREPARATION
1. Preheat oven to 425°F/220°C.
2. Add thawed spinach, artichoke hearts, and thyme to the base of a food processor. Pulse until the mixture is coarsely chopped.
3. Using a cheesecloth or clean kitchen towel, squeeze the water out of the spinach and artichoke mixture.
4. Add the mixture to a mixing bowl and combine with the cream cheese.
5. Trim the tenderloin of any large areas of white fat. Season generously with salt and pepper.
6. Heat oil on a cast iron pan over high heat. Sear tenderloin on all sides until it has a nice brown crust. Then brush with dijon mustard. Set aside to cool.
7. Pull out a large piece of plastic wrap and lay it on the table, but do not detach it from the roll.
8. Lay out the sheet of puff pastry onto the plastic wrap, leaving extra plastic on the top and bottom, making sure to securely pinch any holes, sealing with a bit of water.
9. Spread the spinach mixture in an even layer onto the pastry, leaving ½-inch borders of clean pastry on each side.
10. Beat an egg and brush the edges of the pastry with the egg wash.
11. Place the seared tenderloin upside down in the middle of the pastry.
12. Using the plastic wrap, roll the pastry up on one side of the meat, and firmly continue rolling it until the meat is tightly wrapped in the pastry. Using egg wash and a good pinch, join together the sides of the pastry into a tight seam.
13. Roll tightly several times in plastic wrap. Once it is rolled like a piece of candy, wind the ends of the plastic wrap as much as you can to tightly squeeze the wellington. Refrigerate 15 minutes.
14. Place on a parchment-covered baking sheet, brush with egg wash, and score if desired.
15. Bake in the oven for 30–35 minutes, until the temperature reads 145° for medium. Rest 10-15 minutes before thickly slicing. Enjoy!