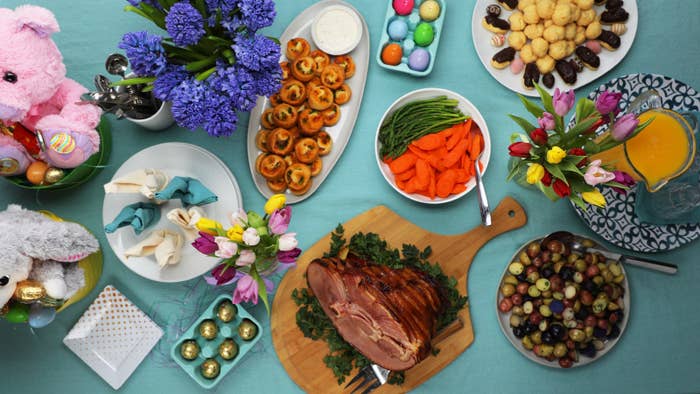 HAM BROCCOLI CHEDDAR PINWHEELS

Servings: 8–10
INGREDIENTS:
2 cups small broccoli florets, steamed
2 cups Appleton Farms Spiral Sliced Half Ham, diced
2 cups Happy Farms Shredded Cheddar Cheese
2 packages Bake House Creations Crescent Rolls
Tuscan Garden Ranch Dressing, optional

PREPARATION
Preheat oven to 375ºF.

Remove crescent rolls from package and unroll. Separate the dough into rectangles made of 2 triangles each. Pinch together the seam to complete each rectangle.

Spread the ham, broccoli, and cheese evenly onto each piece of dough.

Roll up the dough into a log starting with the short side of the strip. Cut each little log into 3 pieces and place on a parchment-lined sheet tray.

Bake for 10 minutes, until lightly browned and cooked through. Let cool a few minutes before serving — we dipped ours in ranch!


PINEAPPLE GLAZED HAM
Servings: 10–12
INGREDIENTS:
10 pounds Appleton Farms Spiral Sliced Half Ham
2 cans Sweet Harvest Pineapple Slices
2½ cups Baker's Corner Brown Sugar

PREPARATION:
Preheat oven to 325ºF.

Open pineapple cans and pour juice in a separate bowl. Slice pineapple rings in half.

Remove ham from packaging and place on the rack of a roasting pan.

Push pineapple rings between layers of the ham, creating a hasselback effect.

In a saucepan, simmer the brown sugar and pineapple juice until slightly thickened and syrupy. Glaze the entire ham with the syrup and place in the oven.

Cook ham for 2 hours, glazing with the syrup every 30 minutes.

Serve alongside fresh veggies!