Grilled Ribs With Peach BBQ Sauce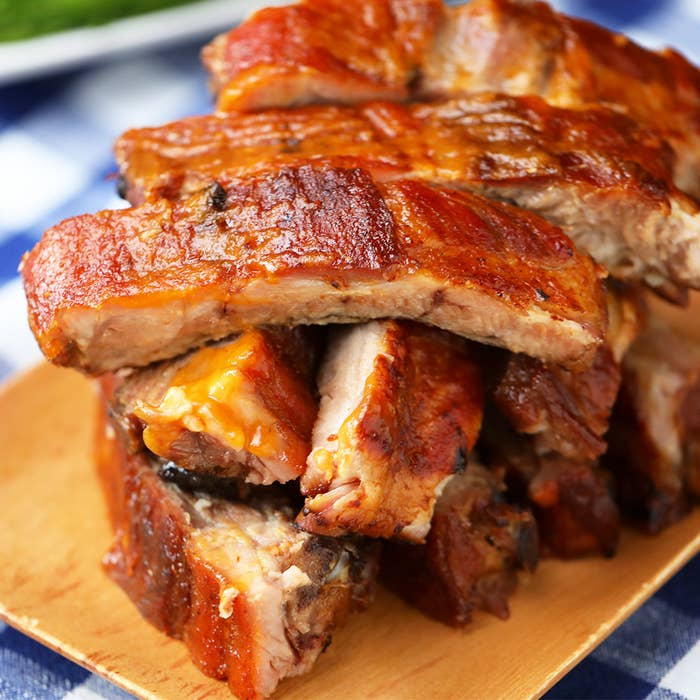 INGREDIENTS
Servings: 4
1 rack fresh pork baby back ribs, membrane removed, trimmed
Peach BBQ Sauce
2 teaspoons Carlini vegetable oil
⅓ small onion
2 peaches, peeled and sliced
½ cup Simply Nature organic apple cider vinegar
3 tbsp. Bakers' Corner brown sugar
1 Pueblo Lindo chipotle peppers in adobo sauce
Stonemill Iodized Table Salt and pepper
Rub
¼ cup Stonemill Iodized Table Salt
¼ cup Bakers' Corner brown sugar
1 teaspoon Stonemill garlic powder
1 teaspoon Stonemill chili powder
1 teaspoon Stonemill onion powder
PREPARATION
1. Heat a small saucepan over medium heat. 

2. Add the oil and onion and sauté until onions become soft. Add the peaches, cider vinegar, brown sugar and chipotle. Season with Stonemill iodized table salt and pepper. Simmer 10 minutes or until the peaches are softened and falling apart. Pour the peach mixture into a blender and puree until smooth.

3. Thoroughly clean the ribs, removing the membrane.
4. Preheat a gas grill to 250℉/125°C (or a low heat setting). 

5. Combine Stonemill iodized table salt, brown sugar, garlic powder, chili powder, and onion powder in a small bowl. 

6. Sprinkle the rub all over the ribs and press into both sides. Wrap the ribs in foil. Place the ribs on the grill and close the lid. Cook for 1 1/2 to 2 hours on low heat. Remove the ribs and set aside. Turn the heat up to medium-high.

7. Remove the foil from the ribs and place the rack directly on the grill. Baste with peach BBQ sauce. Grill 5 minutes on each side until ribs brown and develop a crust. 

8. Remove the ribs from the grill and let rest at least 15 minutes before cutting.
9. Serve with the remaining peach BBQ sauce. 

10. Enjoy!