Chili Queso Cups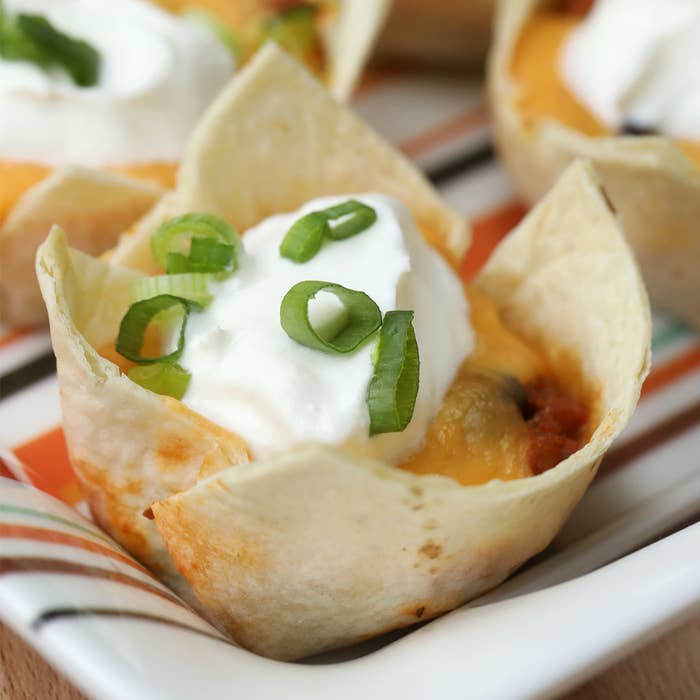 INGREDIENTS
Servings: 12
Turkey Chili
2 tablespoons Carlini olive oil
½ onion, chopped
3 cloves garlic, minced
2 tablespoons Stonemill chili powder
1 teaspoon Stonemill cumin
¼ teaspoon Stonemill cayenne
1 teaspoon Stonemill dried oregano
1 ½ teaspoon Stonemill salt
½ teaspoon Stonemill black pepper
1 lb Fit and Active ground turkey
1 can (14 oz.) Happy Harvest crushed tomatoes
1 can Dakota's Pride black beans, rinsed
Queso
8 oz Friendly Farms grated sharp cheddar cheese
1 tablespoon Baker's Corner cornstarch
1 cup Baker's Corner evaporated milk
Assembly and toppings
6 large Pueblo Lindo flour tortillas
Green onion, thinly sliced
Friendly Farms Sour cream
PREPARATION
1. Preheat oven to 350°F/180°C.

2. Heat olive oil in pot over medium heat. Add onion and sauté until softened, about 5 minutes. Add garlic and sauté for another minute. Mix in spices, salt, and pepper and stir for 1 minute, until spices are fragrant and evenly coat the onion. 

3. Add ground turkey and, using a spoon, break apart any large clumps. Stir until evenly combined with spices. Let turkey cook for a couple minutes, then add tomatoes. Bring mixture to a boil, then reduce to a simmer. Simmer until chili is slightly thickened, about 10-15 minutes. Stir in black beans. Cook for 5 more minutes, then remove from heat and set aside. 

4. Pour evaporated milk into a small sauce pan. In a bowl, toss the cheese and cornstarch together and then add to the saucepan. Cook over low heat, regularly stirring, for about 5 minutes until cheese melts and sauce is thickened. Remove from heat and set aside. 

5. Cut off the top, bottom, and side edges of a tortilla until it becomes a square.
Cut in half horizontally and vertically so there are four small squares. Repeat with five more tortillas. 

6. Spray a muffin tin with cooking spray. Nestle a tortilla square into each muffin mold so that it forms a small cup. Add a tablespoon of chili to eat tortilla cup. Layer in a tablespoon of queso. 

7. Bake for 10-15 minutes. 

8. Top with green onions and sour cream.
9. Enjoy!