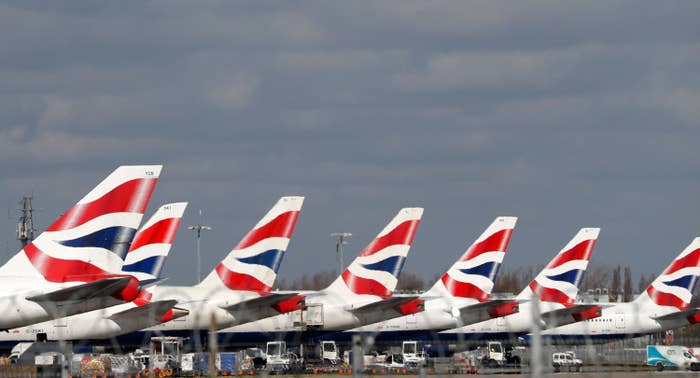 The UK is advising against all nonessential foreign travel as a result of coronavirus, the first time such blanket advice covering the entire world has been given since the system was introduced in 1990.
Dominic Raab, the foreign secretary, announced the unprecedented step as Boris Johnson's government ramps up its measures to fight the coronavirus pandemic and other countries, including the 26 members of the Schengen area, close their borders.
The foreign secretary said: "With immediate effect I've taken the decision to advise British nationals against non essential travel globally, for an initial period of 30 days and of course subject to ongoing review."
Raab said the decision was a response to domestic policy as well as actions taken by other countries who were closing borders or imposing travel restrictions, often without advance notice.
As much of western Europe battened down the hatches and countries around the world — from Latin America to the Gulf — restricted travel from the continent hoping to shield their residents, the Foreign Office (FCO) had been rapidly adding to the list of countries to which it advises against travel.

In the last week, 430 changes have been made to FCO Travel Advice – more than in the entirety of 2019.

The country-by-country guidelines are shaped by a mixture of factors, including political, security, and health circumstances on the ground, as well as policy decisions in the UK and the destination countries. One of the other factors considered by the FCO when determining its advice is the ability of Britons abroad to return home. This calculation had become extremely difficult as airlines have begun to cancel dozens of flights.
The dramatic decision covering travel to the whole world comes as the EU is set to close its borders today for at least 30 days, temporarily banning entry into the bloc for all nonessential travel from third countries.
The temporary measure, announced by European Commission president Ursula von der Leyen yesterday, would exempt EU nationals, residents, and family members; commuters; essential staff such as medical professionals, diplomats, and people transporting goods. It will initially apply to the Schengen travel area, with non-Schengen members invited to implement the restrictions too.
The UK had so far taken a less stringent approach to fighting the coronavirus compared to most of its neighbours, but on Monday Boris Johnson signalled a drastic escalation of the measures his government was taking.

Everyone in the UK should now stop "non-essential contact" with other people and avoid pubs, clubs, cinemas, and theatres to slow the spread of the coronavirus, the prime minister announced.
Germany and France put in place more expansive and strongly enforced measures on Monday. German chancellor Angela Merkel announced the closure of all nonessential retail outlets. Venues including clubs, bars and playgrounds will be shut, and gatherings in churches, mosques, and synagogues banned.
Merkel described the measures as unprecedented in the country's recent history. "There have never been measures like this in our country before. They are far-reaching, but at the moment they are necessary," she said. The number of virus cases in Germany rose to 6,012 on Monday, an increase of 1,174 cases, or about 24%, compared to the previous day, according to data released by the Robert Koch Institute.
In a televised address French President Emmanuel Macron ordered the nation to stay at home as he put in place a 15-day lockdown. Movements will be restricted to essentials, going to work, buying groceries and medical emergencies. Previous measures — including temporarily closing restaurants, bars, and most shops — had proved insufficient, Macron said.
"We are at war," he added, "we're not up against another army or another nation. But the enemy is right there: invisible, elusive, but it is making progress."
Police will be deployed to enforce the measures, and fines slapped on anyone breaking the rules. Under the plans, the army will help transport the sick to hospitals and an intensive care unit will be set up in a military hospital in the region of Alsace.
Macron also announced a range of economic measures to support businesses, saying that no company, however small, will fail. As part of these measures, the government will guarantee 300 billion euros worth of loans, and rent and utility bills will be suspended.
One by one, European countries have put in place increasingly extensive measures, introducing travel restrictions as part of sweeping emergency plans.

Spain went into lockdown over the weekend when the number of infected people in the country shot past 6,000. Days later, that figure is about to surpass 8,000, with nearly 300 now dead. Italy, the country in Europe worst hit by the coronavirus outbreak, went into lockdown last week.
In Ireland, pubs and hotel bars have been asked to close until at least March 29, and the government announced on Monday night that it was advising against all non essential foreign travel, including to Britain.
Many EU member states — including Poland, the Czech Republic, Latvia, Lithuania, Estonia, Hungary, Germany and Denmark — had announced the temporary closure of their borders to most foreigners and the reintroduction of controls before this week's EU-wide announcement.
Outside the EU, Norway, Albania, and Montenegro have put in place severe restrictions to travel, while much of Latin America, including Argentina, Colombia, and Bolivia, has introduced flight restrictions due to the coronavirus. Elsewhere, Morocco, India, South Africa, Sri Lanka, and the Gulf countries are among a swathe of others to have put in place similar limits on flights from Europe.
Airlines are expected to be one of the hardest-hit industries by the fallout from the coronavirus, as hundreds of flights are grounded.
British Airways will be cutting capacity by 75% in April and May, while Scandinavian airline SAS announced on Sunday that it was temporarily laying off 90% of its workforce and putting most of its operations on hold due to "non-existing demand for air travel."
Budget airlines have not been spared either. Ryanair said on Monday that it was grounding the majority of its aircraft fleet across Europe for 7 to 10 days, while Norwegian cancelled 80% of its flights and temporarily laid off 7,300 people.
There have so far been 173,344 confirmed cases of COVID-19, the disease caused by the novel coronavirus, worldwide, with 7,019 recorded deaths. The coronavirus has reached 152 countries and territories.

As part of its measures, the US, which according to World Health Organization data has had 1,714 infections to date, has temporarily suspended all travel from most of Europe. The ban initially applied to the 26 countries that make up the Schengen travel area and was later extended to the UK and Ireland. The EU criticised the ban, saying that the coronavirus was a global crisis that "requires cooperation rather than unilateral action." Many decisions taken so far by EU member states to tackle the pandemic have been uncoordinated and unilateral.