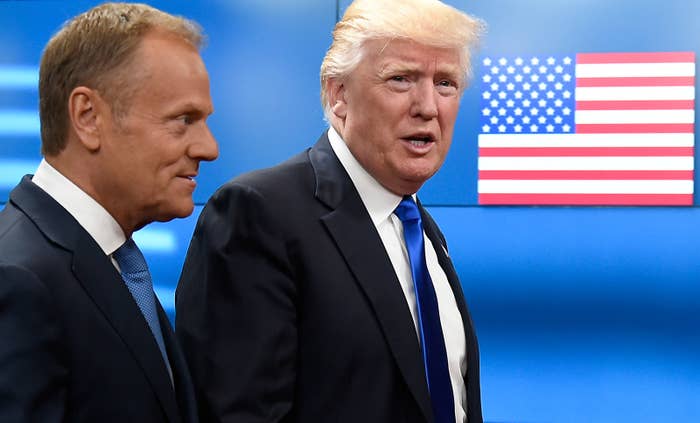 BRUSSELS – US officials expressed concern that jobs in the US would be lost because of Brexit during a meeting between President Donald Trump and the presidents of the European Council and Commission, Donald Tusk and Jean-Claude Juncker, EU sources have told BuzzFeed News.

The meeting, which lasted a little over an hour, took place in a friendly and constructive atmosphere, the EU sources said.

In the wake of Britain's referendum to leave the EU, Trump had described the outcome of the vote as a "beautiful, beautiful thing". And after meeting UK prime minister Theresa May earlier this year the president said Brexit was going to be a "wonderful thing" for the UK.
In addition to Brexit, the EU leaders and Trump discussed trade, a range of foreign policy issues – including Russia, Ukraine, and North Korea – climate change, and counterterrorism.
After the meeting, Tusk said there was agreement on many issues, especially on counterterrorism. "I am sure that I do not have to explain why," he noted.
However, the president of the European Council said there were differences on climate and trade. EU sources said that during the meeting there was support for setting up a working group on trade issues, as well as for working together with other countries to tackle unfair trade practices.
BuzzFeed News reported on Wednesday that leaders of the world's leading economies, who are set to meet in Italy for the annual Group of Seven (G7) summit later this week, are concerned that President Trump may not stand by the multilateral framework that underpins global trade.
One European official told BuzzFeed News their government had rather low expectations as far as the US position on multilateral questions like trade and climate was concerned, and wasn't expecting the US to change its position significantly at the G7 summit in Sicily.
Meanwhile, on the topic of Russia, Tusk told reporters after the meeting with Trump: "I am not 100% sure that we can say today – we meaning Mr President Trump and myself – that we have a common opinion about Russia, although when it comes to the conflict in Ukraine, it seems that we were on the same line.
"My main message to President Trump was that what gives our cooperation and friendship its deepest meaning are fundamental Western values, like freedom, human rights, and respect for human dignity.
"The greatest task today is the consolidation of the whole free world around those values, and not just interests."