Top Five Star Movement MP Says Talking About Fascism In 2016 Is "Irrelevant"
Alessandro Di Battista also said he was "super proud" of his father, who has openly described himself as a fascist.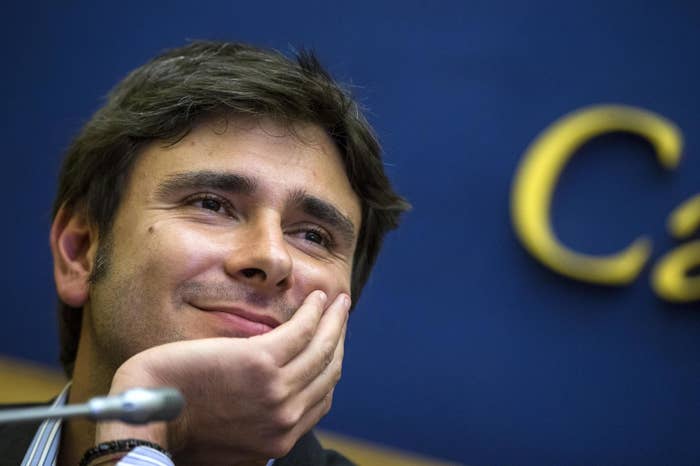 A leading MP of the anti-establishment and populist Five Star Movement (M5S) party has said that debates about fascism and anti-fascism are not relevant in 2016.

Alessandro Di Battista was asked during an interview on Italian television this week to explain the remark "it was more important to be honest than anti-fascist", a phrase that, according to the interviewer, the M5S MP has used in the past.
Di Battista was also asked whether there was a difference between being "honest and anti-fascist" and "honest and fascist".
The M5S MP replied that "talking about this stuff" – fascism and anti-fascism – was no longer relevant in 2016.
During the same interview, Di Battista was asked if the fact that his dad had openly declared he was a fascist had ever caused him embarrassment. The MP, shaking his head, said: "I am super proud of my father."
In the wake of a constitutional referendum that led to the resignation of the prime minister, Matteo Renzi, Di Battista has emerged as one of the frontrunners to head any possible M5S government after the next general election.
The M5S, which, according to the most recent polls, is Italy's most popular party, is calling for an immediate election. On his blog, party chief Beppe Grillo (who isn't running for office himself) said the vote could be held with an adjusted version of the existing electoral law. Until recently, Grillo and the M5S opposed this law, describing it on multiple occasions as fascist.
An investigation published last month by BuzzFeed News revealed that the leaders of the M5S have built a sprawling network of websites and social media accounts that are spreading fake news, conspiracy theories, and pro-Kremlin stories to millions of people.