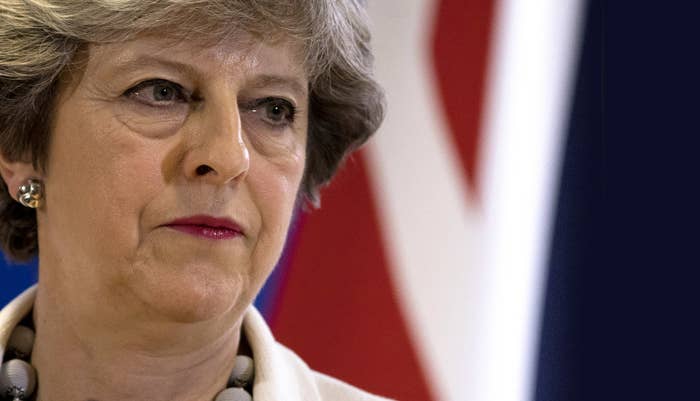 BRUSSELS – Theresa May has eight weeks to overcome divisions within the Tory party and spell out in detail how the UK will honour its financial commitments after Brexit if she is to keep Britain from leaving the European Union without a deal, senior EU and European government officials told BuzzFeed News.
At an EU summit in Brussels that was originally meant to mark the moment Brexit negotiations moved on to discuss the terms of a "deep and special" future relationship, the leaders of the 27 remaining states took just 90 seconds to adopt a set of conclusions affirming that on all three key withdrawal issues – the UK's financial commitments after it leaves the EU, the status of EU nationals in the UK, and the Irish border – progress has ultimately been insufficient to unlock trade talks.
There were some positives for the UK. The 27 agreed to begin talking among themselves about transitional arrangements and the future relationship to show that some progress has been made, and to smooth the path to the next phase once both sides are ready. If progress is sufficient at the next European Council summit in December, the 27 will adopt additional negotiating guidelines in relation to the future relationship and on possible transitional arrangements.
In what he later described as an attempt to inject energy and momentum into the talks in the lead up to December, the president of the European Council, Donald Tusk, said: "After Prime Minister May's intervention last night, and our discussion about Brexit this morning, my impression is that the reports of the deadlock between the EU and UK have been exaggerated. And while progress is not sufficient, it doesn't mean there is no progress at all."
A timetable for the next round of talks has yet to be finalised, but it is believed that there will be at least three negotiating sessions between now and the next European Council in mid-December.

Failure to reach agreement in December would see the UK enter a danger zone where preparations for no-deal would soon after become inevitable. The first quarter of 2018 is seen as a crunch point by officials because it is when businesses would need to sign off on future spending plans as well as start triggering any contingency plans – and the two sides would simply run out of the time needed to reach a more meaningful settlement.
BuzzFeed News understands that a small group of officials in Brussels have already started to explore exactly at what point in the first three months of next year it could become necessary to signal to markets and industries that they need to start preparing for a no-deal scenario.

"People need to be prepared for the change that is coming. It will be different. As a third country the UK will not be a member of the EU, regardless of no-deal or whatever the future relationship is," an EU official said.
At a press conference on Friday morning, May admitted that there was still "some way to go". But she added that it was important to recognise what had been achieved so far, and said she was "ambitious and positive" about the negotiations.

Directly addressing whether she would move on the crucial issue of the UK's financial obligations, May said that detailed work was needed on the commitments, and the government was "going through them line by line".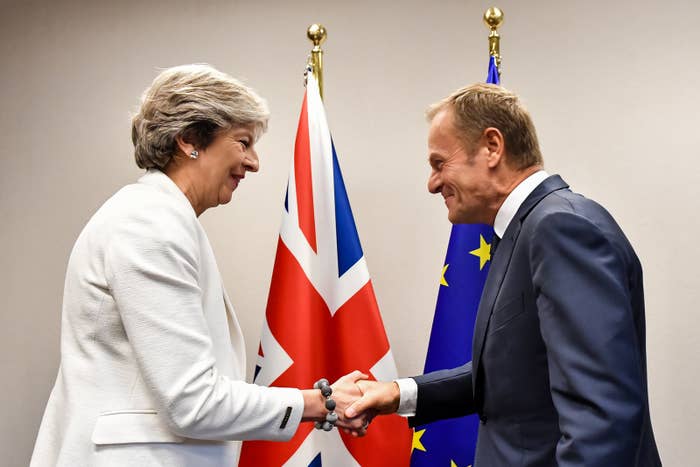 The summit conclusions come after May appealed directly to the 27 at the end of a dinner on Thursday night that included three-hour discussions on relations with Turkey, the future of the Iran nuclear deal, and North Korea. May urged both sides to work for a deal that "we can stand behind and defend to our people".
Referring to last month's Florence speech, which May had hoped would break the deadlock, she told her EU counterparts: "I took stock, listened to what people in the UK were saying and what my friends and partners in Europe were saying, and I made a step forward."
None of the 27 leaders reacted to the prime minister's brief intervention. One head of government told BuzzFeed News her short speech was "well meaning" and described the tone as "pleading but positive".

A senior diplomat from a major European government told BuzzFeed News: "The Florence speech was constructive in style but we have not received what the UK means by saying it will meet its financial obligations."
They continued: "If it [the financial settlement] includes a transition where the UK is in effect in the common market and the customs union then saying you will pay is a statement of fact, not an 'offer'. We need clarity on pledges on future spending, loans to Ukraine, pensions and so on."
"If the UK clearly said '£20 billion' then we at least have a position, and can negotiate," they added. "We will start internal discussions [on transition and the future relationship], but we don't yet know the direction she wants to steer the UK. The hope is for 'sufficient progress' in December, but it depends on London."
Despite being invited by several leaders throughout the day to provide greater clarity on the UK's position, May's dinner remarks, in effect, repeated what she said in Florence last month.

"I suspect that if they want progress, the British government will have to tell us at the very least — if they don't give us a number [for the Brexit bill] — how they think they will be able to get to a number, together with Europe. Otherwise we'll keep going round in circles," Dutch prime minister Mark Rutte said on Thursday night.

At a press conference at the end of the summit, French president Emmanuel Macron said that work on settling the UK's obligations was "not even halfway there".
"A lot is in the hands of Theresa May," Macron added.
The French president also revealed that at no point during talks has May mentioned no-deal as an option, nor has the scenario been part of official Brexit negotiations. He described those floating the idea as "secondary players", but warned the UK would be the first to lose in a no-deal scenario.
Meanwhile, German chancellor Angela Merkel said May had sent important signals, but it wasn't enough to move on to the second phase of talks. Merkel also warned that the trade talks were "undeniably going to be more complicated" than the divorce phase of negotiations.

However, the chancellor concluded by saying that "in contrast to the way things are portrayed in the British press, things are progressing step by step", and she didn't see any reason for the talks not to be successful.
"If we are all clear in our minds, I have absolutely no doubt that we can reach a good result," she told reporters.

Like Macron, Merkel stressed that movement by the UK on the financial settlement was key to talks progressing.
The UK has also started planning for all possible scenarios. However, government insiders claim there isn't yet agreement between ministers on pinpointing a "crash-out date" – the point at which leaving with no deal becomes the inescapable default option.

The difficulty for May is that she will now return to London with little to show after having hoped that her Florence address would have decisively moved the process forward. She will have to convince backbenchers, hardliners in her cabinet, and the public that, instead, more concessions will be needed to start talking about a trade deal.
"It is a reality the prime minister is working against a difficult political backdrop," a UK government source said.
EU leaders have taken stock of May's limited room for manoeuvre, but have so far shown little appetite to alter their negotiating stance.
"On the one hand it could make sense to help a weak prime minister as you can argue there would be a hard Brexit anyway. But on the other, a coup hasn't happened. And a different prime minister would have Remain MPs to deal with," a diplomat from a European government told BuzzFeed News.
They went on to say: "We deal with her, and it's up to her to sort out problems in the Tory party. And if she doesn't then someone else will. The hard versus soft Brexit debate is not going away."
And, they added, "everyone has heard this kind of argument from the Brits many times before".
Beyond the specifics of the UK's financial obligations, European governments are frustrated that May has so far been unable to elaborate in detail on how she sees Britain's relationship with the EU after Brexit.
"Talk of transition has distracted from the fact it's still not clear what the UK wants in the future relationship," an EU official said.
And, independently of the process that will be adopted for the next phase of talks, without greater clarity on the UK's intentions, deals on an interim period and trade will be difficult to achieve.
Another diplomat said: "We have no idea what she means by 'not Canada and not Norway'. 'We want whatever is useful for Britain' sounds like what for years has been the British ambition in the EU."
"And I am not sure Brexit negotiations are the right place for this to be fulfilled," they went on to say.
"Right now it feels like we're walking on sand."
From discussions with European officials and diplomats it is also clear that there is currently an underlying lack of trust in the negotiations.
"For example, the UK accepted sequencing, but then is also looking for shortcuts to the second phase," the diplomat said. "If the UK understood where the EU27 is coming from, it would make it easier to compromise. The future of the EU is more important than Brexit. The unity of 27 will always be above the need for a deal."