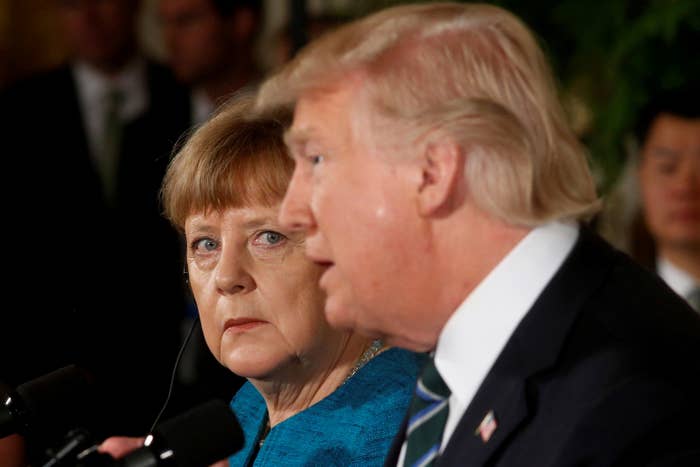 The German government has denied receiving a "bill" or an "invoice" amounting to billions of dollars "owed" by Germany to NATO.
"The reports about the mentioned invoice or bill are wrong," a government spokesperson told BuzzFeed News on Monday.
"Chancellor Merkel and President Trump discussed the topic of defense expenditure during their talks in Washington. They informed the public about these talks in a press conference," the spokesperson added.
The German response comes after the Sunday Times reported over the weekend that Donald Trump had handed the German chancellor Angela Merkel a bill — thought to be for more than £300 billion ($374 billion) — for money her country "owed" NATO for defending it when the two leaders met at the White House two weeks ago.
Following the meeting in Washington, Trump tweeted that "Germany owes vast sums of money to NATO & the United States must be paid more for the powerful, and very expensive, defense it provides to Germany!"
The president's tweets prompted several experts, including the former US ambassador to NATO, to question whether the president fully understood how NATO actually works. (There is no bill, and funds are to increase NATO's overall capabilities; they are not paid to the US.)
The White House also disputed the media reports about the invoice. When asked to comment on Sunday's story, press secretary Sean Spicer told Business Insider: "No, this is not true".
Trump has urged Germany and other NATO members to accelerate efforts to meet the alliance's defence spending target of 2% of their GDP.
In 2016, Germany's defence spending ratio stood at 1.18%, and is projected to rise to 1.26% in 2018. During her trip to Washington, Merkel reiterated Germany's commitment to the 2% military spending goal.