The First Round Of The French Presidential Election Has Redrawn The Country's Politics
Macron will take on Le Pen in the final runoff of an election that has seen traditional left-right divides replaced by a new battle over open versus closed societies.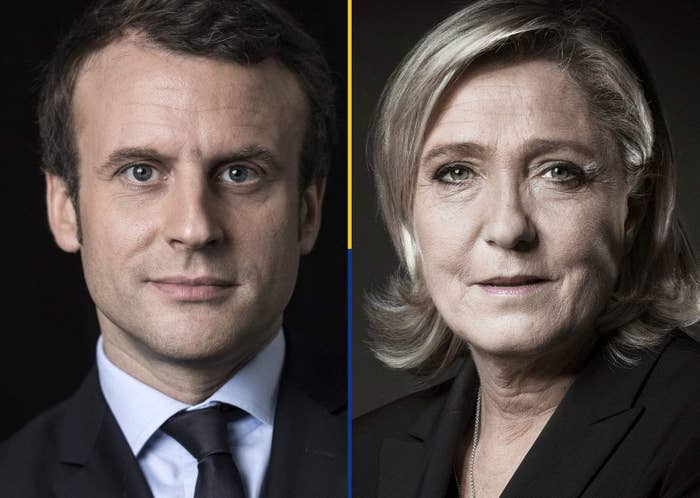 It's a result that has completely redrawn French politics. For the first time since Charles de Gaulle founded the Fifth Republic in 1958, none of the traditional centre-right and centre-left parties has a candidate in the final runoff in two weeks for the Elysée Palace. Instead, the second round will be between a former economics minister who had never stood for election and the anti-immigrant leader of the far-right Front National. The sound you hear is the ancien régime of left versus right collapsing.
US president Donald Trump wasn't wrong when he tweeted on Sunday morning: "Very interesting election currently taking place in France."

Sunday's result is the clearest and most dramatic example of a shift that has been taking place across politics in many European countries for some time. With traditional political dividing lines fading, they are being replaced by contests shaped by identity, attitudes to globalisation and the choice between open or closed economies and societies.

And no two candidates in the French election embodied this choice as clearly as Emmanuel Macron and Marine Le Pen.
Those who laughed at pro-EU centrist Emmanuel Macron when he launched his En Marche! party just a year ago and announced he was running for president are not laughing now. The former investment banker may be a political novice, but he holds a 20-point poll lead over far-right Marine Le Pen and – barring an upset orders of magnitude greater than Brexit or Trump – is on the brink of the presidency. "In the space of a year, we have changed the face of French political life," he told his supporters on Sunday night.
Chris Applegate/BuzzFeed
Opinion polls for the second-round runoff between Emmanuel Macron and Marine Le Pen (five-day rolling average of all polls).
Le Pen said her appearance in the second round was a victory for "patriots" and urged French voters to "seize this historic opportunity".
Macron and Le Pen's respective visions for its future, and their idea of the country itself, are in many ways diametrically opposite. Hers is a protectionist, nationalist, and populist manifesto. His is written on openness, free trade, and globalisation.
Macron has run on an unapologetically pro-EU platform, the only candidate to do so. He promises to change both France and the EU.
Le Pen's view of the world is very different, framing the runoff vote as "a referendum for or against lawless globalisation".
Her message was particularly appealing to many in the industrial towns, suburbs, and rural areas hit hardest by the financial crisis, and who feel anxious about their prospects, disillusioned, and abandoned by all mainstream politicians. Macron's was more evenly distributed across the country and demographics.
This campaign has been shaped by economic anxiety, a national identity crisis, and terrorism. Data released released on Sunday night showed that employment, terrorism, purchasing power, immigration, and Europe were voters' top concerns. A significant majority of people (62%) cast a ballot for the candidate whose project they most believed in.
Separate data showed that Macron and Le Pen were the two candidates most perceived to be about change.

Macron's progressive credentials were underlined on Thursday when Barack Obama wished him luck during a phone call, while Le Pen has been "endorsed" by Donald Trump, who described her ahead of the election as the "strongest" candidate. After the latest terror attack in Paris on Thursday night, Trump also predicted on Twitter that it would have an impact on the election.

As voting took place on Sunday, several Twitters users noted that pro-Trump Twitter accounts had turned their attention to the French campaign. And days before the vote, a report suggested the election had been flooded with fake news posted by automated accounts.

As well as his poll lead, there was further positive news for Macron in Sunday night's numbers. One of the firms that released polling projections asked voters what had motivated their choice of candidate. Some 20% of Le Pen voters said it was a protest, while 56% said it was because they backed her anti-immigrant platform.

By contrast, a statistically insignificant number of Macron voters described their choice as a protest, though nearly 30% said it was a tactical vote.
So what became of the traditional parties? Conservative François Fillon is estimated to have won about 19% of the vote. His core vote, and a campaign underpinned in France's Catholic roots, proved resilient throughout, but in the end it wasn't enough. He quickly conceded defeat after the voting projections were published and threw his support behind Macron to stop Le Pen.
Benoit Hamon, the candidate from the Socialist party of outgoing president François Hollande, is set to win only 6.5% of the vote – a clear reflection of both Hollande's record low approval ratings and the broader crisis of identity engulfing many of Europe's social democratic parties. A similar fate befell the Dutch social democrats in elections last month.
Chris Applegate/BuzzFeed
Initial estimates of the first round results released by French broadcasters.
A third of Hollande's 2012 support went to the far-left's Jean-Luc Mélenchon, who pointedly refused to either concede defeat or to endorse a candidate in the second round.

Polling data showed that the rejection of the traditional option was particularly strong among younger voters, over 50% of whom backed either the far-right or far-left.
Both Fillon and Hamon, as well as senior politicians in their respective parties, called on their supporters to back Macron in the runoff. Mélenchon has so far not endorsed either candidate.
Still, polls show that a third of Fillon voters could opt for Le Pen in the second round, while nearly 40% of Mélenchon's voters could abstain.
Chris Applegate/BuzzFeed / Via Ifop
But assuming Macron does prevail, as the polls suggest, his room for manoeuvre may still be limited. One month after electing a new president, French voters will be called to the polls again to elect a new parliament. Macron's En Marche! is fielding candidates across the country. But, the party may struggle to win a majority of seats, and Macron, should he become president, would need to find support among centre-left and centre-right MPs. The old ways may yet find a way of reasserting themselves.

Outside Your Bubble is a BuzzFeed News effort to bring you a diversity of thought and opinion from around the internet. If you don't see your viewpoint represented, contact the curator at bubble@buzzfeed.com. Click here for more on Outside Your Bubble.