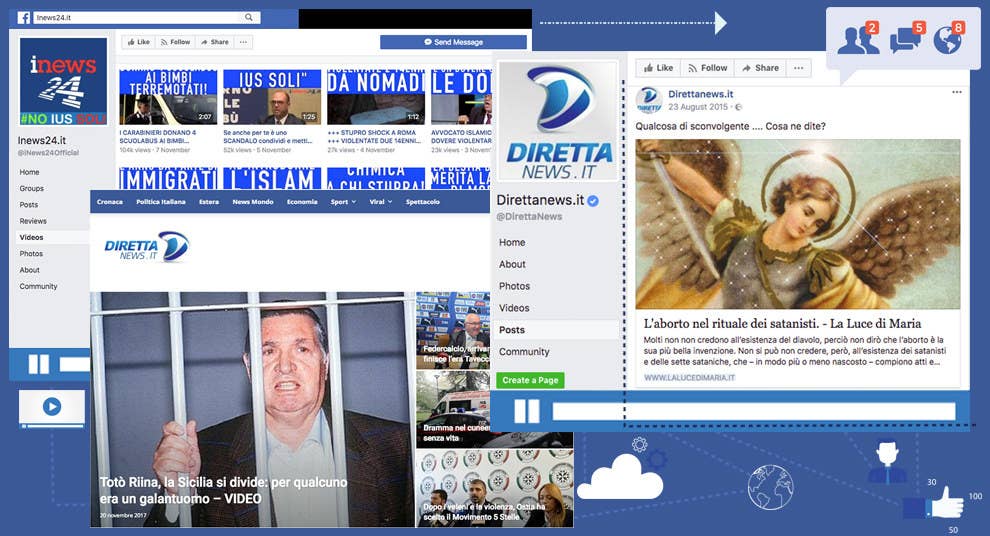 LONDON — A massive network of Italian news websites and Facebook pages that spread nationalist rhetoric, anti-migrant content, and misinformation is owned by an entrepreneur in Rome with links to a secretive Italian Catholic association, a BuzzFeed News investigation has found.

This network of sites and Facebook pages represents one of the most popular alternative media operations in Italy, and sheds light on the overlap between the fringe underbelly of the Catholic world, Italy's nationalist movements, and for-profit clickbait. It also shows how the genre of Facebook-focused hyperpartisan news that exploded in the US and gained traction in the UK has also taken hold in Italy, where this network often reaches as many people on Facebook as some of the country's biggest mainstream news outlets.
At the heart of this media network, which is owned by by Giancarlo Colono, an entrepreneur based in Rome, is a company called Web365. Corporate documents seen by BuzzFeed News, along with domain registration records and other information, reveal that Colono's company controls 175 domain names, as well as a network of Facebook pages. The active sites run by the firm cover news, health, football, betting odds, pets, and celebrity gossip.
The content on Colono's news sites and pages ranges from viral clickbait and quick takes on the day's headlines to misleading or alarmist stories about tragic events and hyperpartisan pieces about immigration that echo nationalist and Islamophobic rhetoric.
In an email exchange with BuzzFeed News last Tuesday, Colono said Web365 employs only six staff and several professional journalists, illustrating how a small team can use the power of Facebook to reach millions of people.
BuzzFeed News examined Web365's active websites and most popular Facebook pages by analysing domain registration information, IP addresses, Google AdSense, and Analytics IDs, and by using BuzzSumo and CrowdTangle to evaluate the most popular content on the pages and sites. The information gathered also led BuzzFeed News to other websites, Facebook pages, and profiles that were connected via domain records, content sharing patterns, or other information.
Web365's news operations include two of Italy's biggest Facebook news pages: DirettaNews and iNews24.
DirettaNews' Facebook page, which has a verified badge from Facebook, is liked by nearly 3 million people — more than some of Italy's largest newspapers, including the top-selling Corriere della Sera and Gazzetta dello Sport, and leading politicians such as former prime minister Matteo Renzi.

Data from the social media monitoring tool CrowdTangle shows that content on the DirettaNews Facebook page received more than 5 million shares over the past 12 months — more than was generated by the pages for Corriere della Sera and another major mainstream Italian newspaper, La Stampa.
An Italian fact-checking website describes DirettaNews' approach to news as "pseudo-journalism" — an honour reserved for those websites that don't clearly distinguish between facts and hyperpartisanship, and/or those that appear to copy stories from dubious sources without checking their veracity.
In addition to its main sections on news, business, sports, and "viral" (a term covering science, health, and diets), DirettaNews reports obsessively on traffic accidents.

But Web365's sprawling network of sites and Facebook pages extends beyond tasteless headlines.
On iNews24, a site that focuses heavily on politics, headlines include "Immigrants and disease: the union that everyone is hiding", "Rome, Moroccans knock down a door and occupy. The police does nothing", and "The Weinstein case, the Imam: If they wear a veil they won't be harassed".
The iNews24 Facebook page has nearly 1.5 million followers on Facebook. And a number of other extremely popular pages associated with the iNews24 brand are used to share its links, as well as often politically and ideologically charged content.
In a response to questions about the online activity of a specific Facebook account associated with iNews24 that has promoted its content in far-right and nationalist groups on Facebook, Colono told BuzzFeed News the account was fake. Colono did not clarify if his company created the fake account.

Facebook told BuzzFeed News it was reviewing the matter.
On Tuesday afternoon, the DirettaNews Facebook page, and two iNews24 pages appeared to be unavailable on Facebook.

BuzzFeed News's analysis of Web365's websites and their, as well as Colono's, social media activity also shows what appear to be close ties between Colono family members and a Catholic association called La Luce di Maria (Mary's Light) whose mission is to spread "correct information around the world", particularly about religion and society.

Members of the Colono family have contributed to building and boosting the Catholic association's online presence. The La Luce di Maria Facebook page, which has nearly 1.5 million fans, generates significant engagement on Facebook. Its Spanish-language counterpart has more than 1.7 million followers. A separate page dedicated to maternal health owned by the association has nearly 950,000 followers.
The information La Luce di Maria shares online includes daily prayers, unscientific health advice, tips to fight malevolent spells and the devil, and a section about the Virgin Mary's (alleged) appearances, including in Medjugorje, a town in Bosnia and Herzegovina that has become a site for Christian pilgrimage.
(The Virgin Mary's appearances are such a controversial topic within the Vatican that even Pope Francis recently felt obliged to express scepticism about reports of such appearances in Medjugorje).
The website has also compiled evidence that it says suggests Pokémon Go was invented by Satan.
DirettaNews has republished stories from La Luce di Maria, including an analysis that suggested abortion might be a satanic ritual and photos of alleged divine appearances.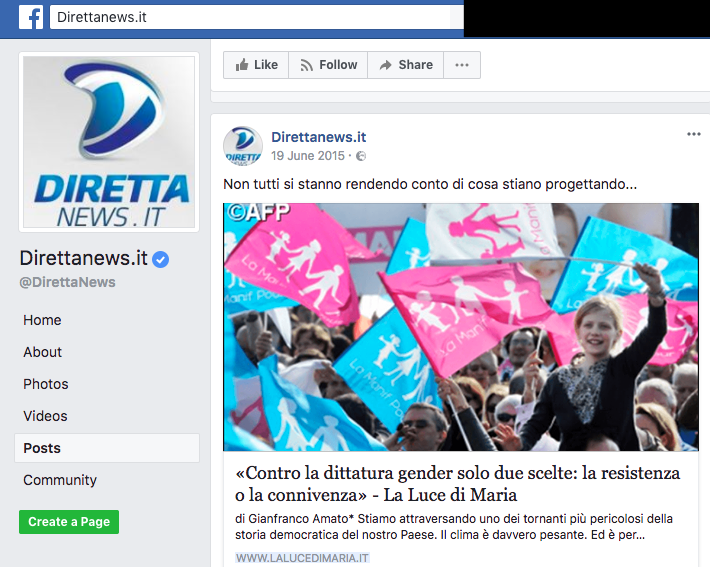 Many connections exist between the news websites, La Luce di Maria, and various members of the Colono family.

When it comes to their own Facebook timelines, Giancarlo Colono and other members of his extended family have posted content from the La Luce di Maria Facebook page and pages of similar organisations that show a deep commitment to their Catholic faith.
Colono told BuzzFeed News that he and his brother Davide have been involved with La Luce di Maria, but said their involvement was limited to helping to set up its online operations — and that he was "in its current state a simple and affectionate follower". (La Luce di Maria appears to exist primarily as an online operation.)
During phone conversations and email exchanges with BuzzFeed News, the Colonos explained there were no connections between their websites and La Luce di Maria.
La Luce di Maria didn't respond to specific questions sent by email asking who the founders, leaders and those responsible for the Catholic association are. But, in an email reply, a spokesperson for La Luce di Maria told BuzzFeed News that there was "no existing official relationship" with the Colono brothers. They added that Davide was among several people helping the association, and that others send them links.
Both a "Davide" and a "Giancarlo" — without any last name — are listed among those "who write for us" on the association's about page.
Davide told BuzzFeed News in an email that all he does for La Luce di Maria is post content and photos on a voluntary basis. A video he uploaded to YouTube in June last year from a Catholic event shows the speaker, a priest, praising the La Luce di Maria Facebook page.
He declined to comment further on the ownership structure of La Luce di Maria.
After answering a series of questions by email, both Colono brothers and La Luce di Maria subsequently emailed BuzzFeed News — separately and within the space of an hour and 20 minutes from each other — to say their responses and comments from the previous day were now private and should not be published, and gave no clear reason.
But BuzzFeed News informed the parties on Friday night that we had decided it was in the public interest to publish their responses, which had been given on the record and without any conditions.
Italian officials say that websites and Facebook pages like those run by Web365 that spread misleading information, anti-migrant sentiments, and nationalist messages could have an impact on next year's election.
Laura Boldrini, the president of the Italian parliament, who herself has been on the receiving end of unrelated online hate and fake news, told BuzzFeed News: "This is not some prank but a danger for young men and women who get most of their information from digital channels. This investigation reveals that there are millions of Italian citizens that are victims of garbage information."
"It's clear," she added, "and not just from today, that misinformation is a political weapon. Digital platforms and institutions cannot ignore these realities. They need to act soon and with firmness to stem this flow before it's too late."
Until last week, the La Luce di Maria domain name was registered to a man called Roberto Granieri. After BuzzFeed News emailed La Luce di Maria for comment about Granieri, the association changed the registration details for its website to remove his name, and said in an email that Granieri is no longer part of the association.

A Facebook account in the same name was one of four administrators of a closed Facebook group directly linked to the main iNews24 account called "Italians First". The group has so far amassed nearly 27,000 members. The main iNews24 account was also one of the group's administrators.
When asked about it, Giancarlo Colono told BuzzFeed News that the Granieri Facebook account is fake. He did not respond when asked who created the account.
"This account is a fake account that doesn't correspond to the real Roberto Granieri, founder of La Luce di Maria, and was only used to guarantee anonymity in the group given the themes it covers," he said.
The use of fake accounts is prohibited by Facebook. In an email to BuzzFeed News, a Facebook spokesperson said the company removes fake accounts from the platform regularly.
"We are currently reviewing and are taking action to enforce our policies and protect the integrity of our platform," the spokesperson said. "We have policies to protect our users against misleading behaviours and our teams work to both prevent violations and remove bad actors and spammers from the site."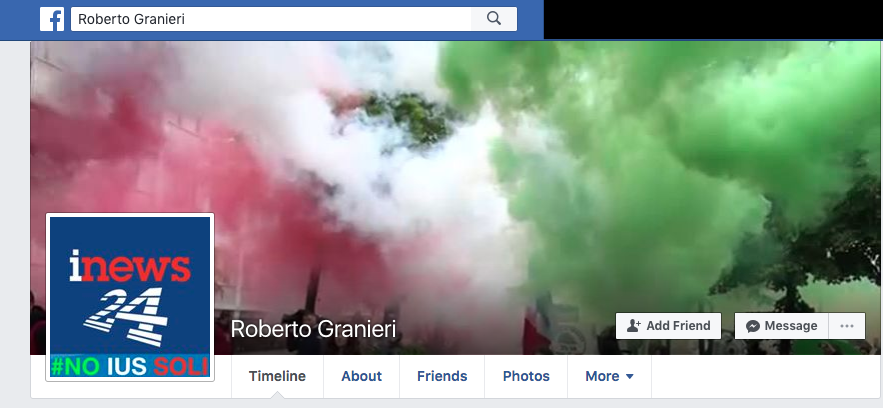 The Roberto Granieri account has since been deactivated and the group it co-administered has been renamed "We are Italians" and given a new description: "LONG LIVE ITALIANS".

The group description previously read, in all caps: "WE A WANT A GOVERNMENT OF THE PEOPLE, ELECTED BY THE PEOPLE. NOT AN ABUSIVE GOVERNMENT IMPOSED UPON US BY THE BANKS. WE'RE LOOKING FOR PEOPLE WHO THINK LIKE US. NOBODY CAN DO IT ALONE TOGETHER WE CAN. HELP US AND HELP YOURSELVES!!!"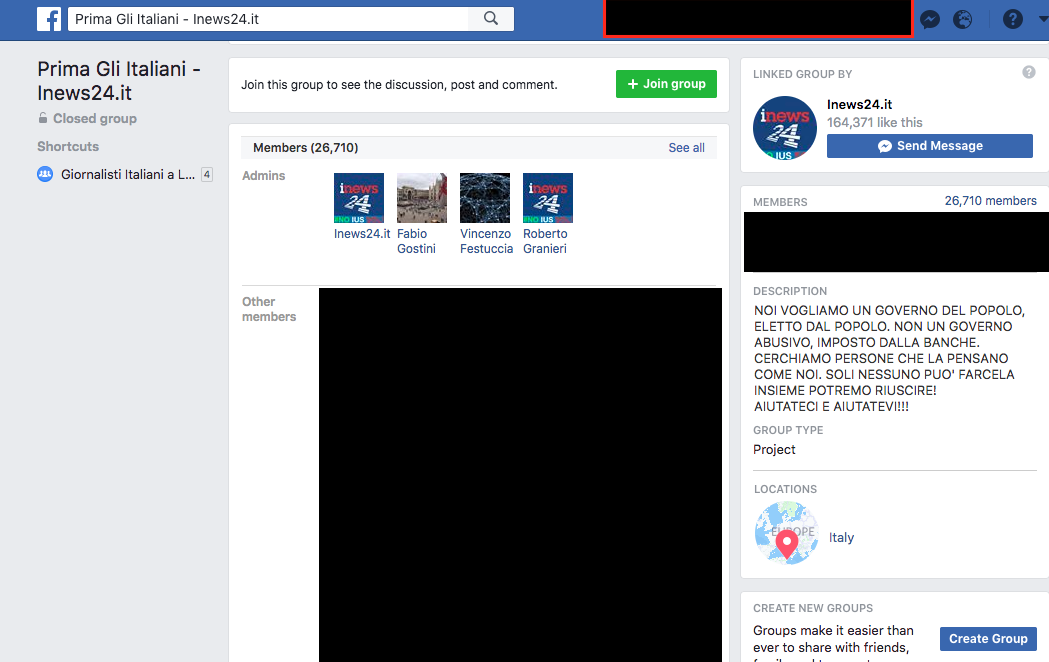 Several members of the Colono family, including Davide, were members of the same group as late as last week.

The Roberto Granieri Facebook account had the hashtag for a campaign against granting migrants citizenship rights in its avatar. The account was also linked via Facebook groups and the content it shares to the iNews24 site, owned by Giancarlo Colono.
But unlike the Colonos, whose online activity mostly includes evidence of charitable causes, prayers, pilgrimages, and an abundance of religious imagery, the Granieri account largely eschewed religious content and instead focused on anti-immigration and nationalistic content.
The Granieri account was a member of numerous public and private far-right, nationalist, anti-migrant, and anti-Islam Facebook groups, as well as pro-Putin, Five Star Movement, and nationalist Lega party leader Matteo Salvini groups. (It has also liked similar pages.) The account assiduously posted iNews24 content in the groups, and had also posted an image from a rally organised by the fascist political party CasaPound.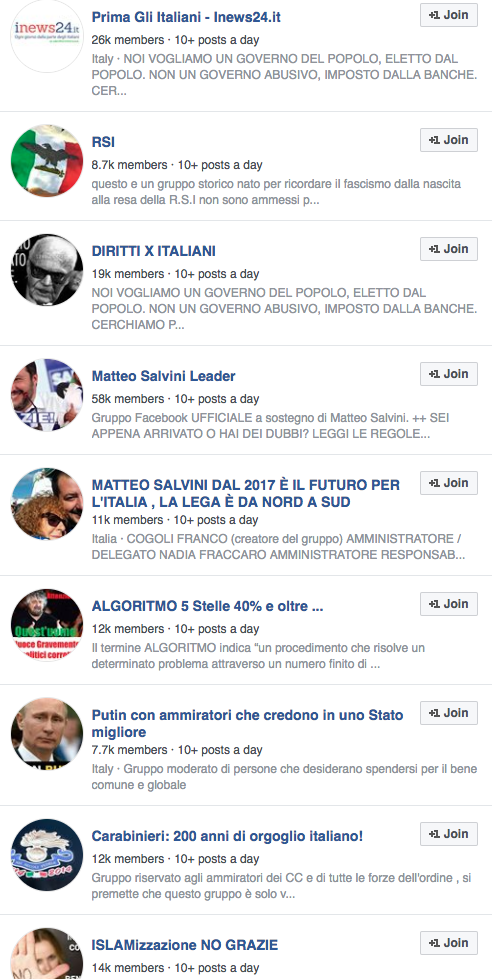 BuzzFeed News found at least two instances in which the fake account commented on DirettaNews posts about equal marriage with homophobic remarks. On one occasion, the DirettaNews account replied to thank him.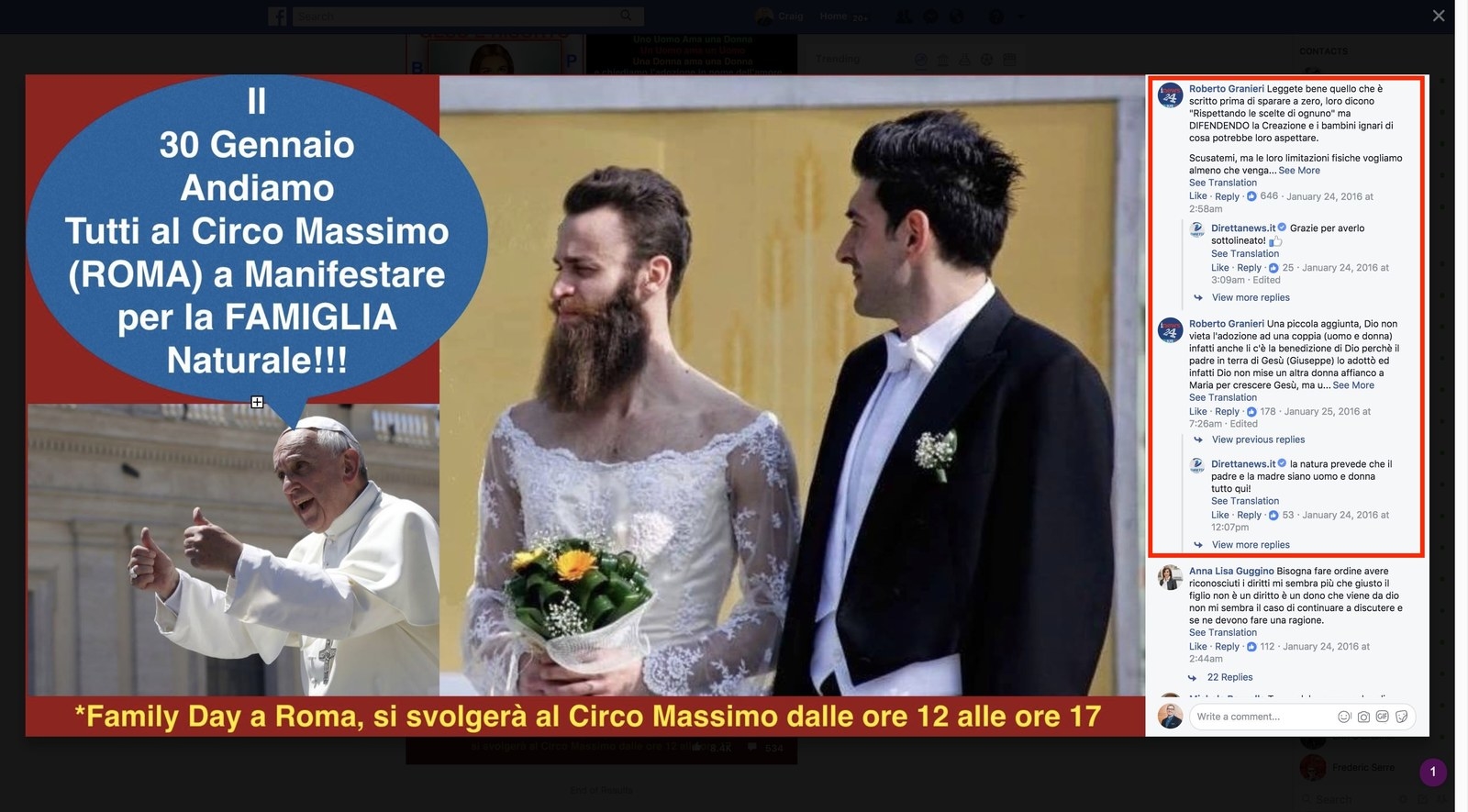 Those same themes are often present on the iNews24 site. It features sections called "The Invasion", "The Great Farce", "Pissed Off", "We Are With You", and "Immigration". News stories about sport and gossip sit alongside a relentless drumbeat of alarmism, tragedy, xenophobic headlines, and conspiracy theories.
Giancarlo Colono told BuzzFeed News: "[iNews24] highlights things that the majority of media don't cover." He also complained that Facebook was blocking some of its content without providing an explanation.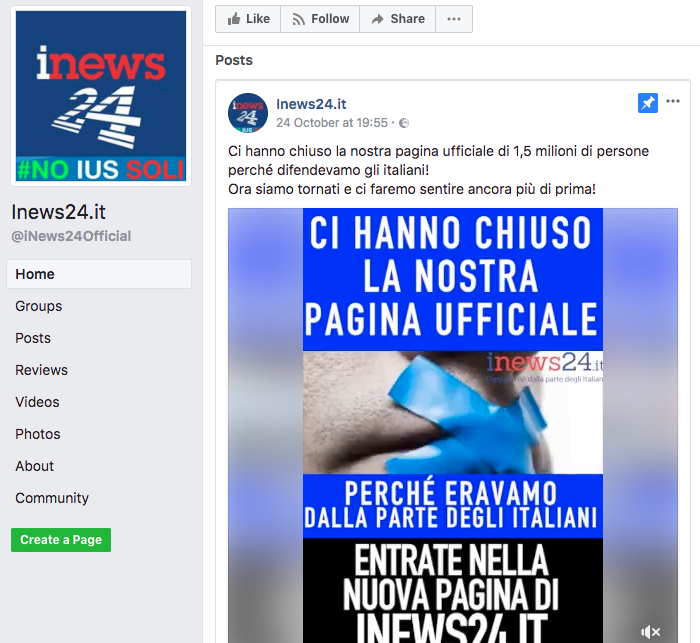 Most of the prominent articles published on the website last week featured traffic accidents, refugees protesting in asylum centres, and stories about alleged sexual assaults and rapes carried out by migrants.
The website published a video in March purporting to show a migrant attacking a nurse in a hospital in Italy. An Italian fact-checking site has asserted that in reality, the incident didn't involve a migrant, but a drunk patient – and had taken place in Russia a month earlier.
iNews24.it links that feature salacious clickbait, tragic events, and gossip are also frequently posted on the DirettaNews Facebook page.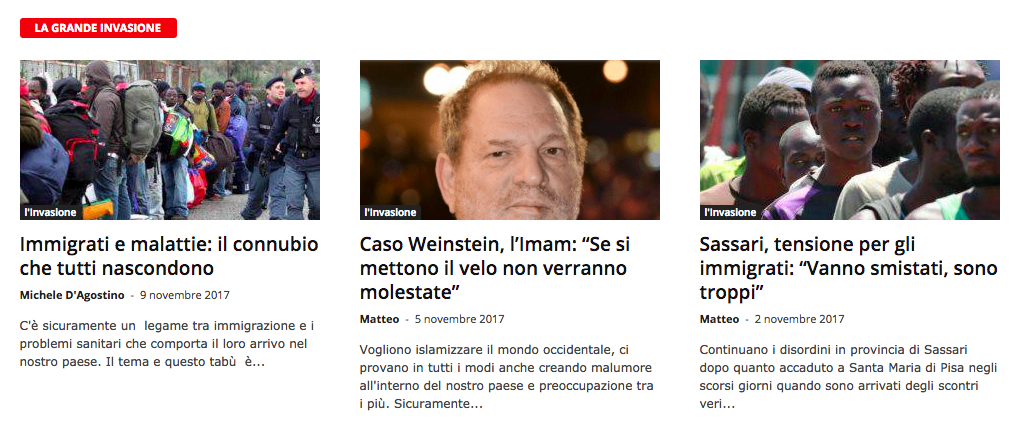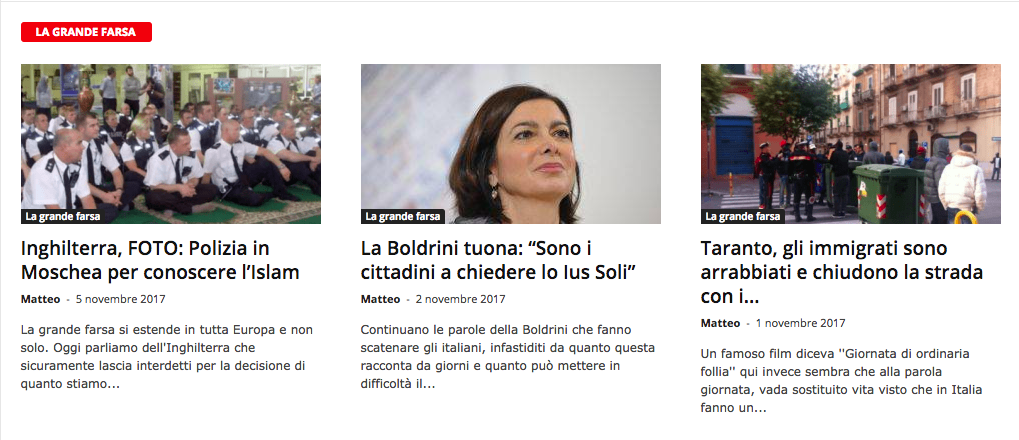 DirettaNews is the most popular news site among those associated with Web365. Data from web analytics service SimilarWeb show it averaged just over 2 million visitors per month over the past 12 months, and that its primary source of traffic is Facebook. Almost 85% of visits to DirettaNews over the past year came thanks to the platform, reinforcing how important its Facebook page is to the success of the site, and to its ability to reach Italians overall.

DirettaNews's biggest hit on Facebook over the past year is a piece titled "Incredible, 10 minutes, and the tumour disappears". It generated more than 250,000 Facebook engagements – likes, comments, and shares – according to data from the social media analytics tool BuzzSumo. The story is about a new and innovative technique that dissolves a tumour in 10 minutes. (The piece, which went viral on several Italian clickbait websites, is misleading, according to the Italian fact-checking website Butac. Although it had just been introduced to the hospital mentioned in the article, the technique the DirettaNews article references wasn't entirely new and is used to treat some metastases.)
Earlier this month it published a piece based on the conspiracy theory that Adolf Hitler died in the 1970s in South America.
According to Butac, DirettaNews has on a number of occasions added unsubstantiated sensationalism to its content. In a piece published in December 2016, the site claimed that a vaccine had been blocked following three deaths in 48 hours. The fact-checkers at Butac claimed that the blocked vaccine part of the story referred to an incident from two years prior – and even then, the deaths were unrelated to the flu jab.
In addition to occasionally pushing stories from La Luce di Maria, such as campaigns to protest anti-discrimination legislation and same-sex marriage, and other websites owned by the Catholic association, DirettaNews has also shared content that was originally posted by nationalist sources, including a video by Lega leader Salvini during last year's constitutional referendum campaign against the proposed reforms. BuzzFeed News also found several posts on La Luce di Maria praising Salvini.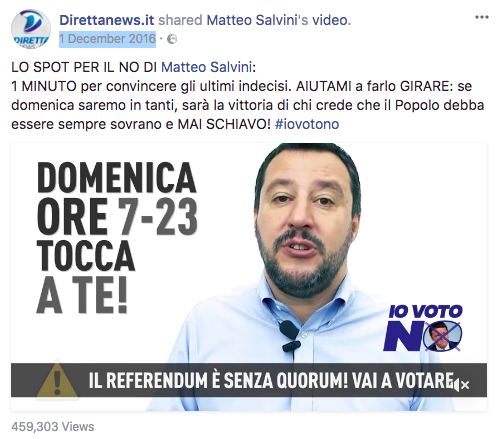 BuzzFeed News analysis also found overlaps between Web365's websites and a web development and marketing agency called NextMediaWeb. The Colono brothers told BuzzFeed News that Web365 and NextMediaWeb are separate entities.

Davide Colono is an employee at the web development agency. As of March 2017, the majority of shares in the company were held by Roberta Franze, who BuzzFeed News believes is also a member of the family, based on company information and their Facebook activity. The firm owns more than 90 domains.
DirettaNews was listed among the projects of the web development agency; however, after being contacted by BuzzFeed News, the NextMediaWeb site was taken down the next day.
DirettaNews also shares a Google Analytics ID with La Luce di Maria, along with dozens of other domains that have several connections back to the two companies. (Many of the sites also have, or had in the past, the same Google AdSense ID, which means the ad revenue goes into the same account). NextMediaWeb is also listed as the developer of the DirettaNews iOS and Android apps. Other projects listed on the now-defunct NextMediaWeb site included websites targeting mothers, a website about celebrity gossip, and a string of football-related websites. The company also owns the domain name of the Spanish version of the La Luce di Maria website.

The Colono brothers told BuzzFeed News that Web365 and NextMediaWeb are completely separate legally and in terms of their operations, and BuzzFeed News has found no evidence to suggest otherwise. The two brothers said any overlap between the websites, domain information and Google IDs was "due to past circumstances".
NextMediaWeb did not respond to detailed questions about the ownership structure of the company or the overlap between the various websites.
There is no evidence to suggest the two firms have committed any wrongdoing. What's clear, however, is how networks of websites and Facebook pages have the ability to reach millions of Italians with a potent mixture of religious and nationalistic messages.
Andrea Stroppa, an independent cybersecurity researcher, contributed research for this story. Stroppa has advised former Italian PM Matteo Renzi on cybersecurity issues.