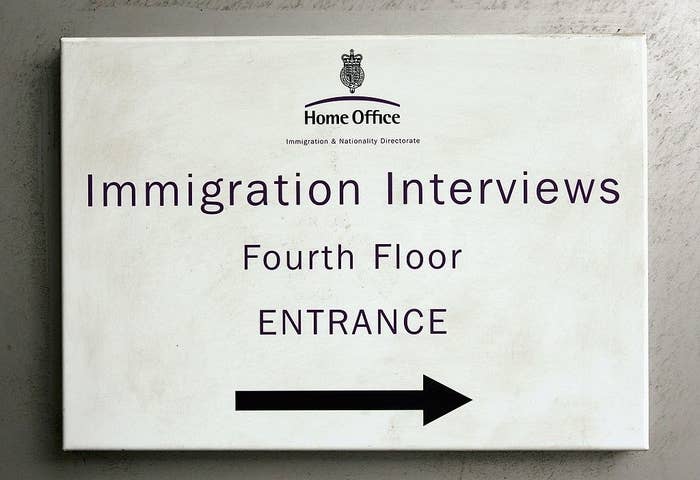 Net migration to the UK rose to 333,000 people in 2015, according to figures released on Thursday by the Office for National Statistics (ONS).
This represents an increase of 20,000 people compared to 2014, when net migration was 313,000. The ONS said the change was not statistically significant.

The numbers make official what everyone already knew: The British government will not hit its target of reducing net migration to the tens of thousands before the EU referendum on 23 June. The figures have already been seized on by Leave campaigners, who say Britain can only control immigration if it exits the EU.
Boris Johnson said: "I've always championed the great benefits that can come from immigration. I am the proud descendant of immigrants. I've seen how as mayor of a great capital city, London has benefited in so many ways from migration. As mayor I argued consistently for a more sensible visa policy that would welcome talented people from across the globe, people recruited on the basis of their skills.
"Britain benefits from cultural influences from abroad, I'm pro-immigration, but above all I'm pro–controlled immigration. People of all races and backgrounds in the UK are genuinely concerned about uncontrolled immigration and the pressure it's placing on local services. People have every right to question why we can't control our borders. We need to answer those concerns by taking back control of those borders."
The ONS release shows that 630,000 people immigrated to the UK in 2015, while 297,000 left the country. The increase in the net figure is primarily a result of a decrease in emigration.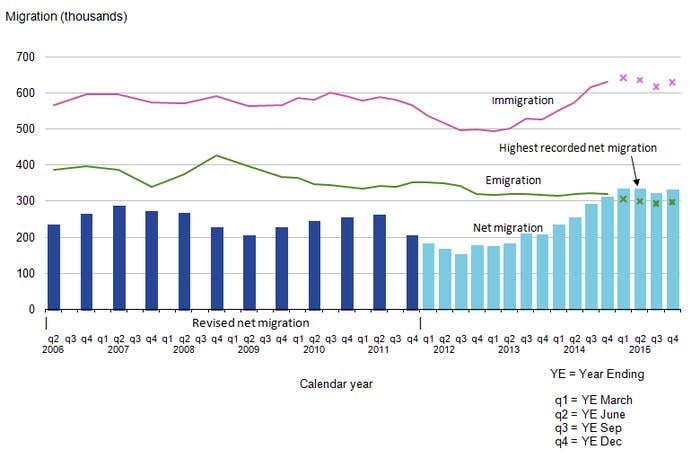 Net migration of EU citizens was estimated to be 184,000, compared with 174,000 in the previous year. Non-EU net migration was 188,000, also a similar level compared to 2014.

The estimate of immigration for EU citizens was 270,000 (slightly up on 2014's 264,000), while immigration of non-EU citizens saw a decrease from 287,000 to 277,000.

The increase in EU net migration was largely due to an increase in net migration from Bulgaria and Romania, which went from from 44,000 in 2014 to 58,000 in 2015. Net migration of other EU citizens remained at similar levels.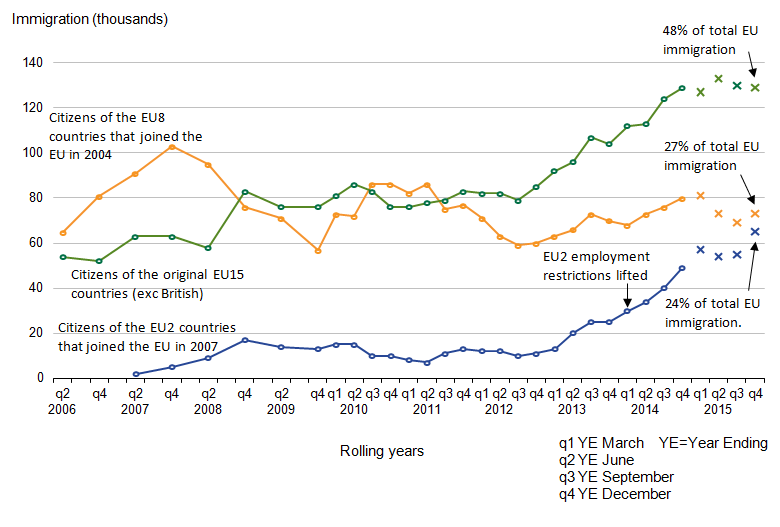 The ONS estimates that 308,000 people immigrated for work – the highest estimate on record. Of these, 58% had a definite job to go to, while 42% arrived looking for work. Among Bulgarian and Romanian citizens who came to the UK in 2015, 84% (52,000) came for work-related reasons. Of these, 31,000 arrived with a definite job to go to.
According to the latest available data, there are 2.1 million EU nationals (excluding British nationals) employed in the UK.
Net migration figures are calculated using long-term migration data. A long-term migrant is someone who has moved to a country to stay for at least 12 consecutive months.

On Thursday, the ONS also released figures for short-term immigration. They show that in the year ending June 2014, short-term immigration (people who stay for up to 12 months) was 1.2 million, a statistically significant increase of 110,000 visits compared with the previous year. The ONS says nearly 3 out of 4 short-term immigrants leave within three months.
Back in 2010, David Cameron pledged to reduce migration to the tens of thousands. The government has never come anywhere near achieving that target: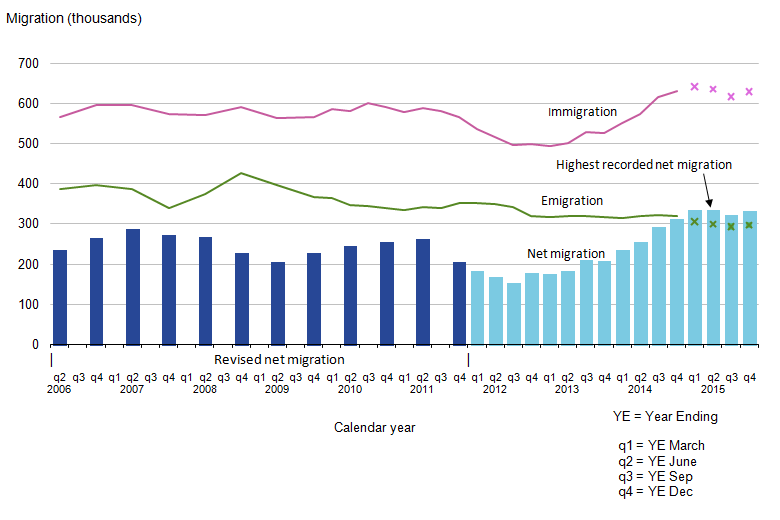 However, on the flipside, the higher net migration means George Osborne can still claim to be on track to reaching his fiscal target of a budget surplus by the end of this parliament. In fact, figures from the independent Office for Budget Responsibility (OBR) show that if migration were reduced to levels closer to the Conservatives' aspiration, the drop in economic output would be sufficient to wipe out Osborne's surplus without further cuts or tax hikes. This suggests that the Tories' immigration and economic targets are directly at odds.

Separate data released on Wednesday by the ONS showed that the population of England is set to grow to 58.4 million by mid-2024, a 7.5% rise over 10 years. This is due, almost in equal measure, to an increase in the population aged over-65 (people are living longer), with this age group growing at the fastest rate compared with other age groups in every region of England, and to net migration trends. The population growth is expected to take place in every region but at different rates.
London's population is projected to grow by 13.7%, reaching 9.7 million people by mid-2024, while, at the other end of the scale, that of the North East will increase by 3.1%.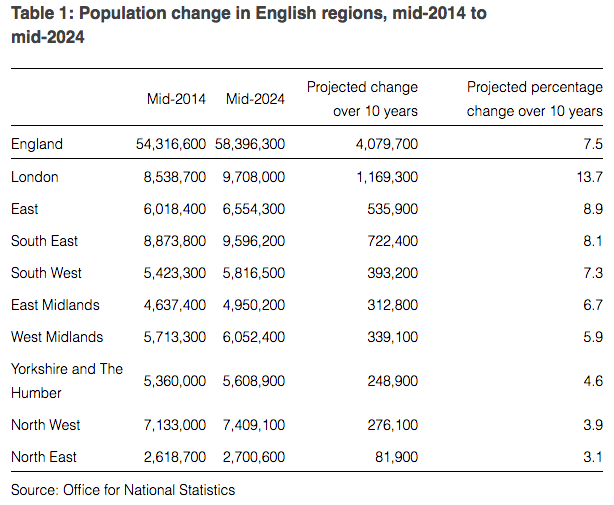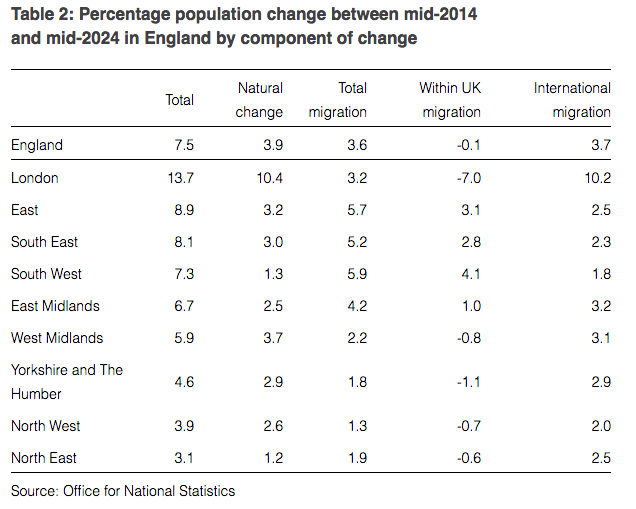 Thursday's release also included figures for asylum applications. There were 41,563 asylum applications (including dependants) in the year ending March 2016, an increase of 30% compared with the previous year (32,036). This is the fifth successive year in which asylum applications have risen, although the number of applications is low relative to the peak in 2002 (103,081).