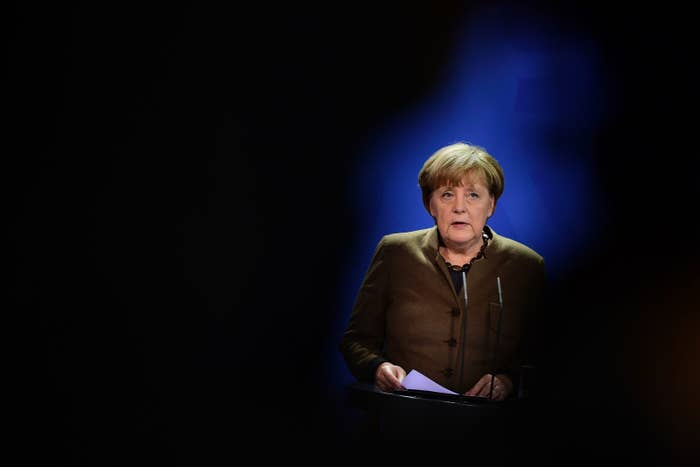 German Chancellor Angela Merkel is facing an onslaught of negative and misleading stories from right-wing media outlets and conspiracy theories spread by fringe websites that publish fake news, a BuzzFeed News analysis has found.

Driving the popularity of anti-Merkel content on social media are primarily hyperpartisan and far-right groups that are trying to discredit the German chancellor ahead of this year's election. These groups, which play a major role in helping propagate negative stories with misleading headlines, are increasingly focused on Merkel's liberal stance on the refugee crisis. The analysis showed that these stories were among the top-performing content about Merkel on social platforms last year, both in English and German languages.
Echoing what was seen during the US election, many of these sites mix legitimate partisan political content with false and conspiratorial information, especially about refugees and Islam, in order to inspire passion and increase social engagement. Large right-wing pages in the US are also increasingly sharing anti-Merkel content, helping it gain wider distribution on Facebook.
BuzzFeed News analysis also found that many of the most popular Merkel stories on Facebook in German language come from a mix of negative and right-wing news sources (that do not publish fake news) like Junge Freiheit — a weekly newspaper that has been endorsed by the co-founder of the far-right party Alternative for Germany (AfD). Even among more established sources, like the business-news site Deutsche Wirtschafts Nachrichten (DWN), the most shared stories mostly include negative ones. In 2014, German news magazine Spiegel called DWN a drip feed of "fear and distrust".

Among the websites publishing popular fake news in German is Anonymousnews.ru, a site that frequently features both pro-Kremlin propaganda and conspiracy theories, including claims that 9/11 was carried out by the CIA. After Facebook took down the group's page last May, it started posting mostly on VK, a major social network in Russia, where it has had a page since 2011.

"In Germany we have a crisis of trust towards established media channels," said Lutz Helm of Hoaxmap, a website tracking fake news in the country. "A growing minority of people don't trust media stories anymore and are looking for alternative sources. This gives conspiracy theories and obscure news sites a lot of attention, and it also leads to an increase of hoaxes and conspiracy theories on social networks."

Websites responsible for publishing conspiracy theories, dubious content, and fake news produce some of the top-performing content in both English and German. Among the most shared English-language links, there are stories published by yesimright.com, shoebat.com, endingthefed.com, truthfeed.com, and yournewswire.com. Most of these websites would appear to have been registered in the past two years, and several like Ending the Fed quickly became popular by posting pro–Donald Trump and far-right content. It also published fake news stories claiming that Megyn Kelly was fired by Fox News, and that the Pope endorsed Donald Trump.

A post on Your Newswire, which falsely claims Merkel took a selfie with one of the Brussels terrorists, generated more than 32,000 shares, reactions, and comments on Facebook.
By comparison, the real story of the chancellor's selfie with a refugee published in English by German broadcaster Deutsche Welle received fewer than 13,000 engagements. (Facebook engagement does not necessarily translate into traffic to a website, but higher engagement means the link's headline and image was likely exposed to more people on Facebook.)
Your Newswire also helped to spread an early version the bizarre conspiracy theory known as "Pizzagate," which ended with a man entering a pizza restaurant in Washington, DC, with a shotgun to "self-investigate" the ludicrous story that the restaurant secretly provided underage prostitutes to top Democrats.
The top-performing German-language content about Merkel includes sites like blog.halle-leaks.de, rapefugees.net, info.kopp-verlag.de, anonymousnews.ru, and noch.info.
Noch.info was one of the first sites in Germany to spread the false claim about Merkel's selfie with a terrorist. Just last week, citing "Russian intelligence sources," it reported that President Barack Obama was secretly meeting Trump's son-in-law Jared Kushner in Hawaii. Kopp Verlag, in addition to publishing books about aliens and UFOs, has falsely reported that the government is putting refugees being welcomed in Germany on social benefits for life. In 2014, it posted an article that asked "Is Michelle Obama a trans?" claiming that the first lady is in reality a man called Michael.
Some of the more outlandish fake stories unearthed by BuzzFeed News, and shared by the same far-right accounts that post anti-Merkel content, are from the website Anonymousnews.ru. Alongside numerous examples of pro-Kremlin propaganda, recent headlines on the site include fabricated stories about refugees in Germany using free Wi-Fi to search for animal porn and German NATO officers arrested in Aleppo for colluding with ISIS (16,000 Facebook engagements). One misleading article published by the site about German army generals defying Merkel generated 25,000 engagement. The conspiratorial story about NATO officers arrested in Syria was also covered by the German-language version of the Kremlin propaganda channel RT.
But no other publications have been more relentless in pursuing anti-Merkel rhetoric than British tabloids like the Express, MailOnline — the most popular English-language newspaper website in the world — and, more recently, more fringe conservative news websites like Breitbart, which is already planning to launch a German version.
Top-Performing Angela Merkel Stories on Facebook in 2016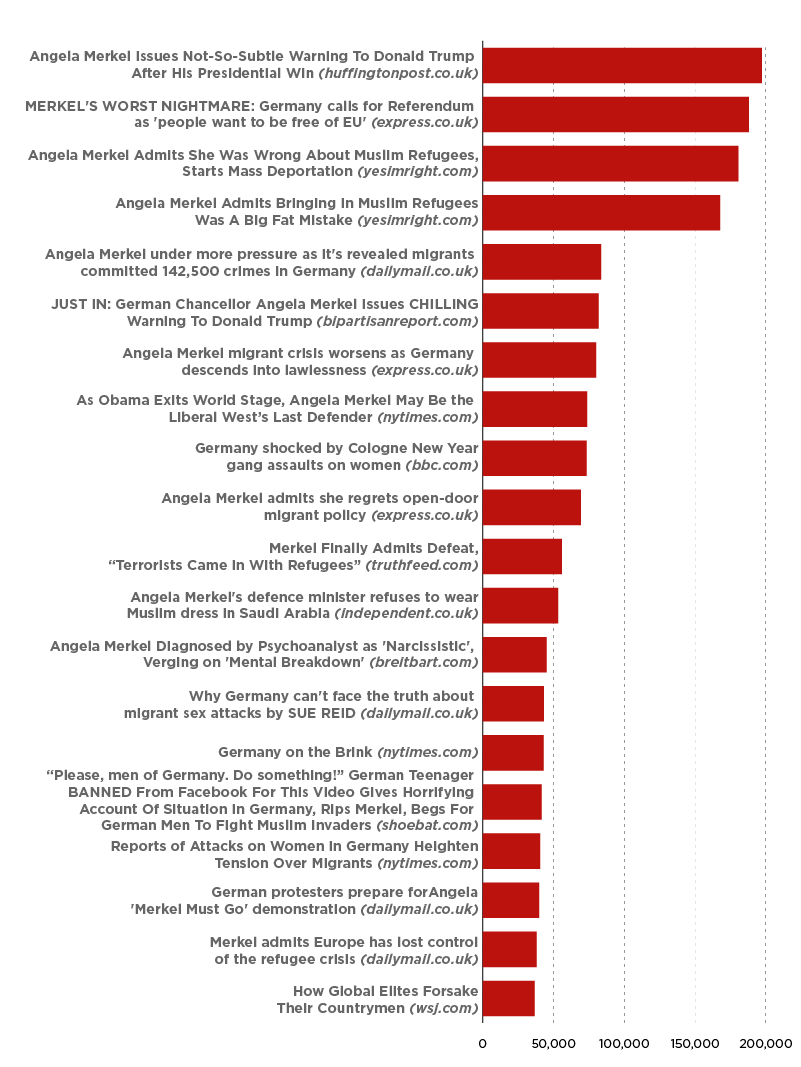 Across all English-language content, British right-wing tabloids the Daily Express and Daily Mail published 16 of the 50 top-performing news stories about Merkel on Facebook, according to the analysis. Content on MailOnline, which has 7.5 million followers on its Facebook page, and the Express, with a million followers, gain significant traction on Facebook because of promotion from US-based conservative, alt-right, and conspiracy news sites, and their social media accounts.
The CrowdTangle browser plugin, which analyzes a link and lists its top sharers on Facebook and Twitter, showed that US Facebook pages and groups such as Conservative Country (700,000 followers), The Deplorables (450,000 members), and Freedom Daily (1.6 million followers) shared anti-Merkel content from British tabloids. (A previous BuzzFeed News analysis of content published by Freedom Daily found that it published false or misleading content 46% of the time.)
One of the top-performing stories in the Express carried an inaccurate headline that said "MERKEL'S WORST NIGHTMARE: Germany calls for Referendum as 'people want to be free of EU'" (which generated over 185,000 shares, reactions, and comments and on Facebook and over 5,000 shares on Twitter). In reality, the idea of holding a referendum on EU membership in Germany is harbored only on the fringes of the political mainstream. Polling shows that some 80% of Germans support EU membership while 70% think a UK-style Brexit referendum in Germany would be a bad idea.
Another top-performing story about Merkel in 2016 was a misleading piece titled "Angela Merkel under more pressure over refugee policy as it is revealed migrants committed 142,500 crimes in Germany during the first six months of 2016." The Mail story, which grossly mischaracterized crime data, was cross-posted to the Express and the website of New York–based Gatestone Institute, which has been accused of fanning anti-Muslim hate. The Mail's version generated more than 80,000 engagements on Facebook and was shared more than 4,000 times on Twitter.
Several of the stories featured in the Express and the Mail were very similar to ones that appeared earlier in right-wing German publications. For example, the piece "German asylum seekers refuse to work insisting 'We are Merkel's GUESTS'" published by the Express, appeared days earlier on the right-wing website Junge Freiheit. The German story generated close to 40,000 engagements on Facebook and was among the 50 best-performing pieces about Merkel in German media last year.
The same headlines also gained traction on Facebook thanks to a string of UK accounts, including several associated with Nigel Farage's UKIP, the far-right political party Britain First (1.5 million followers), and anti-EU groups such as Get Britain Out (170,000 likes).
In the English language, the anti-EU British tabloids dominate coverage of Germany and the EU, according to Wolfgang Blau, chief digital officer for Condé Nast International and the former editor of Zeit.de.
"Since the Brexit vote last June, this global reliance on UK media for following EU affairs poses an even bigger vulnerability for the EU than it already has in the past," Blau told BuzzFeed News. "The world gets its news about Europe from one of the EU's fiercest opponents, often without even knowing so: the UK media."
Not all the top stories about Merkel are negative. Among the most popular pieces there are articles by the New York Times and The Guardian lauding the German chancellor's liberal values. However, in both cases engagement is primarily driven by the publishers' own Facebook pages. While one of the most popular pieces in German, an article by Süddeutsche Zeitung that suggests Merkel deserves the Nobel Peace Prize, was mostly shared on Google Plus.
Those critical of Merkel's approach to refugees are also increasingly vocal on Twitter. After the recent attack on a Berlin Christmas market, pro-Trump Twitter accounts began pumping out anti-Merkel memes and content.
"There's a lot of evidence that there are now targeted attempts to massively attack Merkel, including with bots," Simon Hegelich, a political scientist at Munich's Technical University, told Bloomberg. As BuzzFeed News reported last month, a number of pro-Trump troll accounts have shifted their attention to Merkel, filling social platforms with anti-Merkel messages and links to stories critical of her government's refugee policy.
One of last year's most viral stories in Germany involved a misleading claim — it was later debunked — that the public television station ZDF receives direct instructions from Merkel on what to report. Nearly all of the other viral stories were about refugees.

An analysis of the Junge Freiheit piece about the people who came to Germany seeking asylum from war-torn countries and who refused to work found that it generated additional engagement from Facebook accounts associated with the AfD, the far-right National Democratic Party of Germany (NPD), and the Austrian far-right Freedom Party (FPO), as well as others linked to the anti-Muslim movement Pegida.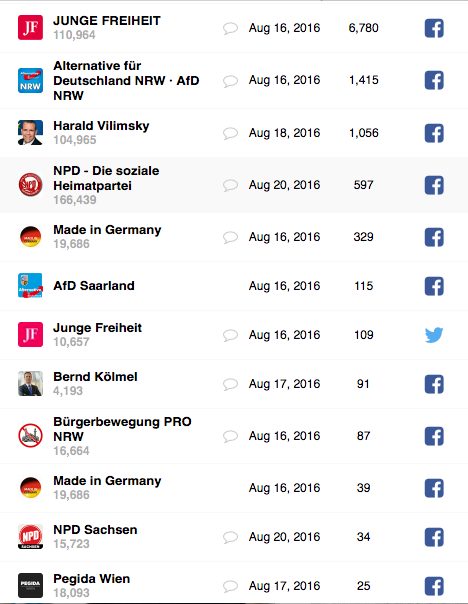 It's often the same Twitter accounts that repeatedly share the top-performing German content. A number of these accounts retweet obsessively, suggesting they exist mostly to help spread this type of content. The AfD has said it will use automated accounts that help further amplify messages on Twitter — one analysis suggests the party is already adopting bots — in the upcoming election.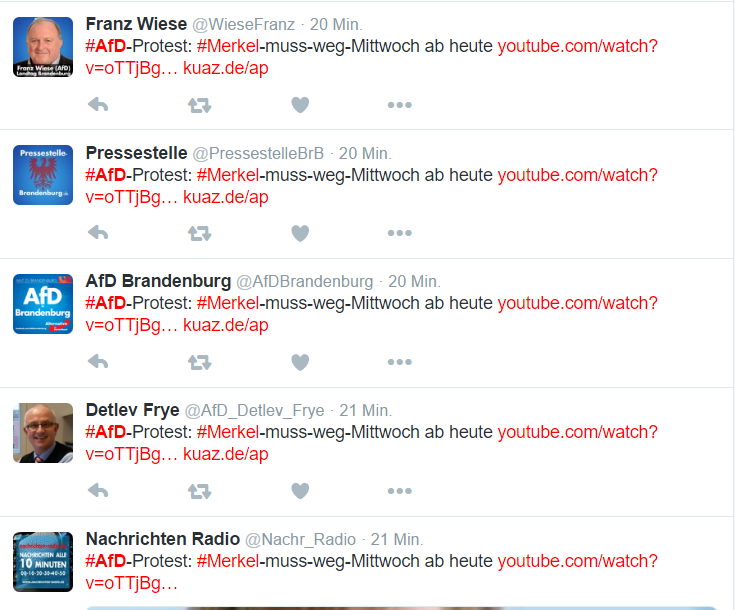 Many of the German links that generated most engagement in 2016 spread conspiratorial claims about Merkel's mental health. A YouTube video titled "Angela Merkel is insane, Canadian TV provides the evidence" has been viewed more than a million times, and has generated more than 82,000 engagements on Facebook. The video, produced by Canadian right-wing publisher Rebel Media, shows conservative commentator Ezra Levant dissecting a video in which Merkel answers questions at a public event. Although he is highly critical of Merkel, he does not label her "insane" — the German version simply added that.

Top Merkel Content on Facebook in 2016 in German*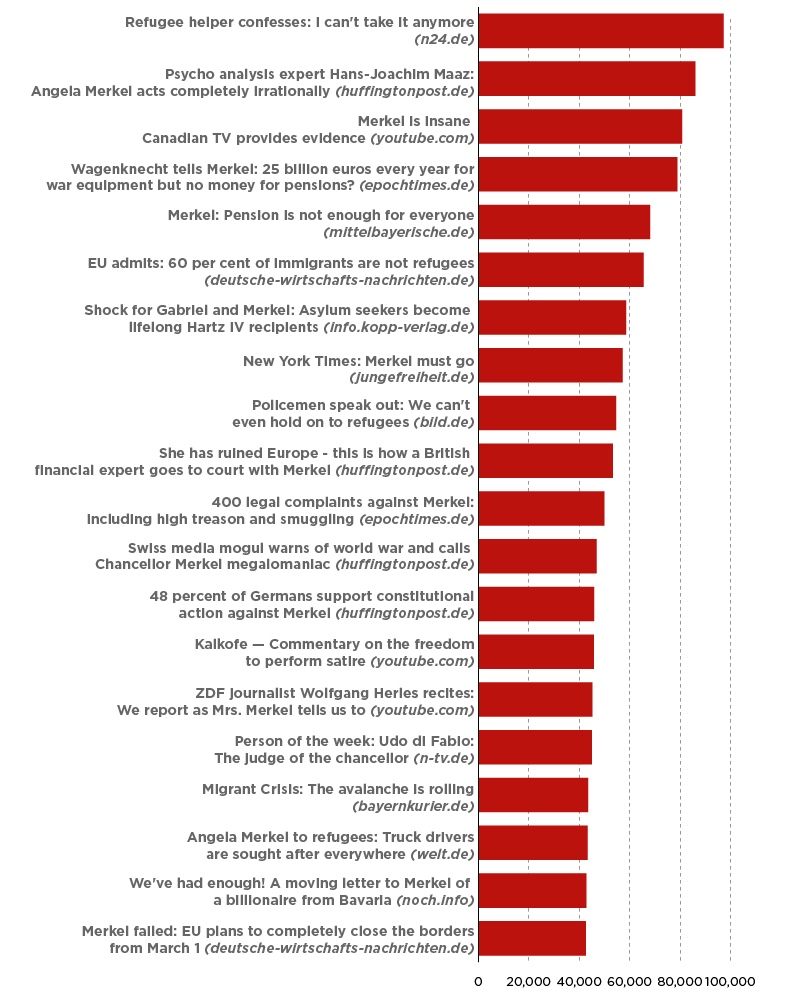 Claims about Merkel's mental health also appear in the top stories in English-language publications. The Breitbart article "Angela Merkel Diagnosed by Psychoanalyst as 'Narcissistic', Verging on 'Mental Breakdown'" received more than 45,000 shares on Facebook. Last January, the head of AfD in Thuringia told a rally that Merkel should be discharged from office in a straitjacket.

The Facebook accounts responsible for some of the most popular German content focus on arguments similar to the ones seen during the US presidential campaign. These include "anti-elite" and anti-Muslim rhetoric, and claim the "lügenpresse" — meaning the "lying press" — is hiding information from the public. That term, which was used by the Nazis, and then again in the East German press during the Cold War to discredit reporting in West Germany, is widely used during far-right and AfD demonstrations. As in the US, the German far-right has also begun to conflate debates about countering fake news with government attempts to censor, and argued that the lügenpresse are the ones producing fake news.
Despite an aggressive campaign to take down Merkel, there is no evidence yet to suggest that the onslaught of fake news and conspiracy theories has had an impact on Merkel and her party's popularity within Germany. Support for her Christian Democratic Union (CDU) party has been rising — the most recent polls show she is as popular at this stage as she was before the 2013 election, which she won in a landslide.

Following a brief dip, the chancellor's personal ratings are also on the rise again. She is seen — by far — as Germans' preferred choice to continue leading the country after the 2017 election. Figures released after the terrorist attack in Berlin show that support for both Merkel and CDU remains intact, with the vast majority of Germans believing there was no connection between the attack and the chancellor's refugee policy.
Still, the German government is taking the threats posed by potential Russian interference and fake news seriously, and is exploring countermeasures as well as working to raise awareness of the issue. The question is whether they are too late, and will be able to effectively counter the conspiracies, misleading reporting, and fabricated fake stories news that are already flowing.
"German media and Chancellor Merkel's government seem unaware or at least dangerously ill-prepared for the media onslaught they will suffer from large parts of UK media as well as from sympathetic right-wing media in the US once Article 50 has been triggered and once the UK is fighting for its economic future and the UK government for its political credibility," Condé Nast's Blau told BuzzFeed News.
How we gathered and analyzed the data
BuzzFeed News used the content analysis tool BuzzSumo, which enables users to search for content by keyword, URL, time range, language, and social share counts. BuzzFeed News searched in BuzzSumo for keywords such as "Merkel" and "BerlinAttack," in both English and German, to find the top stories about these topics by Facebook engagement (defined as Facebook shares, comments and reactions) and shares on Twitter and other social media sites through 2016. A selection of the results can be viewed here.
In addition to the links, BuzzFeed News analyzed the Twitter accounts that share the top stories. Additional analysis was carried out on the public Facebook pages and accounts of those same individuals and groups, as well as additional searches to find which accounts and pages were sharing the top stories. BuzzFeed News also analyzed a selection of the top-performing content using the CrowdTangle browser plugin to identify the top Facebook pages and Twitter accounts that had shared the content.
As previously stated, Facebook engagement does not necessarily translate into traffic. It's entirely possible that established media sites received more traffic to their top-performing content, and that beyond individual URLs that were shared in high numbers, more established news sites see more engagement overall.

The BuzzSumo data was downloaded on Dec. 22–23, 2016.
Lam Thuy Vo contributed analysis to this article.
UPDATE
This piece was updated on 16 January to make clear that Deutsche Wirtschafts Nachrichten has not published fake news.