Here's What The Political Fallout From The Berlin Attack Means For Angela Merkel
In the aftermath of Monday's assault, the German chancellor has been blamed by far-right leaders and an army of social media trolls in a precursor to 2017's election battle.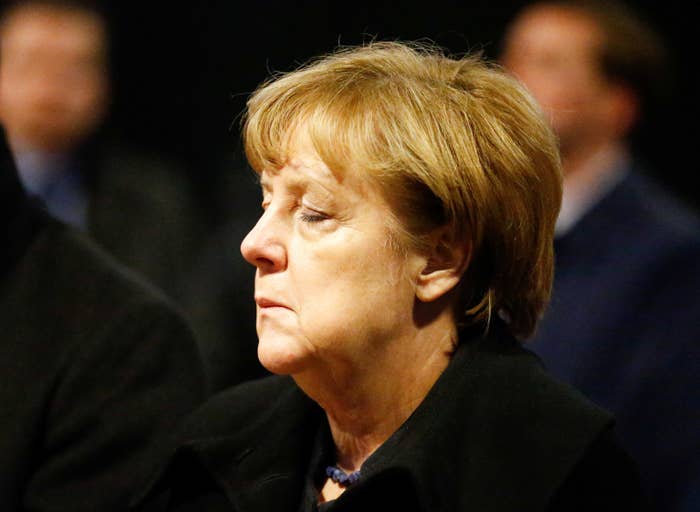 On Monday evening, Angela Merkel was at an event celebrating integration. Germany's chancellor spoke about diversity, and against discrimination: "Our life together consists in us living with our diversity. And it is this diversity that makes us richer, not poorer," she said.
In her closing remarks, Merkel told the audience that had gathered to award the work of young volunteers to "preserve your openness, your flair. Do not let yourself be crushed if things do not always work out as you think they should."
But as the event ended, news began to break that a truck had driven into the crowd at a Christmas market in Berlin, killing 12 and injuring scores more. The following morning, Merkel was delivering a very different kind of statement that spoke of Germany's deep shock at the loss of life, which, she said, was being treated as an act of terrorism.
Even then, the chancellor added that the country mustn't be paralysed by terror, and insisted Germans "will find the strength to continue living life as we want to live it in Germany: in freedom, together and in openness".
Achieving that will not be easy, however. Even before a single fact was known on Monday night, the attack was fuelling the forces that are shaping into a perfect storm over Germany ahead of next year's federal elections: a resurgent far-right, criticism of Merkel's policy of welcoming hundreds of thousands of refugees last year, social media trolls, and fears of Russian interference in the democratic process.
Politicians from the far-right Alternative for Germany (AfD) were tweeting that the victims of the Berlin attack were "Merkel's dead". Frauke Petry, the party's leader, claimed "the environment for such deeds was imported negligently and systematically throughout the last year and a half". Those references to Merkel's refugee policy were prompted by the arrest of a 23-year-old Pakistani man who entered the country a year ago and was claiming asylum. He was released on Tuesday night after Berlin's police concluded they'd got the wrong man, but that did little to stop the chancellor being blamed.
The criticism was not limited to German politicians. A who's who of Europe's populist and far-right leaders went into overdrive to accuse her – literally – of having blood on her hands. The Netherlands' Geert Wilders, the Front National's Marine Le Pen, and Britain's Nigel Farage all tweeted their respective hot takes about the tragedy while it was still unfolding.
These comments were strongly criticised by German politicians across most of the political spectrum.
This is not the first incident that has been used to attack Merkel on refugees. She has consistently refuted the AfD's rhetoric. Referring to the rape and murder of a student in Freiburg in October, for example, she told broadcaster ARD: "If it turns out that the attacker was an Afghan refugee then that needs to be condemned, absolutely, just like with any other murderer… But that shouldn't be combined with a rejection of an entire group, just like we don't draw conclusions about an entire group from one person in other instances."

But the attack is likely to increase calls for tougher policies, in addition to the ones announced earlier this year that include a partial ban on full-face veils. The government will continue to speed up the deportation of those who have had their asylum claims turned down.
Meanwhile, the Bavarian Christian Social Union (CSU), the sister party of Merkel's Christian Democratic Union (CDU), remains critical of the chancellor's refugee policy and on Tuesday repeated that it wants the policy toughened. The CSU's main demand is the introduction of a cap on the number of asylum-seekers the country should welcome. Merkel has so far refused to bind herself to an upper limit on refugee numbers set by law, arguing that an arbitrary figure would restrict a government's ability to deal with unknown and future crises.
But Monday's events also make clear that what happens beyond Germany's borders will also shape the domestic political debate.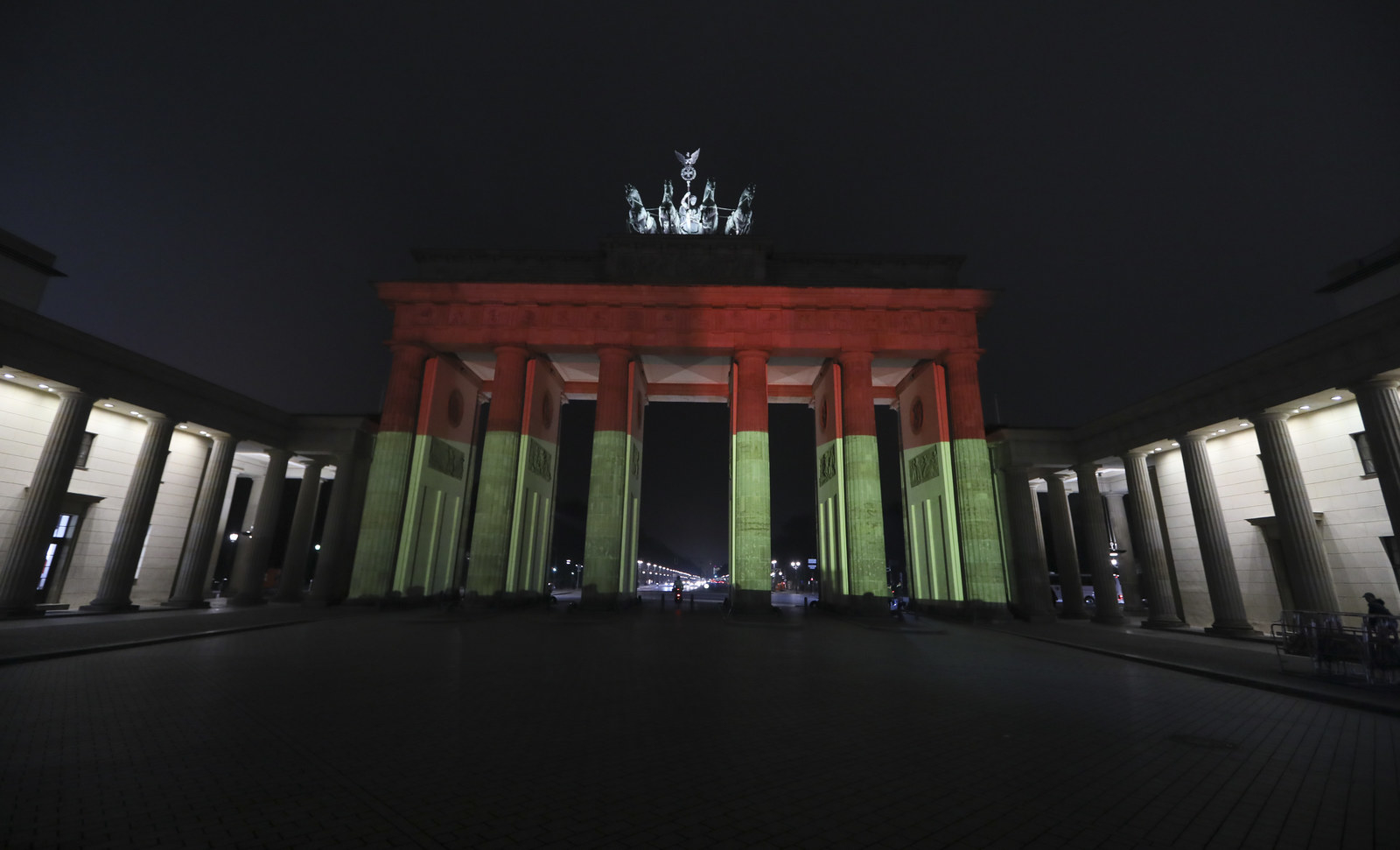 The reaction of candidates and voters in France and the Netherlands, who also hold elections next year, may weigh on Germany just as much as how its own leaders respond. As will the response in Italy, where an early election is now likely, and where populist parties are already polling strongly following a referendum that led to the resignation of then prime minister Matteo Renzi.
After the election of Donald Trump in November, many were quick to point out the stark contrast between the president-elect and Germany's chancellor. Some even went as far as calling Merkel the "liberal West's last defender".

On Monday, Trump used one of his regular outbursts on Twitter to call for the "civilised world" to change course. He cited events in Berlin (while crucial information was still unknown) and Switzerland (referring to a shooting at a Mosque in Zurich where the gunman was Swiss and there was no Islamist link), and the assassination of the Russian ambassador to Turkey.
In a longer statement, the president-elect appeared to be calling for a holy war.

Trump was not alone in demanding action. Heinz-Christian Strache, the leader of Austria's far-right party, posted his thoughts on Facebook, writing that "we can no longer just watch".
Strache's Freedom Party (FPO), which was founded in the 1950s by former Nazis and is currently leading in polls, recently forged a cooperation agreement with Vladimir Putin's party in Moscow. It is the latest sign that the Kremlin is strengthening ties with far-right and populist parties across the continent.
Monday's attack also highlighted another major fear over Germany's election. Dozens and dozens of far-right Twitter and Facebook accounts trained their focus on the German chancellor, flooding both social networks with anti-Merkel messages as well as with claims that the "Lügenpresse" was hiding information from the public. Lügenpresse is a political slogan meaning the "lying press". It was used by the Nazis, then in the East German press during the Cold War to discredit reporting in West Germany. More recently, it has featured heavily in far-right and AfD demonstrations, and even made it into the US election as Trump supporters used it to taunt the media at his campaign events.
The country's intelligence agencies have on several occasions already raised the alarm about the possibility that Russia could try to influence 2017's outcome in a similar fashion to how the Kremlin allegedly interfered in the US election earlier this year. These concerns are founded on the fact that the same Russian group that hacked the Democrats also hacked the German parliament.

The German election debate will take place against a backdrop of increasingly vocal anti-migrant rhetoric on social media.
Such claims are further fuelled by Kremlin propaganda, including on Russia-backed news channels Sputnik and RT, which relentlessly publish stories and conspiracy theories about refugees.
Alt-right news site Breitbart News is also set to bring its often inflammatory take on immigration and refugees to Germany, while Russia is increasing funding for its media presence in Europe.
Previous – albeit smaller – incidents in Germany have had little lasting impact on German public opinion. Support for Merkel's party has been rising, and in the most recent polls was not too far from levels seen at this stage before the 2013 election, which she then won in a landslide.
Following a dip earlier this year, the chancellor's personal ratings were also on the up again. She is seen – by far – to be Germans' preferred choice to continue leading the country after the 2017 election.
But it's too early to say what impact Monday's attack, the first of this scale and on the capital city, will have on German public opinion in the months ahead. What is already clear, however, is that next year's election will be a bitter battle over values.