Everyone's Talking About Soft Brexit So Here's What That Could Really Mean
The election result has fuelled demands for Theresa May to adopt a softer Brexit plan, but there's little agreement on what that could mean. BuzzFeed News lays out the options.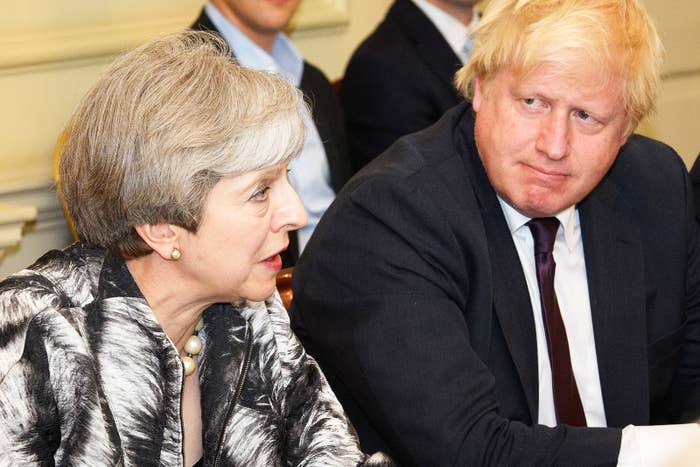 There has been much talk since last week's election that Britain could seek a "softer Brexit" following Theresa May's failure to secure a Commons majority.
With the PM severely weakened, the Evening Standard reports that May's cabinet now has a "sensibles" wing who are arguing against "creationists" that the UK should now prioritise jobs and the economy over cutting immigration. Some Labour and Tory MPs have gone as far as suggesting that the UK could even try to stay in the single market.

But there is little agreement and a lot of confusion – in both main parties – as to what a softer Brexit would actually mean in practice.
"The UK position already lacked substance. Now it is even more unclear," a senior European government official told BuzzFeed News.
Beyond tweaks to the contours of any deal, or adopting a less belligerent language, a fundamentally different approach to Brexit to the one envisioned by May would require a substantial change to several of the red lines set by the prime minister before the election: halting freedom of movement, pulling out of the customs union, materially reducing payments towards the EU budget, and ending the European Court of Justice's (ECJ) oversight on UK law after Britain leaves the EU.

So here's what her options would be for a softer Brexit, and the challenges they would present.
Continued single market membership, but the EU position has not changed
The position of the other 27 member states could not be clearer on the single market: a country is either in the single market or it's not. There is no middle ground. The single market's four freedoms – of movement of goods, services, people, and capital – are indivisible. This position will not change.
Guidelines approved by the 27 states earlier this year make clear that this principle would also apply to any interim arrangement. The guidelines also rule out any sectoral approach, be it for cars or UK agriculture.
Simply put: Any suggestion the UK could stay in the single market without also continuing to uphold the free movement of people is a non-starter (and a waste of time), as indicated by both Brexit minister David Davis and Labour's John McDonnell.
The UK could stay in the customs union, but that would mean no comprehensive trade deals with other countries
One idea that has been suggested as part of a softer approach to Brexit is for the UK to remain in the customs union. Continuing this customs arrangement would allow it to keep the current status intact: no duties levied on goods travelling to and from the UK within the customs union. However, it would also mean maintaining a common external tariff on all goods entering the customs union that in effect all but rules out Britain's ability to negotiate its own comprehensive trade deals with other countries.
On the upside, remaining in the customs union would also go a long way to solving growing concerns about a hard border between the Republic Ireland and Northern Ireland. And the UK could also try to remain party to dozens and dozens of trade arrangements the EU has with third countries.
But the reappointment of Liam Fox as secretary of state for international trade indicates that this is probably not a route that's currently under consideration.
Staying in the single market or the customs union would also mean that the UK would remain in many ways subject to EU law and the ECJ.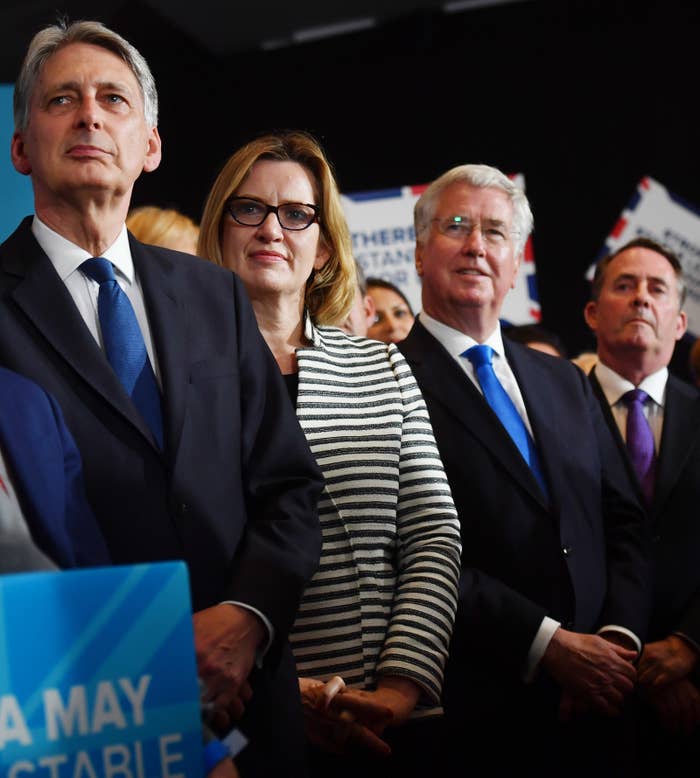 A multi-year transition deal
Officials past and present have long advised the government to secure an interim arrangement that traces the status quo as closely as possible for a number of years beyond March 2019.
Their argument is that such an arrangement would give the UK the time it needs to properly prepare for, and then implement, an orderly exit. It would also provide the government and the EU with the space and time to figure out and negotiate a comprehensive future relationship.
There are reports that chancellor Philip Hammond and home secretary Amber Rudd are now among a number of cabinet members pushing for this approach. Former Tory party leader William Hague is also among those advocating for remaining in the single market for a transitional phase.
Such a plan would also reduce the risks of no deal being reached and alleviate concerns on both sides over the fact that the two-year clock to conclude a deal has been ticking since March and negotiations haven't even begun yet.
Before the election, the government mostly ignored advice along these lines, angling instead for swift divorce talks, for these to take place in parallel to trade negotiations, and for a relatively short implementation phase. And throughout, May stuck robotically to her "no deal is better than a bad deal" mantra.
A prolonged transitional deal would probably mean that freedom of movement would continue for many more years, and the UK would also have to wait throughout the interim phase before being able to conclude any trade deals.
Meanwhile, the Labour manifesto appears to open the door to a more flexible transition arrangement, stating that "no deal is the worst possible deal for Britain."
For its part, the EU's negotiating guidelines state that any interim deal will need to be clearly defined, limited in time, and subject to effective enforcement mechanisms. The guidelines also make clear that the "no cherry-picking" principle would also apply to any temporary deal.
Any pathway, be it temporary or permanent, to the single market that passes through membership of the European Free Trade Association (EFTA) or the European Economic Area (EEA) – an agreement between EU member states and three EFTA members (Liechtenstein, Norway, and Iceland) that underpins an internal market – would require the UK to accept the four freedoms, make contributions to the EU budget, and in effect implement most EU law without having a veto on shaping new rules. EFTA's other member, Switzerland, has its own set of bilateral agreements with the EU that allow it to participate in the internal market. EFTA members are not in the EU's customs union, enabling them to have their own network of free trade agreements. (But outside the customs union, the UK would remain short of a solution at the border with Ireland.)
A continued relationship with EU agencies, but at a cost
There are currently dozens of administrative functions covered by EU agencies. These functions cannot be simply transposed into UK law. They include matters like the certification provided by the European Aviation Safety Agency that enables planes to fly between member states; the evaluation, monitoring and marketing of medicines; Europol's criminal information databases; and the functions established by Euratom to oversee safety standards in the nuclear industry.
In some cases Britain would be able to negotiate a third-country relationship with these agencies. In others it would need to replicate the functions domestically. This whole body of work alone, according to UK and EU officials BuzzFeed News has spoken to, alongside filling a shortage of the required skills, could take more than two years.
The government has yet to spell out a plan for how it intends to tackle this particular task, while Jeremy Corbyn said on Sunday: "There's a whole host of European agencies – Euratom, security, environment – in which we wish to be part of."
But May's Article 50 letter has notified the EU that the UK is pulling out of Euratom. It is unclear how a Labour government could reverse this decision, or how under Labour's plans the UK could enjoy the same status of member states as a non-EU member in a string of other agencies.
Continued participation in agencies and programmes would come at a financial cost. Both parties have been unclear about how much money they're prepared to pay into the EU after 2019.
Guaranteeing citizens' rights, but that means a role for the ECJ
Both the government and Labour have said they want to guarantee the rights of EU citizens living in the UK, as well as those of Britons living elsewhere in the EU. Corbyn's party has gone a step further than the Tories, pledging to unilaterally guarantee existing rights for all EU nationals living in Britain as well as then working to secure reciprocal rights for UK citizens.
However, the crux of this debate isn't only about protecting all existing rights but how to guarantee them in future too. In order to do this, the EU argues that there needs to be a mechanism to settle any disputes and protect citizens from possible changes in national legislation (in the UK or elsewhere in Europe). The ECJ is one possible supranational arbiter of any accord (and of the overall UK-EU exit deal).
Labour's position on the role of the ECJ in UK law after the country leaves the EU doesn't appear to be defined in the party's manifesto.
Meanwhile, the government has made putting an end to the court's role in UK law a red line. But it is clear that in order to achieve a softer Brexit this position would need to loosen, especially if the UK is to negotiate greater access to the single market beyond low or zero tariffs on some goods.
Their differing rhetorics aside, both May and Corbyn have said they would aim for tariff-free access to the single market. However, their views on overcoming non-tariff barriers such as common rules and standards, which make up much of the benefits of being in a single market, have not been outlined in detail.
A softer Brexit in tone
What is likely to at least emerge after Thursday's setback is a softer Brexit in tone. Already on Monday morning Davis in an interview on Sky News was opening the door to phased negotiations, the approach favoured by the EU, and until now dismissed by the UK.
But if Brexit is to become softer not just in language but in substance, it will require a fundamental rethink of the UK position. There is no way around this.
For now, the view in most of Europe's capitals is that there is no indication the UK position has changed, nor that Britain is yet prepared for the complicated talks and tasks that await.
"An already weak hand has just become weaker," a second senior government official told BuzzFeed News.