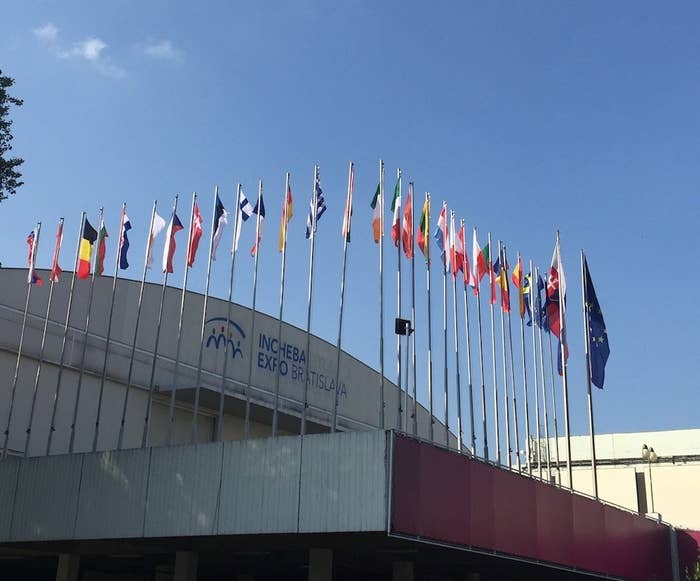 BRATISLAVA - Britain was absent not only from the room but also from the agenda as representatives from the European Union's remaining 27 member states met in Bratislava to discuss their post-Brexit futures.

It was the first time in more than 40 years that the UK's flag was not flying at an EU summit.
"Everyone was trying to steer away from Brexit," a source told BuzzFeed News.
Discussions about the UK were limited to mild speculation over lunch as to when British prime minister Theresa May might invoke Article 50, the formal procedure to leave the EU, one head of government told BuzzFeed News. The conclusion added little clarity: "obviously next year".
At a press conference concluding the informal summit, European Council leader Donald Tusk said that May told him the UK may be ready, as expected by most EU and UK officials, to trigger Article 50 in January or February 2017.

On the eve of the meeting, the priority for the 27 leaders was to put on a show of unity. That minimum objective was mostly achieved, despite some post-summit squabbling, with agreement that migration, security, and jobs were the most important issues facing the EU.

However, details were scant. A "roadmap" presented by Tusk added little to a letter he sent on the eve on the summit.

In a draft communication seen by BuzzFeed News, the 27 states pledged to "do everything necessary to support member states in ensuring internal security and fighting terrorism" with measures including intensified cooperation among security services, a US-style travel information system, greater controls at external borders, and a systematic effort against radicalisation.

The communication also confirmed that the 27 will strengthen cooperation on external security and defence, a priority stressed by French president François Hollande earlier in the day.

The states will "start implementing a joint declaration with NATO immediately", the draft said, with the aim of deciding a "concrete implementation plan", "especially as regards capabilities" at December's European Council.
The communication stressed that Bratislava is the initial step of a process that will continue into next year with meetings scheduled in Malta and Italy. In December, EU leaders will also present measures to fight youth unemployment and enhanced EU programmes dedicated to the young.
Fears that central European governments would disrupt the attempts at unity and call for treaty change did not materialise.
However, the Visegrad four – Poland, Hungary, Czech Republic, and Slovakia – did issue a statement underlining earlier concerns about diversity and the balance of power between member states and the institutions, and asked that all member states be respected equally.

Earlier in the day, Merkel said that the EU was at a "critical point" but warned that there would be no quick fixes.