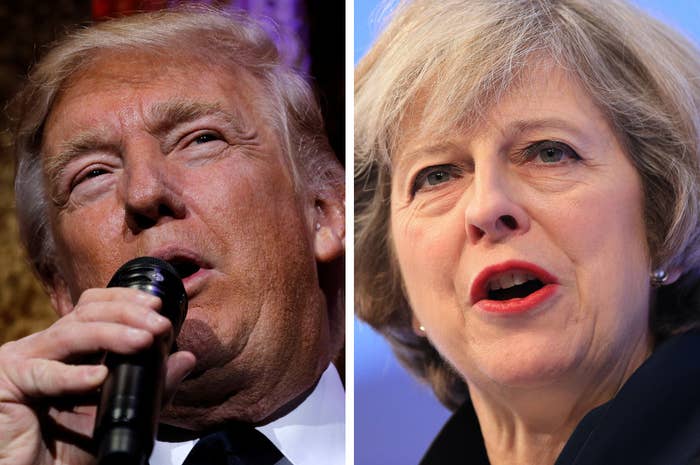 A number of EU member states are concerned that Theresa May could put aside longstanding British foreign policy principles in her attempts to foster a special relationship with Donald Trump, adding a degree of "nervousness" to Brexit negotiations, senior European officials have told BuzzFeed News.

Their unease comes off the back of Trump's interview this week with The Times and Bild. In it, the president-elect called Brexit a "great thing" and promised that a trade deal with the UK would happen quickly. He attacked Germany's chancellor Angela Merkel, called NATO "obsolete", and predicted that more countries would follow the UK's example and leave the European Union.
The glee with which some British officials, including May and foreign secretary Boris Johnson, welcomed the incoming president's words left a number of European officials scratching their heads.
"The world is turning upside down. A US president is calling NATO obsolete, a French president is defending NATO, and the Brits, who are usually the pragmatists, are now being driven by nationalism and ideology," a diplomat from a major eurozone nation said.
Most officials spoke on condition of anonymity, and asked that their respective governments not be identified.
During a speech this week outlining the UK's priorities as it leaves the EU, May tried to address some of these worries, making clear she did not want Brexit to be the beginning of a greater unravelling of the EU: "I do not want that to happen. It would not be in the best interests of Britain," the prime minister said.
The contrast with Trump was noted, and welcome.
But the prime minister also cited Trump in her speech as she said Britain was already well placed to do trade deals outside Europe. "And President-elect Trump has said Britain is not 'at the back of the queue' for a trade deal with the United States, the world's biggest economy, but front of the line," she said.
It is this new Trump–UK dynamic – especially the way British ministers are reacting to some of his remarks – that is making EU governments anxious, both in terms of the impact on Brexit negotiations and on Britain's position on wider international issues.
One specific example given to BuzzFeed News is the recent row over a UN Security Council resolution demanding an end to Israeli settlements in the West Bank. It passed after the US abstained from the vote, prompting an angry storm of tweets from Trump, who had said he thought the US should block the resolution.

The UK voted in favour of the resolution, but to the surprise of many, May scolded secretary of state John Kerry after he gave a speech to explain the reasons for Washington's UN decision.
"We were shocked when May publicly criticised Kerry. This is not something the UK does. We saw it as a sign that she's drifting towards Trump, and away from one of the UK's historically held positions. All this would represent a major change. And it's unclear what it would mean on an array of issues like Iran, NATO, and Russia," the same diplomat told BuzzFeed News after May's speech.
"Will the UK accept anything just to have a special relationship with Trump? It's a worrying path," they added.
A second diplomat described May's comments about Kerry as "odd" and "unnecessary".
To avoid upsetting Trump, the UK further raised eyebrows by blocking a joint EU statement welcoming a Paris conference on the Middle East peace process.
Other governments have a more cautious reading of events. A senior Hungarian official close to prime minister Viktor Orbán – the only EU leader to publicly endorse Trump – told BuzzFeed News that "Trump's remarks on NATO and the EU were not positive, and any new US–Russia framework would have an impact on Syria, the Balkans, and the EU..."
"But we are not concerned about any immediate dire impact, we remain vigilant," they said.
The official, who praised May's speech, saying it aligned with Hungary's interests in wanting an "as close as possible" relationship with the UK, added "at the end of the day, NATO and a strong relationship with the EU are in the UK's interest. And it will be for May to figure out how she adjusts her global trade ambitions to Trump's protectionism."
A number of other governments BuzzFeed News spoke to hold mixed opinions about whether a close May–Trump relationship would have any impact on Brexit negotiations once they begin in earnest.
One senior official from a eurozone member said they feared Trump's election would embolden populist parties as well as some governments, with each trying to exploit "this new phase" for their own interests and issues.
The same official predicts these dynamics could eventually challenge, and divide, the 27 member states' unity on Brexit. "Of course, I hope this will not be the case," they added.
But the majority of governments BuzzFeed News spoke to were of a different view. They were adamant that a sense of resolve could be felt in conversations with most capitals, and that the current unity among the 27 would hold firm. Though stressing that it was too early to make predictions, a number of officials suggested, if anything, Trump's often controversial stance could strengthen the 27's unity.
"If the UK were to align itself with Trump, this could even galvanise the 27," a senior EU official said.
"The 27's unity has so far proven to be resolute", the same official noted, pointing to the fact that May had already accepted the only red line the 27 member states had so far voiced – that the UK would not be able to remain in the single market without accepting all four freedoms of movement (of goods, services, people, and capital).
Nevertheless, what is clear in most capitals is that maintaining a united front will be crucial in the months and years to come.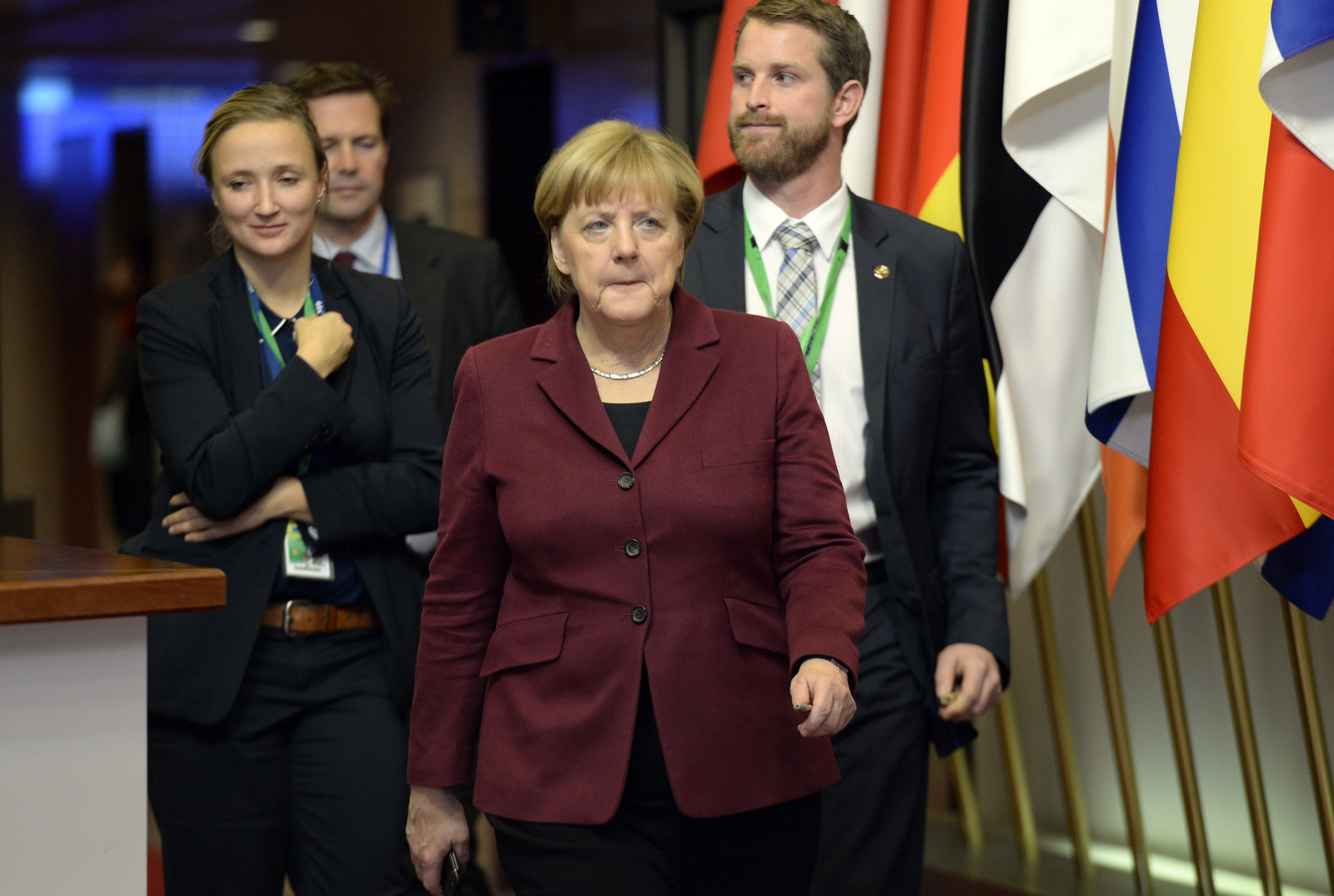 As Malta took over the EU presidency, the country's prime minister told reporters that member states are more united on their approach to Brexit than on anything else.
But maintaining such resolve will not be simple. Britain's decision to leave the EU adds to a long list of complicated matters the EU will face this year, ranging from the strength of populist and far-right candidates and political parties in member states that face elections this year, including France, the Netherlands, and probably Italy, to dealing with what some in Brussels see as illiberal turns in Hungary and Poland. (Britain of course will have its own domestic issues to deal with: calls for a second independence referendum in Scotland where a majority voted to remain in the EU, a weak currency and rising prices, as well as jittery banks and firms that could move jobs elsewhere in order to continue accessing Europe's single market, to list a few).
Talks with the UK will be taking place against the backdrop of an ongoing refugee crisis, a frozen conflict in Ukraine, rising tensions in the Western Balkans, and flat economies in southern Europe that aren't showing much sign of an imminent liftoff.
On many of these issues, eyes will inevitably turn to Germany, Europe's largest economy (where elections will also be held this year). Speaking the morning after May's speech, German chancellor Angela Merkel said "the be-all and end-all is that Europe doesn't let itself be divided". Merkel has previously implied she doesn't buy into the "Merkel as the liberal West's last defender" hype, indicating instead that only European unity and tangible achievements will prevent any further erosion of the EU.
Meanwhile, a diplomat from a central European member state said they thought concerns about Trump's views on the future of the EU were exaggerated: "Though he may deal with the EU differently compared to previous administrations, say on a more country-by-country bilateral basis, ultimately he won't care about what the EU does." They added that "differences on other issues between member states existed before Trump".
Another diplomat BuzzFeed News spoke to said: "Trump might make May overconfident, and could see the 27 rally closer together on issues such as security and defence."
However, they also acknowledged that a Trump presidency would add a further element of uncertainty to many of the challenges Europe faces, and naturally to Brexit negotiations too: "Now there is definitely unity, but who knows once negotiations begin. Trump seems to be ill informed about what the EU is, and we have no idea what his actual policies will be."
Ultimately, it is the lack of clarity around around how Trump's words will translate into anything resembling a coherent policy platform that has puzzled governments, making any clear assessment of the longer-term impact on Brexit negotiations difficult, all the officials and diplomats BuzzFeed News spoke to noted.
"To what extent do condensed words translate into policy? Is it just positioning? Because if it's policy, it's not clear," a senior EU official said.