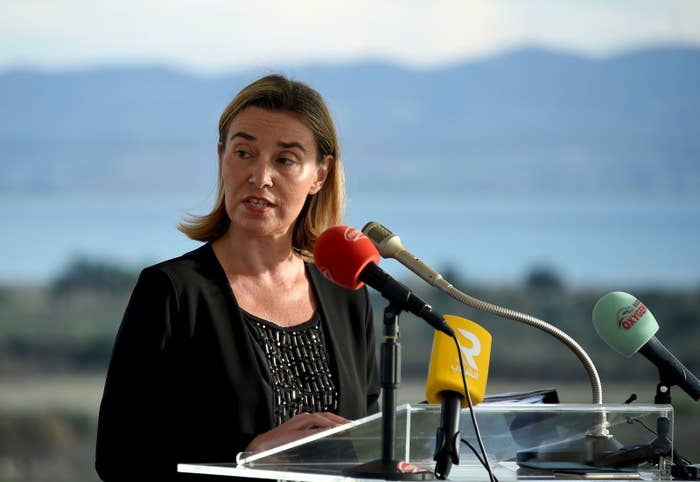 Europe's largest governments are determined to push ahead with EU defence plans – with or without the blessing of the UK – in the wake of the election of Donald Trump, BuzzFeed News has learned.
Senior European government officials said that plans have been quietly progressing for months and will be put to EU foreign and defence ministers next week in Brussels by the EU's foreign policy chief Federica Mogherini.
Mogherini will present an implementation plan as a follow-up to her global strategy to ministers, who will be asked to adopt formal conclusions.
Both the plan and the conclusions are expected to then be submitted to heads of state and government ahead of December's European Council, BuzzFeed News understands.
The plans for greater cooperation on defence issues have been spearheaded by Germany and France, and backed by Italy and Spain.
They include enhanced defence cooperation, pooling and sharing of resources, permanent and centralised command structures, and expanded collaboration in areas such as capabilities, joint missions, and procurement.
The UK has long opposed several aspects of such plans, arguing that NATO is the cornerstone of EU defence, and member states should spend more on the alliance instead.
However, added to the impetus for greater defence cooperation in the wake of Brexit, there is now the uncertainty of what a Trump presidency will look like, one official said.
"It is difficult to say what the reaction of the Council will be, but clearly the wider geopolitical context looks a bit different compared to two days ago," the official added.
In July, Trump raised doubts over whether he, as president, would automatically allow US forces to defend NATO members if they came under attack. Asked explicitly by the New York Times whether the US would come to the aid of Baltic nations that are threatened by Russia, Trump responded: "If they fulfil their obligations to us, the answer is yes."
Although all the officials BuzzFeed News spoke to were keen to stress that it was too early to say what Trump will do once in office, they said that a US that pulls back and puts NATO into question would add uncertainty and risks — and would also weaken the UK's position.
Senior officials from two of Europe's largest governments told BuzzFeed News that they want to see the UK on board with the plans. However, both said they were now prepared to proceed without Britain.
"The starting point is 28, but if needed we can do this as 27, or even as a 'coalition of the willing,'" one of the officials said. They added that any narrow proposal that suggested bilateral agreements should be dismissed because of concerns that some countries could feel left out.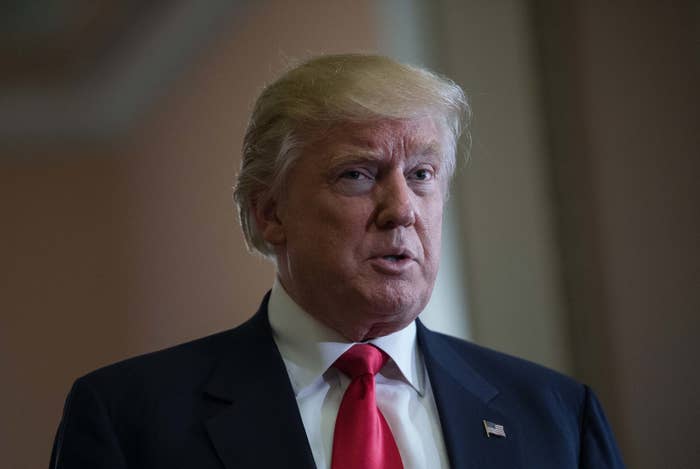 There was a consensus among all the officials BuzzFeed News spoke to that the election of the Republican candidate was bad news for the UK. "Brexit and Trump have blown a hole under decades of British foreign policy. At one point, the UK may have to decide which way it will jump," one senior EU official said.
Another official from one of Europe's largest defence ministries said: "If Trump follows through, the UK will be more worried than us."
The solution for the UK, they added, is "more Europe, more Europe, more Europe".
There will be particular concern in London, and other capitals, over Trump's rhetoric about relations with Russia, the officials said.
They are also keen to point out that their plans do not add up to an EU army. "The EU already cooperates in many areas such as the economy, research, culture, and on many other matters. This is about adding the military to that list," one diplomat said.
They also dismissed concerns that the moves call into question the EU's commitment to NATO. The plans, they say, address issues and areas beyond NATO's scope, citing military and civilian missions in Africa where NATO is not called to take action as an example, as well as protecting borders and EU membership, and dealing with the refugee crisis in the Mediterranean.
In a sign that the proposals to do not clash with NATO relations, ministers are also expected to take stock of EU–NATO relations as a follow-up to this summer's NATO summit when a commitment to "a continued coherent international approach between NATO and the EU" was agreed in Warsaw. NATO chief Jens Stoltenberg is expected to attend some of next week's meetings.