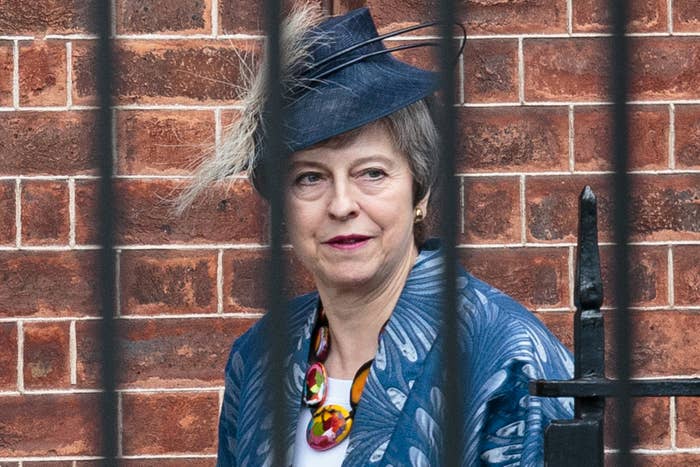 Senior EU and European government officials warned on Monday that Theresa May will lose credibility with EU leaders, and MPs would effectively back a no-deal Brexit, if the UK prime minister rallies the House of Commons to vote for a notional Brexit agreement that the EU has already rejected.

The prime minister promised MPs she would hold a "meaningful vote" on the withdrawal agreement by this Tuesday at the latest, followed by votes on whether to leave on March 29 with no deal or to delay Brexit if that vote failed.
Facing the likelihood of another heavy Commons defeat, Number 10 confirmed on Monday that the meaningful vote would go ahead on Tuesday, but would not give detail on which options would be tabled. May and senior aides are understood to be considering asking MPs to vote on proposals put to the EU by the UK's attorney general Geoffrey Cox last week, even though they were flatly rejected.
A spokesperson for the prime minister said: "You will have to wait for the motion to be published."
BuzzFeed News has revealed May is also considering a unilateral statement on the backstop, but Brexiteer MPs have already said the proposal is "legally meaningless".
The EU remains adamant that the substance of the withdrawal agreement cannot be changed nor contradicted, and the backstop is needed "unless and until" other workable solutions that achieve the same purpose are in place.
"She will lose more credibility by playing this game," an EU27 leader told BuzzFeed News, adding that the seriousness of MPs to find a workable solution would also come under question.
A senior EU official said: "It should be clear that if the House of Commons is asked to vote conditionally on something that they know is unacceptable to the EU27, it would be the same as voting for no deal."
Meanwhile, in Brussels, ambassadors from the EU's remaining 27 member states were briefed on the latest developments. The state of play was described as "bleak", according to a diplomatic note seen by BuzzFeed News.
Cox presented a series of arbitration ideas, which according to EU sources were aimed at finding ways to unilaterally exit the backstop — the insurance policy that guarantees that there can be no hard border between the Republic of Ireland and Northern Ireland in all circumstances — and question its legal stability.
The attorney general proposed lowering the bar for exiting the backstop by questioning its legal basis, and introducing notions such as "reasonableness" into the talks, as well as a "mini backstop" that would limit the mechanism to only cover elements that relate to border infrastructure.
EU officials have long been convinced that May has embarked on a "buy time" strategy, and is intent on drawing out talks to the European Council summit of EU leaders that will take place later this month.
The officials say that hope of May negotiating complex legal details of a treaty in a last-minute scramble at next month's meeting is misplaced as EU leaders will stick to their line of not negotiating directly with her.
"We listen to the prime minister, exchange views with her, but negotiations must be done with the European Commission. It is hard to imagine that there could be any decision at the March Council without all the extremely intricate technical questions being agreed upon before," an official from a major European government said.
"The only thing that the March council could probably decide on without much preparation would be a mere prolongation [of Article 50]," the official added.
Michel Barnier, the EU's chief Brexit negotiator, offered on Friday to give legal force to the letter European Commission president, Jean-Claude Juncker, and European Council president, Donald Tusk, sent May in January through a joint interpretative statement, which strengthens safeguards against either side acting in bad faith, and means best-endeavour and good-faith obligations would be even more actionable by an arbitration panel.
The withdrawal agreement already includes clauses to deal with disputes. An initial political consultation would take place in a joint committee, and either party can refer the dispute to an arbitration panel. The agreement sets out how the arbitration panel is to be established, how the arbitrators will be selected, and the rules which govern its operation. However, if there is a question of interpreting EU law, the panel is obliged to refer the case to the European Court of Justice.

Ambassadors were told on Monday that the EU's feeling was that May was prepared in principle to sign up to these proposals following technical talks between negotiators over the weekend but an agreement was nixed by cabinet members on Sunday, forcing May to cancel a scheduled trip to meet with Juncker in Brussels this morning.
Still, the diplomats were told that discussions were ongoing, and May could meet Juncker in Strasbourg this evening.
The talks between the two sides were described as "increasingly confrontational". The Commission is "getting ready to pre-empt the blame game," the note says.
The diplomatic note also states that any decision on extending Article 50 beyond May's European Parliament elections will ultimately be for the 27 leaders to make at this month's European Council meeting.