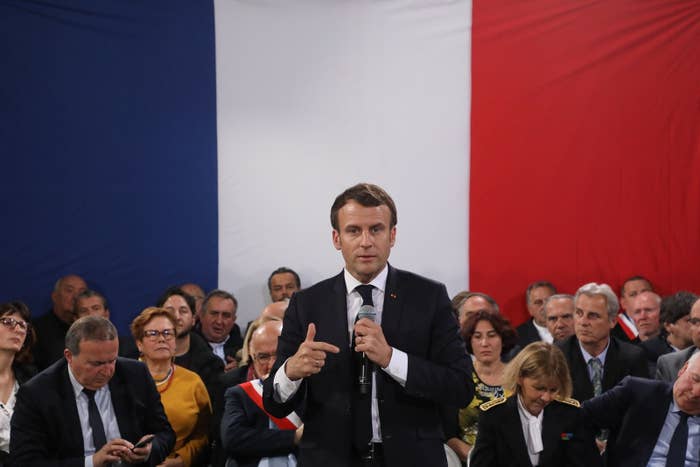 French president Emmanuel Macron is adamant that Brexit cannot be delayed beyond December 2019, and will ask the other 26 European Union leaders to impose compliance checks on the UK every three months during any extension, according to diplomatic sources who have been privately briefed on his thinking ahead of this week's emergency European Council summit of EU leaders.
As Macron prepares to meet Theresa May in Paris on Tuesday ahead of Wednesday's meeting, the sources told BuzzFeed News it was extremely unlikely that Macron would block an extension outright.
Instead, he will look to bind any UK government into stringent terms and seek a firm commitment from his fellow leaders that they will stick to whatever decision is agreed this week, rather than dither further down the line, even if that might mean no deal.
BuzzFeed News reported on Monday that the EU will expect the UK to meet "enhanced sincere cooperation" terms in an attempt to allay fears that if May's successor is a hardline Brexiteer, they will be unable to disrupt the EU's decision-making on budgets and other key issues. Brussels will reserve the right to end the extension period early, in agreement with the UK, in the event of noncompliance with this duty.
But Macron will ask his European counterparts to go even further, the diplomatic sources explained.
In addition to seeking a commitment from the UK that it will not disrupt the EU's working, he wants the delay to be structured around quarterly checkpoints to confirm the extension, with the possibility of terminating early — in June or September — if the UK is found to not be respecting its commitments.
Macron also wants to deny the UK the right to appoint a commissioner to the next European Commission.
The Élysée declined to comment on Macron's position when approached by BuzzFeed News on Tuesday, pointing out that he had yet to meet May and that the European Council meeting had not yet taken place.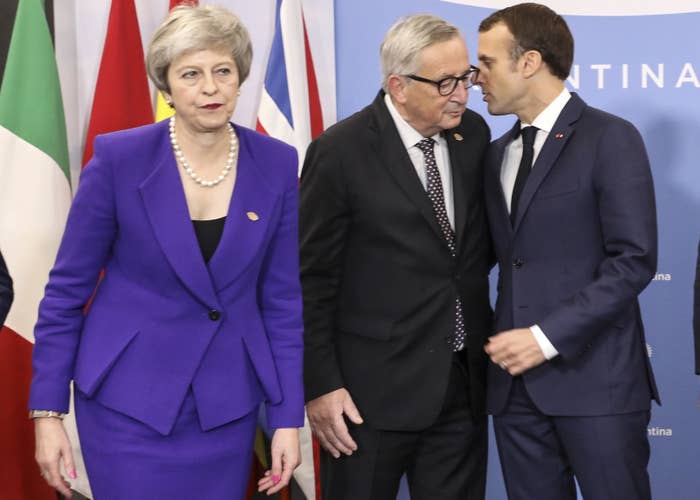 In the lead-up to the summit, France has adopted a tougher stance than most other EU states, with some commentators going so far as to suggest that Macron could veto a long extension to Article 50 — the framework that sets out the two-year process for the UK's departure from the EU that was due to end last month.
The French president is sceptical that May's ongoing talks with Labour leader Jeremy Corbyn will lead to a decisive outcome, the sources said. He holds little hope of the UK prime minister presenting a clear plan to EU leaders this week, opening the door to another delay to Brexit to avoid the UK crashing out of the bloc without a deal.
UK government ministers have been locked in talks with their Labour counterparts since Thursday to find a way out of the deadlock Britain finds itself in after the Brexit deal May negotiated with the EU was rejected three times by UK MPs.
In a letter to European Council president Donald Tusk last week, the prime minister asked the EU for a short extension to June 30. It is the second time May has asked to delay Brexit.
She also acknowledged in her letter to Tusk that the UK would have to organise European Parliament elections on May 23 if Britain is still a member state by that date, and pledged to act as a constructive and responsible member state.
The EU's other 27 leaders will meet on Wednesday evening in Brussels to decide whether to grant the UK an extension, and its terms. Any decision has to be agreed unanimously by all the leaders.
The EU could ask member states to consider a short extension to May 22 if UK MPs approve the withdrawal agreement — the legally binding terms of Britain's departure from the UK — before this Friday, April 12. If MPs don't back the deal, a longer 9- or 12-month delay to Brexit should be considered, according to the current thinking among senior officials.
The 27 leaders will once again make clear on Wednesday that the withdrawal agreement cannot be renegotiated under any circumstances.
The additional time granted by an extension can only be used to amend the political declaration that outlines the future UK–EU relationship. And any such changes would need to be negotiated with the European Commission, and agreed upon by the 27 member states.
They will also confirm that in the event of no-deal, preconditions will be attached to opening trade talks.
While May meets with Macron in Paris, and with German chancellor Angela Merkel in Berlin, EU27 ambassadors and sherpas will be meeting on Tuesday evening to prepare draft conclusions for this week's summit. Its terms are still subject to change — and the final decision will ultimately be made collectively by the 27 leaders on Wednesday.