East Aleppo Mayor Chastises International Community For Failing To Protect Civilians
Brita Hagi Hasan, the mayor of East Aleppo, called on European Union leaders to "save the lives of the civilian population. This is the last opportunity to do this."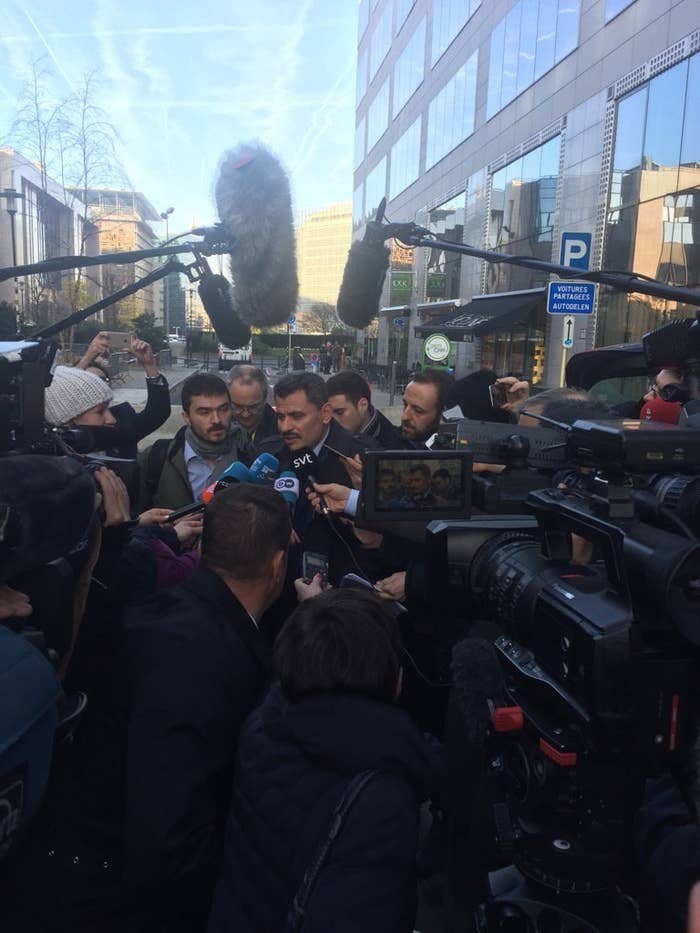 BRUSSELS – Brita Hagi Hasan, the mayor of East Aleppo, has accused the international community of a "desperate silence" and of failing to protect the thousands of civilians trapped in the Syrian city of Aleppo.

Speaking to reporters at an impromptu press conference outside the European Council building, where the EU's 28 heads of state and government will be meeting on Thursday, Hasan said there had been a total breakdown of international law in Syria.
Hasan called on the EU's leaders to take a more active role in helping the people of Aleppo. "I am not calling on countries to go to war," the mayor said, "but more than words are needed to save civilians." He said the European Council faced a choice on Thursday: "To give life back to international law, or kill it definitively."
Hasan, who has not been able to return to Aleppo since July, estimated that the population of eastern Aleppo was 350,000 at the beginning of the siege and said it may now have fallen to 50,000 people. He said at least 800 people were in need of urgent evacuation because of serious injuries, while thousands more were in need of medical assistance in a city where there are no more hospital facilities.
"And it is getting bloodier," he said. He claimed that three days ago 79 people were killed on the spot, including children as well as people wounded in hospital beds. "And there are hundreds of corpses under the rubble. ... We just cannot count the number of wounded and dead," Hasan said, responding to a reporter's question.
The mayor, who was backing the rebels in Aleppo (because "they have no choice but to defend themselves"), stressed that he was not speaking on their behalf or in a political way but was in Brussels with a simple message: "Save the lives of the civilian population. This is the last opportunity to do this."
However, Hasan also said that he could see no longer-term solution without the removal of the Syrian president, Bashar al-Assad: "He has committed war crimes."
After the press conference Hasan was due to meet European Council president Donald Tusk, and said he was hoping to have the opportunity to address the 28 leaders later today. "In the name of humanity, we want a truce, a ceasefire, and the respect of the rule of law," Hasan said.