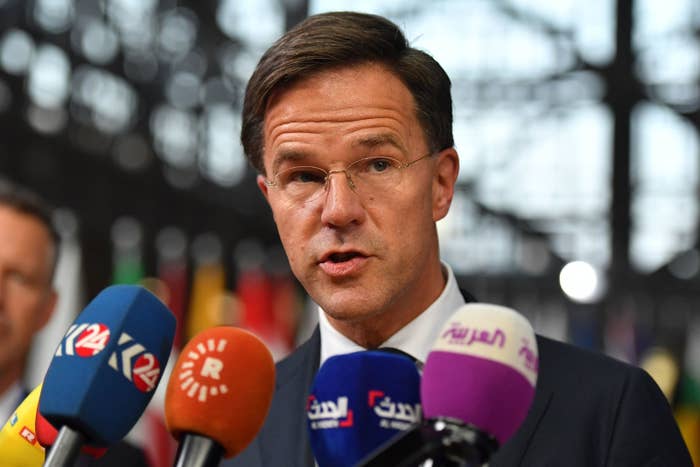 BRUSSELS — Dutch prime minister Mark Rutte called on other EU leaders to follow the Netherlands' longstanding policy of restricting arms sales to Saudi Arabia in the wake of the suspected murder of Saudi journalist Jamal Khashoggi.

Three European government and EU sources told BuzzFeed News that Rutte raised the case during a foreign policy discussion on Thursday with leaders of the 28 EU states.

But while EU leaders expressed concern over Khashoggi's disappearance, they failed to take any collective action as a bloc.
One summit participant BuzzFeed News spoke to after the meeting said a small number of colleagues had hinted at a more cautious approach because Saudi Arabia was a strategic partner.
After the meeting, Rutte told reporters he was very worried about Khashoggi's disappearance and had urged other governments to replicate the Dutch government's policy of limiting arms sales to Saudi Arabia. Rutte fell short of calling for sanctions.
Arms sales to Saudi Arabia have become increasingly controversial because of the kingdom's lead role in a coalition conducting airstrikes in Yemen, which have killed thousands of civilians and injured many more.
A UN report published earlier this year said the coalition bombing campaign, led by Saudi Arabia and the United Arab Emirates, had hit "residential areas, markets, funerals, weddings, detention facilities, civilian boats and even medical facilities" with "little evidence of any attempt by the parties to minimise civilian casualties".

On Aug. 9, 40 children were killed when a bomb dropped from a Saudi-led coalition plane hit a school bus. The weapon was sold to Saudi Arabia by the US, analysis of the debris found.
But while the UN said there were grounds to believe that individuals in the coalition may have committed war crimes, the US and the UK have repeatedly refused to consider stopping arms sales to Saudi Arabia.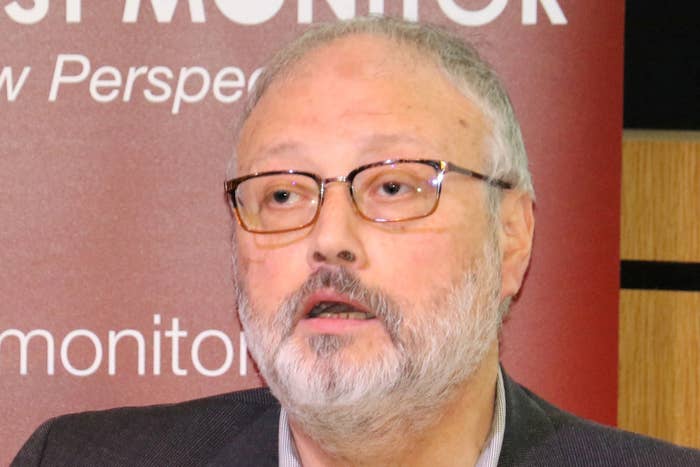 Khashoggi has been missing since entering the Saudi Consulate in Istanbul on Oct.2. Multiple media reports, citing Turkish government and intelligence officials, claim Khashoggi was tortured and killed by a team of Saudi agents inside the consulate.

An EU source said the case had been raised by a number of leaders on Thursday, as well as Federica Mogherini, the EU's high representative for foreign affairs. "All were very concerned about it, reiterated the need for a thorough investigation and are following closely the developments," the source said.
Mogherini, who has been vocal about the case on a number of occasions, referred leaders to a formal request made days earlier by European foreign ministers for "a full and transparent investigation", and a statement issued by G7 foreign ministers, also signed by her, this week.
Mogherini told the leaders the EU was ready to take further steps once more information was available, a senior EU official close to high representative told BuzzFeed News. "We are united and consistently clear in this truly worrying case," the official said.
But the EU has yet to adopt any collective measure as a group, and summit conclusions signed off by the 28 leaders this week make no mention of Khashoggi.

BuzzFeed News reported in August that the EU had to drop plans to issue a public statement backing Canada in a diplomatic row with Saudi Arabia because a number of member states wanted any message delivered to Riyadh privately instead.
The foreign ministers of the UK, France, and Germany issued a joint statement this week demanding a credible investigation, and Britain's international trade secretary, Liam Fox, pulled out of attending a major Saudi investment conference next week, after several days of pressure from Conservative MPs.
At a press conference after Thursday's summit, French president Emmanuel Macron told reporters France was suspending political visits to Saudi Arabia in coordination with the Netherlands, Germany, and the UK until clarity was provided on the disappearance of Khashoggi.
Macron said it had "to be done in the short term given the seriousness of the facts and the absence of clarification on these elements".
Saudi Arabia denies any knowledge of what happened to Khashoggi, but hasn't provided any evidence of the journalist leaving the Saudi Consulate in Istanbul.