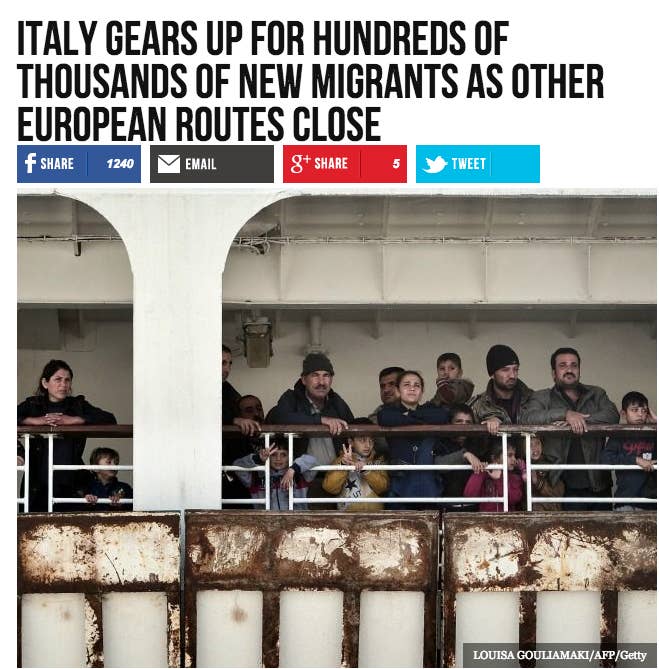 Breitbart News is set to expand its presence in Italy, BuzzFeed News has learned. The alt-right platform, which has one full-time journalist in Rome, is planning to add reporters to its bureau in the Italian capital.

The decision to boost operations in Rome comes following plans to open bureaus in Germany and France, a sign that Breitbart is increasingly turning its focus to Europe. However, its upcoming expansion plans do not currently include an Italian-language version of the website.
Breitbart has often drawn criticism for being incendiary, and has been called misogynist, xenophobic, and racist in its coverage of a number of issues including Europe's refugee crisis.

Earlier this month, Breitbart gained attention in Germany after it was criticized by a string of German news outlets and by Dortmund police for publishing a story that claimed a mob of more than 1,000 men chanting "Allahu Akhbar" had set fire to a church in Dortmund on New Year's Eve. Breitbart continues to reject the accusations that its story was misleading.
Breitbart's expansion in Europe is likely to make a number of countries nervous. Elections are due in France and Germany (and probably in Italy, too) this year, and campaign issues such as immigration, the refugee crisis, security, and debates about national identity are set to feature prominently.
Breitbart's former executive chair Steve Bannon — he has been appointed as President Donald Trump's "chief strategist and senior counselor" following his work as the chief executive of Trump's election campaign — has made no secret of his sympathies for France's far-right Front National (FN). According to polls, FN leader candidate Marine Le Pen is set to make the second round run-off in May's presidential vote. In a conference held in Germany last weekend, Le Pen joined other European far-right leaders in praising Trump as they set out their alternative vision for Europe.
Breitbart's expansion in Italy comes at a time when the country's economy is failing to gain traction, and trust in traditional parties and media is lower than elsewhere in Europe.
The country's coalition government, meanwhile, having lost a referendum to change the constitution last December, is facing dual pressure from the right — the far-right and anti-immigration Northern League is now the largest party in the centre-right bloc of political forces — and from the anti-establishment Five Star Movement, which has adopted a tough rhetoric on immigration. The Northern League is campaigning to take Italy out of the euro, while the Five Star Movement has promised a referendum on the issue.