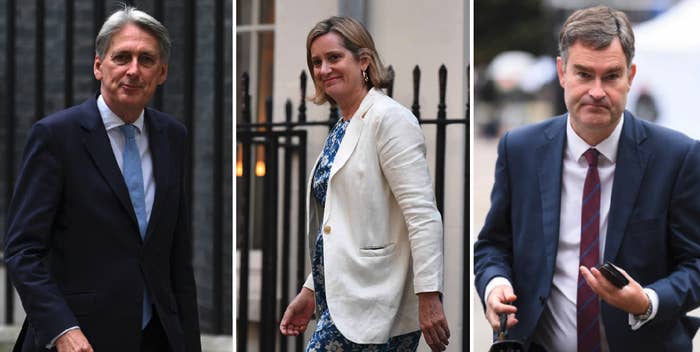 Three high-profile former Conservative cabinet ministers are leading talks with other rebels who lost the Tory whip last month to form a new political grouping, BuzzFeed News can reveal.

Amber Rudd, Philip Hammond, and David Gauke are part of an initial bloc of around 10 former Conservative MPs who are discussing running as candidates at the next general election under a common umbrella with a shared position on Brexit.
They would also pool resources, donations, and polling under the plans, which were confirmed to BuzzFeed News by multiple sources.
One person with knowledge of the conversations described the group as a party in all but name.
An MP involved in the talks said that if Boris Johnson's government runs on a manifesto pursuing a no-deal Brexit, then more current Tory MPs would defect to the rebel grouping.
The MP added that the group's preference was to have the Tory whip reinstated and to be able to run as Conservative candidates, but confirmed that they were exploring standing as a separate entity if this did not happen. "The ball is in the prime minister's court," they said.
Hammond, the former chancellor, told BuzzFeed News: "My preference is to run as a Tory candidate, but if I am not able to, I plan to stand as an independent. Obviously, in that situation, I would look to cooperate with any other ex-Tories standing in similar circumstances."
The MPs, who are currently calling themselves "Independent Conservatives", would act as a single political entity that could pave the way for a new centrist political party, according to two other sources with knowledge of the plans.
The group may appear on ballot papers as independents if they are not allowed to call themselves "Independent Conservatives" under Electoral Commission rules.
But they would stand together at the next election effectively as a party in their own right, the sources said, and hope to act as kingmakers in the event of another hung Parliament.
These MPs do not currently plan to appoint a leader, and although they are working together on a common strategy, they are not expected to publish a full-blown manifesto beyond a unified position on Brexit.
The MPs will agree a party line on leaving the EU depending on when a general election is called. Several members of the movement including Rudd are inclined to endorse a second referendum.
"I'm concerned we will get a hung Parliament in the same way, which would not resolve it. If we had a referendum we might have a chance of trying to do that," Rudd told the BBC Radio 4 Today programme on Tuesday.
Some of the MPs are planning to stand again in their current seats, while others are planning to run in constituencies where they have a better chance of winning. Rudd, who is currently MP for Hastings and Rye, is expected to stand in London.
A source working with the MPs told BuzzFeed News that the election will be the "survival of the fittest" among the group, which will aim to win as many seats as possible and then potentially hold the balance of power in the event of a hung Parliament.
According to one of the sources, the group has enlisted Peter Kellner, the former president of YouGov, as its pollster. Kellner declined to comment.
Of the 21 ex-Tory MPs who lost the whip when they voted against Johnson in favour of blocking a no-deal Brexit in the House of Commons in September, around half are expected to join the new movement, the same source added.
Several of the other rebel MPs will not stand at the next election while a number of the others are on "defection watch" amid speculation that they could join the Liberal Democrats. These include Margot James, who has said she could see herself serving as a Lib Dem.