An independent centrist forms a new party, runs on a pro-EU platform, and a year later goes on to win the French presidency. Just a few months ago it would have sounded like the beginning of a joke.

But Emmanuel Macron understood better than most how politics works in 2017. From the European Union, to immigration, to fighting fake news – where many would have tried to change the subject, he turned convention on its head.
At 39, he is France's youngest ever president. His victory, like most election wins, had elements of luck: a scandal over fake jobs hampered the chances of conservative candidate François Fillon. In a country where runoff votes are often about rejecting one of the two candidates, Marine Le Pen was the adversary most prone to rejection.
Still, the National Front won more votes than it ever has. Europe's populist far-right wave hasn't suddenly vanished, but neither is its continued rise as inevitable as some of the media coverage since the Brexit vote, and Trump's election in America, often seems to imply. The state of France's economy has been instrumental to the National Front's rise, and few can predict what the economy will look like in 2022.
The crisis on the left – socialist François Hollande will leave the presidency as France's most unpopular president – has also helped.

A lot will be now written about the operations of a winning campaign that in many ways was inspired by the playbook of Barack Obama.
But, first and foremost, Macron's extraordinary path to victory is the story of a candidate that chose to be bold – and to break, on his way to power, many of the conventional rules that have defined the European politics of late.
1. He launched a new party from scratch
When Macron founded En Marche! ("On the Move!") 13 months ago, many people mocked him. A minister tweeted a link to a song titled "Je marche seul" ("I Walk Alone") accompanied by the hashtag #Amiens, a reference to the newborn movement and Macron's hometown, where En Marche! was being launched in front of several hundred people.
Others thought the idea would fail. "He's ambitious. He might do well, but centrists never become president in France," a senior French government official told BuzzFeed News last year when asked about Macron's chances.

Meanwhile, as Macron rose in the polls, much of the commentary remained focused on Le Pen: The far-right versus the establishment is the primary lens through which the tale of Europe is being filtered.
But the far-right is only part of the story. A shift has been taking place in many European countries. Politics is no longer a battle between right versus left, but a choice between open or closed economies and societies. For a number of mainstream parties, especially among social democrats and the coalition of voters they have historically relied on, such differences have become increasingly bitter and possibly irreconcilable.

For Macron, politics is about this choice. You cannot win the policy arguments if you do not also win the debate about values and identity.
And no candidate better embodies the ideas of protectionism, nativism, anti-globalisation, and nationalism than Le Pen. She and Macron are diametrically opposite. They clearly exemplify the great division of our age.
Le Pen had been polling around the same levels since mid-2013, all but certain to make a runoff vote. The question was always who would face her in the second round. But, France in 2017 was no longer the France of 2002, when the near entirety of the country united around Jacques Chirac against Le Pen's father, Jean-Marie Le Pen.
En Marche! provided Macron with a platform that was neither left nor right. Free from the structures and baggage that come with the established divides, it gave him the ability to run as an outsider against disliked mainstream parties that have always governed, and as a voice of hope against the National Front. He presented France with a positive idea of itself to oppose the carnage painted by Le Pen.
2. He was unapologetically pro-EU
Macron was the only candidate to run on a pro-EU platform, an unusual position compared to the many politicians across Europe accustomed to using "Brussels" as a scapegoat for domestic problems, or as a rallying call to unite against during elections. Even those who are not Eurosceptics try to keep the EU off the agenda.

"If you're a timid European, you're already a defeated European," Macron told reporters after meeting German chancellor Angela Merkel in Berlin last month.
When a French broadcaster removed an EU flag from its studio after Le Pen insisted that only the French flag be visible during an interview, Macron took to the stage at his next campaign event with an EU flag in his hands. It is "an honour" to fly this flag, he told the rally in Nantes. "We are one of these stars... Before this flag, ours was a continent of war, never forget that," he said.
By campaigning on a pro-EU platform, France's new president was able to make the EU a top election issue, a way to point out that the anti-euro and anti-free-trade platforms of populist parties would in effect end with the country leaving the EU. (The majority of voters in France are in favour of the euro and EU membership.)

Macron was also able to balance his defence of the union alongside plans to reform it.
"I am not at all naive – I think you can win an election today by defending Europe," Macron added in Berlin.
3. He gave Le Pen the referendum on globalisation she craved – and won it
Speaking to her supporters after the first round, Le Pen said: "What is at stake in this election is a referendum for or against lawless globalisation."
Far-right candidates and populists like to frame elections as votes against "globalists" and "elites". They rally against "open borders", and in favour of "taking back control" from "establishment" forces. They fill these often abstract terms with emotional meaning making it easy for anyone to project whatever they want onto them. All this frames the terms of the debate.

Most mainstream politicians tend to shy away from these issues believing that hard economic arguments will suffice. But, in votes driven more by emotion and arguments over identity than by fact-checkers, economic forecasts, and debunkers, they can end up on the losing side.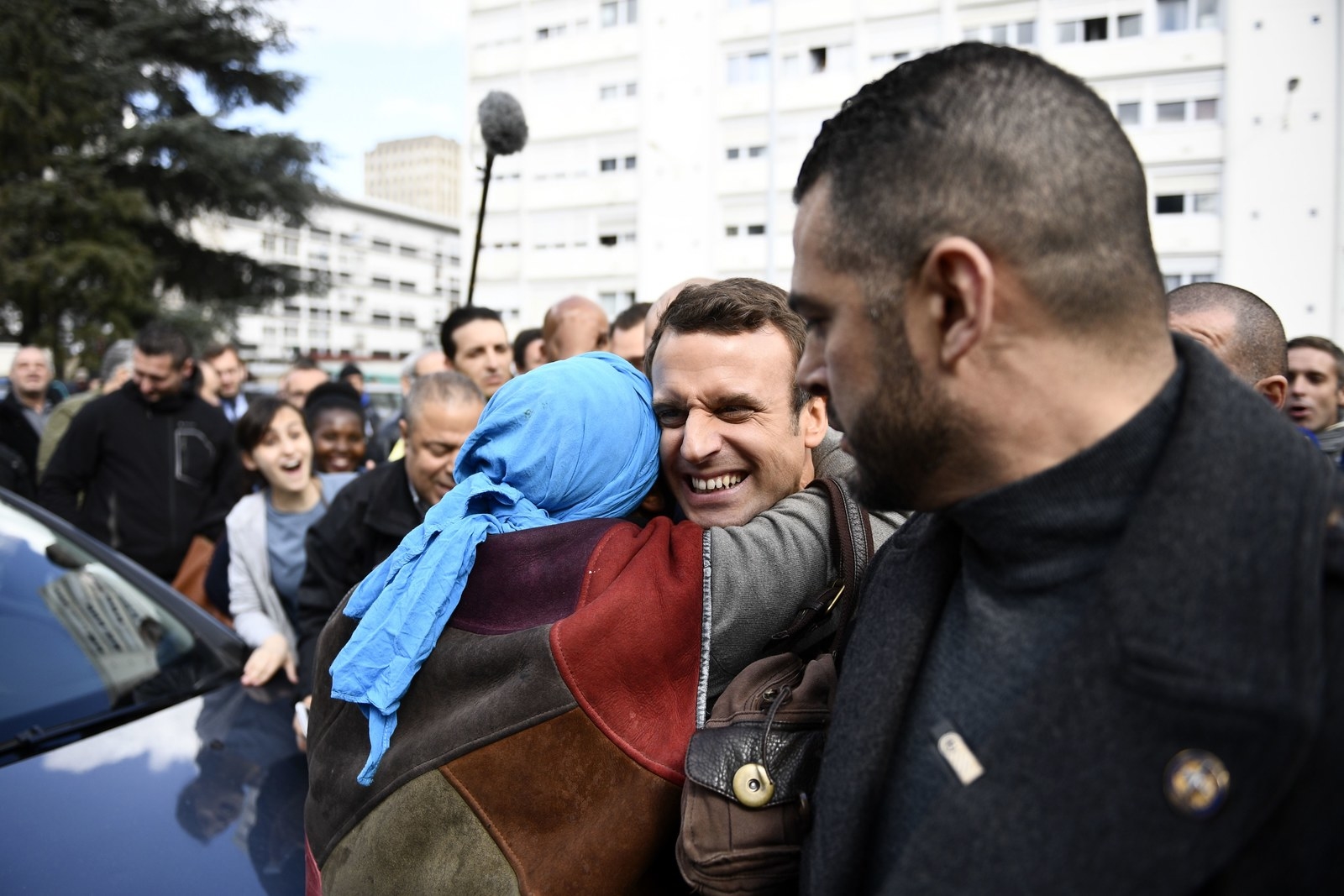 Though there is no clear single recipe for challenging right-wing populism, Macron chose to give Le Pen the argument she craved so much – and won it.
During the course of a two-and-a-half-hour debate on Wednesday, he used grit and facts to expose her economic policies. He called her plans to use both the euro and a national currency "stupid". He calmly picked holes in her arguments, and repeatedly said she was ill-informed and a liar.
When Le Pen tried to paint him as the candidate of the "establishment" and the "system", he hit back saying she was a "parasite" on the very system she was criticising. He branded Le Pen as the "the high priestess of fear", and said her immigration policies were full of hate.

He described her as "unworthy" of being president. "Madame Le Pen, France deserves better than you," Macron said.
After the debate, a poll found that Macron was seen as more convincing by a majority of voters that had watched the debate. His lead in the final polls of the campaign widened to more than 20 points.
4. He was able to distinguish between Le Pen and her voters
One of the reasons mainstream politicians stay away from debating issues that are charged with emotions is for fear of being chastised as patronising by the supporters of populist candidates, or ignorant of their concerns.
Former British prime minister David Cameron got into trouble for once calling UKIP members "fruitcakes, loonies and closet racists, mostly". Similarly, Hillary Clinton quickly regretted describing some of Donald Trump's supporters as a "basket of deplorables".
Macron was uncompromising in his criticism of Le Pen, but was always careful to distinguish between the National Front and its supporters.
During Wednesday's debate he accused Le Pen of talking a lot against things but proposing little to actually help the people whose misery she was feeding off.
"I consider voters as adults," he said.
He made the debate about highlighting not only the contrast in world views, but also the different proposals each was offering to address voters' specific concerns.
Still, throughout the campaign he never once made overtures to Le Pen herself, or did anything to normalise her party or its policies – indeed, he portrayed both as incompatible with the values of the French Republic.
5. He engaged directly with her voters (and their concerns)
Election campaigns in Europe have become scripted and repetitive affairs, the realm of soundbites and stage-managed events – and much of Macron's, of course, was too.
But, just a few days after the first-round vote, Le Pen sprung a surprise visit to a factory threatened by closure in northern France where Macron was campaigning.
As she took selfies with party supporters, Macron was met with jeers and calls of "Marine présidente" by a picket line of angry workers.
Much of the media coverage, in English at least, described the incident as chaotic, as Le Pen upstaging Macron.
But Macron then spent nearly an hour debating with the workers in an at times fiery exchange that was livestreamed on Facebook and viewed more than 650,000 times. It was a gutsy move, but it paid off. He left shaking hands with the workers.
En Marche! featured an article and video of the visit on the homepage of its website until the very end of the campaign.
6. He directly countered fake news – and made the issue part of the campaign
Fake news, disinformation, and alleged campaigns to interfere in elections have become common staples in recent votes. France was no exception. Just 36 hours before the polls opened for the second round, the Macron campaign was hit by a hacking attack, and campaign emails were leaked online. The campaign said fake documents had been added to the online dump.

In elections in other countries, campaigns were nearly always one step behind when it came to fake news, hacking, and disinformation. Too often they reacted when it was already too late. In Macron's case, the default setting was that they would suffer an attack. According to a report in the Daily Beast, the campaign even planted false information on phishing pages to confound hackers.
Macron, and his campaign, took the issue of countering fake news, and the impact it has on the democratic debate, head-on: They planned for it, and they even made it part of the campaign. They monitored closely and intervened promptly when false claims looked like they could go viral, and they grasped the global dimension of the issue and stapled the problem to the far-right.

Early on, the campaign let it be known that it was being targeted by Russia. It later banned the Kremlin's propaganda outlets RT and Sputnik from campaign events, referring to their "systematic desire to issue fake news and false information".
And the campaign strategically used Macron, and his social media channels and media appearances, to counter fake news stories and rumours. The candidate used interviews to debunk several conspiracy theories.
When Le Pen asked Macron if he held an offshore account in the Bahamas, in reference to a fake news story that was circulating online, he threatened to sue her for libel. The next day his campaign filed a complaint with French authorities, prompting an investigation, and put out a statement blaming the National Front for spreading fake news and accusing "the online networks of Trump and Putin" of launching a "campaign of digital disinformation".

Le Pen was forced to admit she had no evidence to back the claims.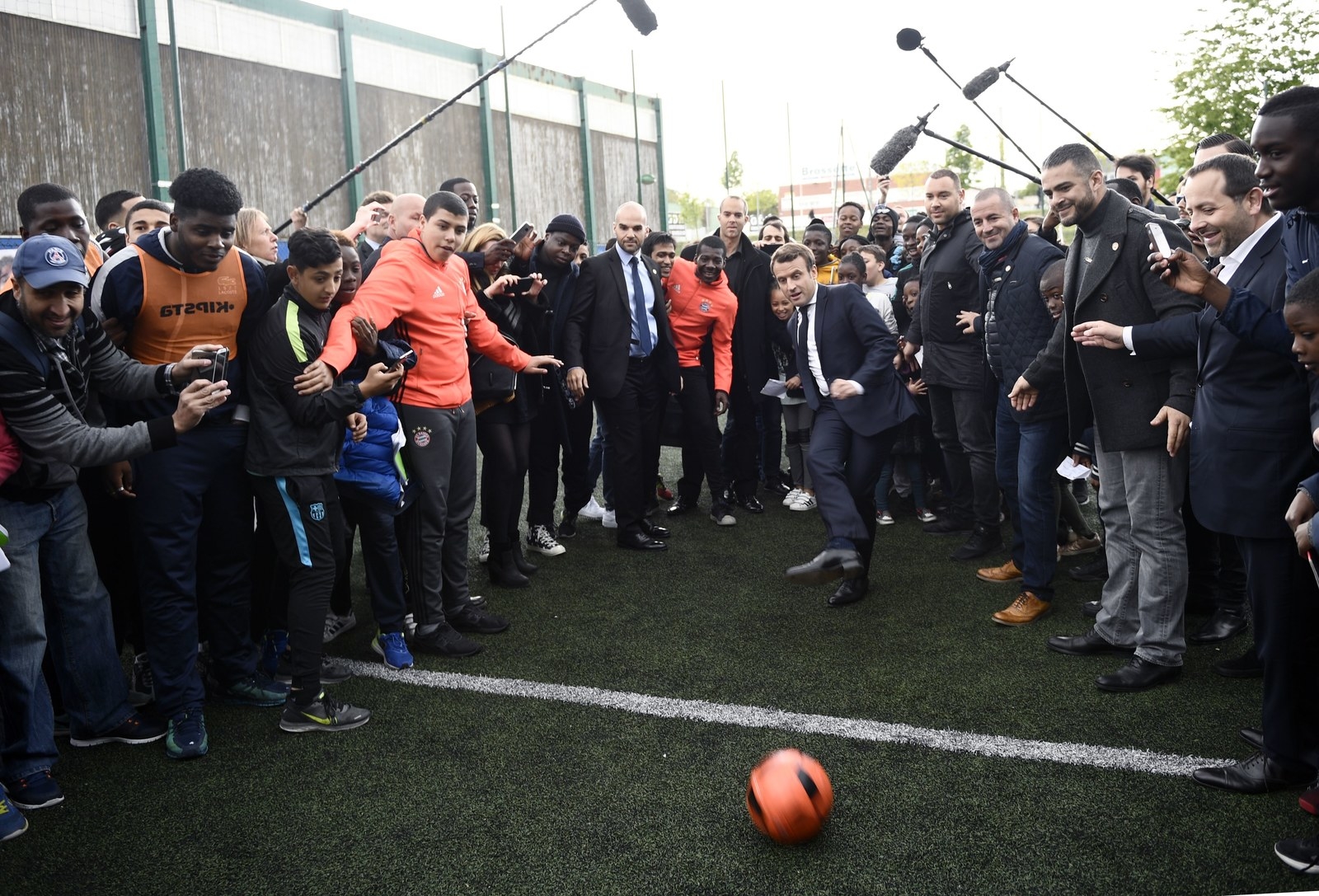 Macron and En Marche's next test will be parliamentary elections next month. For France's new president comes the challenge of governing a deeply divided country, and rebooting its economy. For now, his election will go down in the annals.
Outside Your Bubble is a BuzzFeed News effort to bring you a diversity of thought and opinion from around the internet. If you don't see your viewpoint represented, contact the curator at bubble@buzzfeed.com. Click here for more on Outside Your Bubble.