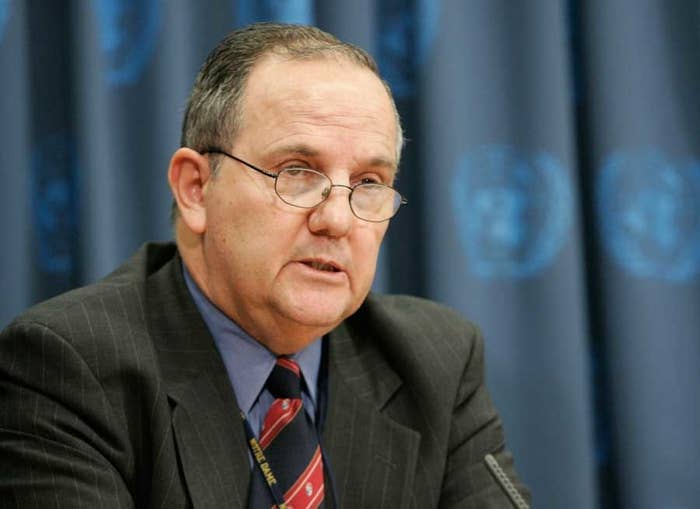 The UN's special rapporteur on torture has accused Britain of playing Bahrain's "game" by funding its human rights institutions while allowing it to act with "impunity" by not pressuring the kingdom to let him visit.
Juan Méndez, whose 2013 visit was postponed by Bahrain, told BuzzFeed News the kingdom had "played the UK's support to maximum effect". While Méndez does not have legally binding, enforceable powers, the public nature of his reporting could potentially damage the kingdom's standing on the world stage.
"They tell everyone, 'We have an inspectorate of prisons,' but they won't invite me," Méndez said. "The UK should not be a party to it. [Bahrain dismisses its] critics as pawns of Iran. Bahrain considers itself shielded [from scrutiny] due to its relations with Britain and America."
Public demonstrations have been banned in the capital since the Arab Spring, and Amnesty International has said prisoners have been tortured, including being burned with cigarettes and given electric shocks.
Britain is currently offering a "package of technical assistance" to the Middle East kingdom, with £2.1 million allocated for 2015-16 aimed at helping the government reform and for "strengthening human rights and the rule of law".
Among the institutions funded or supported in other forms by Britain are Bahrain's police ombudsman, the group criticised for failing to investigate torturing of a prisoner who has been sentenced to death; and the prison inspectorate, which recently raised eyebrows after allegedly failing to probe torture claims at the kingdom's Jau prison. British Foreign Office sources told BuzzFeed News that despite these setbacks, confidence in these organisations is increasing and they are working more effectively.
The department also funds Bahrain's National Institute for Human Rights (NIHR). In April, an NIHR commissioner tweeted that those who accuse Bahrain's King Hamad bin Isa al-Khalifa of "crimes against the state" should face the death sentence.
In a response to the statement, a spokesperson at the Foreign Office said: "The UK opposes the death penalty in all circumstances as a matter of principle, and we regularly raise death penalty cases with the Government of Bahrain. We are concerned by the content of Khalid Al Shaer's tweet of the 28 April, and we have raised our concerns with the Deputy Chair of the National Institute of Human Rights. We continue to encourage the NIHR to continue to work towards full compliance with the Paris Principles for independent human rights institutions."
But Méndez said the UK is not getting results from the Bahraini human rights group, and that one of the reports produced by the organisation was a "whitewash".
A 2014 NIHR report showed that it had registered 88 complaints, and of those, 36 were upheld.
Earlier this week, BuzzFeed News revealed that British funds had also been allocated from a separate budget overseen by the Cabinet Office, which paid for a delegation to visit the UN and help lobby to water down a joint statement on human rights abuses.
Méndez declined to discuss specific details, but said it didn't make sense to support Bahrain and not expect it to uphold human rights laws. "It doesn't do to play this game while not encouraging Bahrain to [engage with] all international bodies as it should."
He went on: "The UK has an obligation to ask all states to cooperate with all states in the UN Human Rights Council, but Bahrain is not cooperating with my mandate." The kingdom had said it felt he lacked impartiality, which he dismissed: "The UK has a responsibility to tell Bahrain they have to invite me. Accusations of bias like this should not be tolerated."
A spokesperson for the Foreign Office told BuzzFeed News: "We regularly encourage Bahrain to work with the Office of the High Commissioner for Human Rights and UN Special Rapporteurs, including the Special Rapporteur on Torture."
British foreign secretary Philip Hammond visited Bahrain last week, during which he met the king and welcomed the kingdom's "commitment to continued reforms".
A spokesperson for the Foreign Office said: "It will take time to see the full results of Bahrain's ambitious reform programme, and we are clear that more needs to be done. But if Bahrain is to make progress, then it's important that we continue to offer our support.
"Our strong relationship means we are able to have frank and honest conversations on human rights with the Government of Bahrain at the highest levels, as the Foreign Secretary did on his visit to Bahrain yesterday and as [foreign office minister Tobias] Ellwood will later this week."
On Tuesday, Bahrain released Zainab al-Khawaja, 32, a prominent human rights activist, along with her infant son. She had been taken into custody in March over several charges, including tearing up a picture of the King. The charges have not been dropped, and she still faces up to three years in prison.