Ukrainian Campaigners Say British Tax Havens Are Bleeding Their Country Dry
BuzzFeed News has learned that the Ukrainian politician in charge of his country's tax policy is at today's anti-corruption summit in London, despite facing a criminal investigation into his own financial affairs.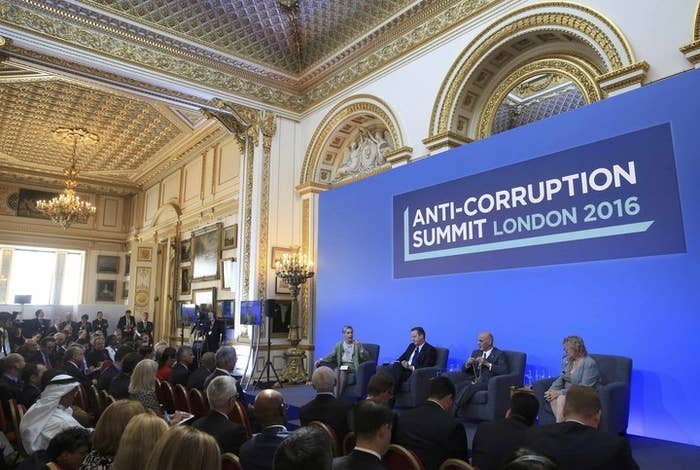 A group of Ukrainian campaigners are calling on prime minister David Cameron to close British tax havens, claiming that corrupt Ukrainian officials are using the tax structure in the UK to take money out of the country, leaving its medical and public services sector bankrupt.
Officials at the Kiev-based Anti-Corruption Action Centre (AntAC) also told BuzzFeed News they have successfully appealed to the Ukrainian prosecutor general's office to conduct a criminal investigation into an officer in charge of the country's tax policy over his ownership of two flats in London.
Roman Nasirov, the head of Ukraine's Fiscal Service, is facing the investigation for failing to declare that he owned the two flats.
The revelations come just as Britain is hosting an anti-corruption summit in London, where world leaders – including Nasimov himself, it is understood – are gathering to discuss proposals to tackle the problem of world corruption.
"We are amazed with how easy it is for officials like Nasirov to obtain expensive property in London, but hide ownership behind trusts, shell companies, and/or nominees," said Daria Kelenuik, the executive director at AntAC, in an interview with BuzzFeed News.
Documents revealed by AntAC show Nasirov's "asset declaration" from 2014, in which he failed to declare his two London flats, and a court order instructing the country's prosecutor to begin a formal investigation.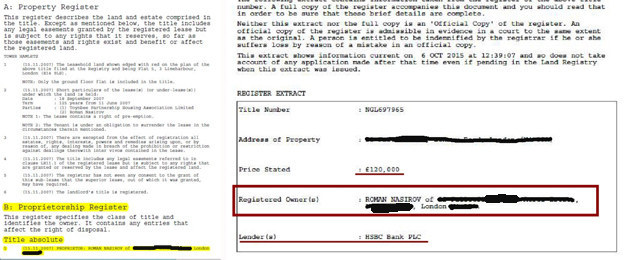 In November last year, Nasirov was cleared by a state inquiry of any wrongdoing after there was an outcry from journalists and his political opponents. It found that in 2013 he gave his leasehold right for both apartments to an unnamed British trust. The state inquiry quoted two legal firms in Ukraine that argued that since there is no equivalent of leasehold ownership in Ukraine, this did not count as ownership and so he was right not to declare the flats.
However, months earlier, in September 2015, AntAC asked the Ukrainian prosecutor general's office to investigate the case. It declined to do so, but in October that year AntAC appealed the decision at Pechersk Court. The appeal was successful: Yesterday the campaigners received confirmation the case was being investigated by regional prosecutors.
Over $12 billion a year disappears from the Ukrainian state budget due to corruption every year – this not only damages public services, but threatens outside investment. In February this year, the International Monetary Fund (IMF), warned that Ukraine risked losing billions of dollars in financial support if it didn't tackle corruption and reform its state companies.
In February, OpenDemocracy, a non-profit media website, revealed that assets owned by those close to Ukraine's former president Viktor Yanukovych were secretly held offshore by companies in British crown dependencies and overseas territories. Assets owned by the president himself, including a golf course and luxury building, were held by a company registered in London.
Yesterday, in a petition posted online on Change.org, Nina Astaforova-Yatsenko, a Ukrainian mother who has been made the face of the anti-corruption campaign, explained how she is forced to buy her daughter's medication on the black market because hospitals don't have it.
Astaforova-Yatsenko wrote that money was "stolen from state budgets" and hidden in London after Yanukovych fell, "and it got there via secret companies in the British Virgin Islands".
It's not just anti-corruption campaigners raising alarm over the country's political elite's ties to properties in the UK. In July last year, Ukrainian investigative journalists produced a documentary that showed how easy it is to hide dirty money in London property. Last week the head of Ukraine's foreign affairs committee said western countries need to "adopt sanctions on corrupt Ukrainian officials who are close to top legislators."
At the anti-corruption summit on Thursday, Cameron announced proposals to force people who currently own UK property through offshore companies to publicly disclose their identities.
"These moves come late in the day," said Chido Dunn, a senior campaigner at anti-corruption organisation Global Witness. "The changes must come into force within a year of the summit and the new measures should apply to all existing properties, as well as future purchases."
Cameron has also demanded that people stop "picking on" island tax havens like the British Virgin Islands over transparency. However, Dunn said: "The UK's overseas territories are central to the problem. Over 50% of companies named in the Panama Papers were set up in the British Virgin Islands. The government has the power to force them to set up public registries of company ownership but seems unwilling to do so."