1.
When Parliament decided it was time for some of this nonsense.
2.
Amber Rudd stepping down as an MP and her daughter immediately snitching on her.
3.
The way Momentum got off to a flyer.
4.
The day early on in the campaign when the Tories were called out for their misleading editing of a video, their party chair was empty-chaired by Sky News after not turning up to an interview about it, one of their ministers resigned over the sabotage of a rape trial, all this happening not long after Jacob Rees-Mogg had offended the relatives of the Grenfell victims, and while they were being asked questions about not releasing a report into Russian interference.
5.
Whatever the hell this video was supposed to be.
6.
The return of a brooding Ed Miliband.
7.
Michael Gove malfunctioning on live radio.
9.
Boris Johnson traveling to flood-hit South Yorkshire and getting shouted at, again and again.
10.
Andrew Neil absolutely toasting Nicola Sturgeon.
11.
This outburst of fake news.
12.
The Tory press office rebranding as a fact-checking service during a debate and getting schooled by an actual fact-checking service.
13.
Andrew Neil absolutely toasting Liz Truss.
14.
Health secretary Matt Hancock's increasingly terrifying — especially when watched on silent — campaign videos.
15.
Including this one.
16.
The moment Matt Hancock provided some insightful commentary on a leadership debate.
17.
Also, the time Matt Hancock tweeted this picture of himself. That's probably enough Matt Hancock, on balance.
18.
The moment a Tory candidate was caught setting up an interview on the doorstep by Michael Crick. An all-time classic.
19.
This campaign video fail from George Freeman.
20.
The time Boris Johnson and Nigel Farage got replaced by a block of ice on TV.
21.
Not strictly an election story, but the death of the Queen apparently being announced via a bloke called Gibbo in a WhatsApp group with a dick pic as its icon was pretty amazing.
22.
Jeremy Corbyn answering a question about the Queen's Speech with about as much conviction as someone who's not revised for their GCSE French oral exam.
23.
This absolute "zinger" from Burger King. #NailedIt
24.
Andrew Neil literally doing the come-on-let's-be-having-you thing to Boris Johnson, who still wouldn't do an interview with him, even after that.
25.
The time Jo Swinson got into an argument with some bees.
26.
And the bees then infiltrating the Brexit Party's offices in Grimsby.
27.
Channel 4 mishearing a Boris video and making out that he'd said "people of colour" in the subtitles, prompting a good two-hour-long Twitterstorm. (He actually said "people of talent.")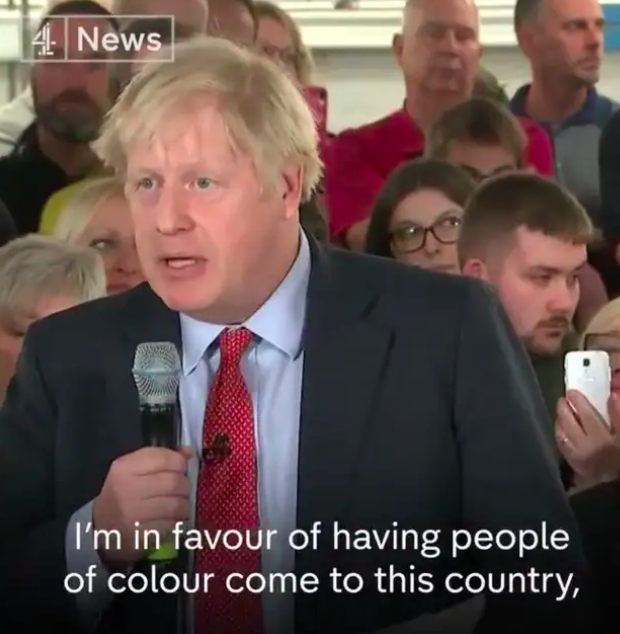 28.
All of former Tory MP David Gauke's campaign videos, but especially this one.
29.
Jeremy Corbyn sharing a bunch of trade documents that Reddit later said had been leaked onto its site by a suspected Russian misinformation campaign.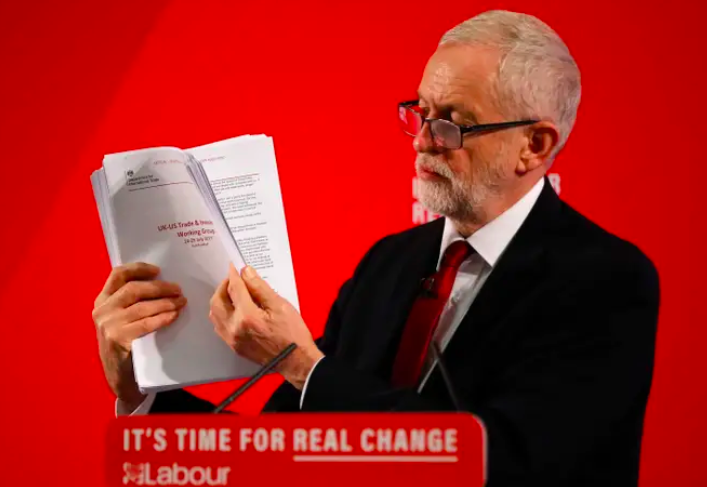 30.
The time Boris Johnson decided to deal with a particularly tricky interview about a 4-year-old being forced to lie on a pile of coats in a hospital by, erm, putting the reporter's phone in his own pocket.
31.
The time a bunch of people on the internet then cut and pasted an absolutely crackers conspiracy theory about how the aforementioned picture of a 4-year-old was faked.
32.
And, around the same time, the Tories putting out an incorrect story about how an adviser had been assaulted, which a bunch of senior journalists for some reason decided to share on Twitter without even putting in a call to the police, who would have told them they had not received reports of such a thing happening.
33.
This, which is peak Barry Gardiner.
34.
A Labour front bencher being secretly recorded by his (subsequently former) friend slagging off Corbyn, then claiming it was "banter".
35.
The time Boris Johnson did this.
36.
And finally, Boris Johnson hiding in a fridge just after his aide swore at a reporter.
37.
OK, fine, here's one more Matt Hancock video. What a time to be alive.