Meet Jake Chapman.
And early one morning (at 1am to be precise), he had kind of a crazy idea about what to do with his Tinder profile. What if his exes provided reviews for it?
He told BuzzFeed News:
I was just thinking to myself trying to fall asleep that I've been taking dating a bit serious after a recent breakup back in May. I just wanted to put up an honest view of what my exes thought of me with just a bit of being a smart-ass about it because, well... It's Tinder. Faith actually asked a little bit later in the conversation if I had been drinking haha, but no, sober as could be.
Anyway, his exes decided they'd go along with it. And this was the finished result: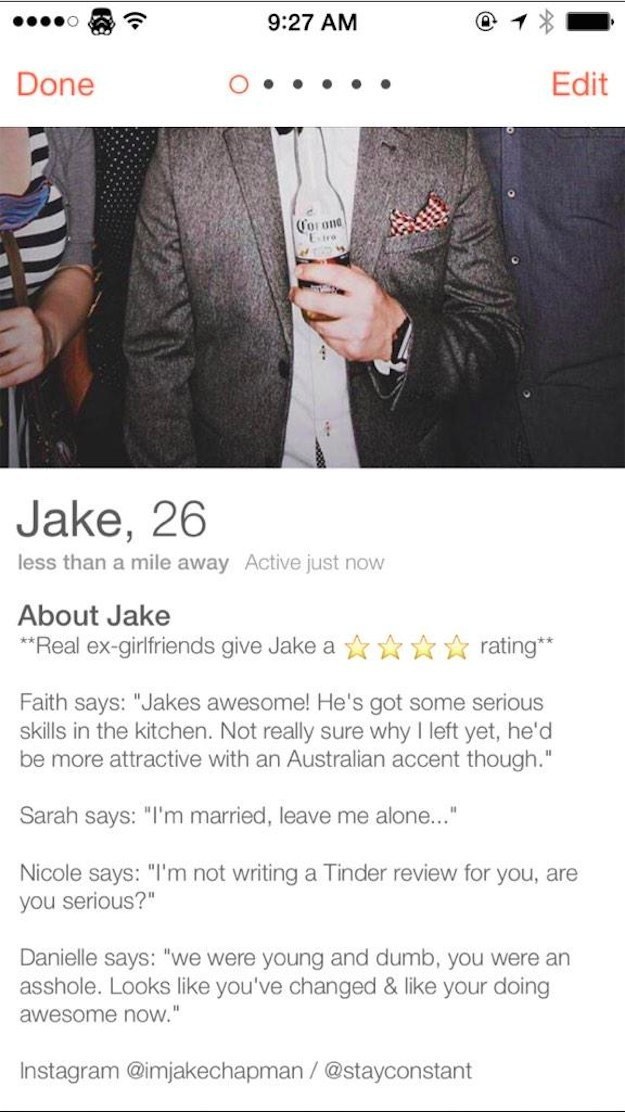 He shared the experiment on Reddit, and that might have helped the whole thing blow up. He told BuzzFeed News:
I wasn't expecting anything, to be completely honest two of them were fake when I first posted it because I had more room in the profile and wanted to sound like yelp for a boyfriend. Well – not completely fake, one of them it was the last thing the girl ever said to me and the other I'm 100% sure is what her new pastor's son husband would tell me. [I left] those in until I got real ones. ...

Tinder kind of blew up pretty quickly, but I'm not sure if it was because girls recognized me or the account/profile. Except there was a girl that matched me and her bio read "My Dog and Reddit are my life." So I messaged her and said "Guessing you found me from Tinder subreddit?" Her response had me laughing. "Oh Shit, I saw that post but didn't read your description until now. I feel like I'm meeting a celebrity. Do I get an autograph or something?"

What's funny is that even though this was on Tinder, I've had a bunch of girls connect with me through OkCupid and know exactly who I was. Most of the Tinder matches were spam bots (get on this Tinder team). I've had numerous people reach out to me through Twitter, Facebook, Reddit and show me responses they were getting back from ex-girlfriends and they are fantastic!
Then came a rather surprising development. One of Chapman's exes, Taylor, got in touch. He wrote on his Reddit thread:
After seeing the image on Twitter and Facebook one of my exes that I left, Taylor decided she was hurt that I didn't think of her and decided to text me her review which has now been added to the profile...

Taylor gives a 4 1/2 Star review. She says. "He's got a job, condo, dog, fast car, can cook, good with his hands :) and is a complete sweet heart. The only thing keeping me from trying to be with him is 1,155 miles".
And then this text exchange happened.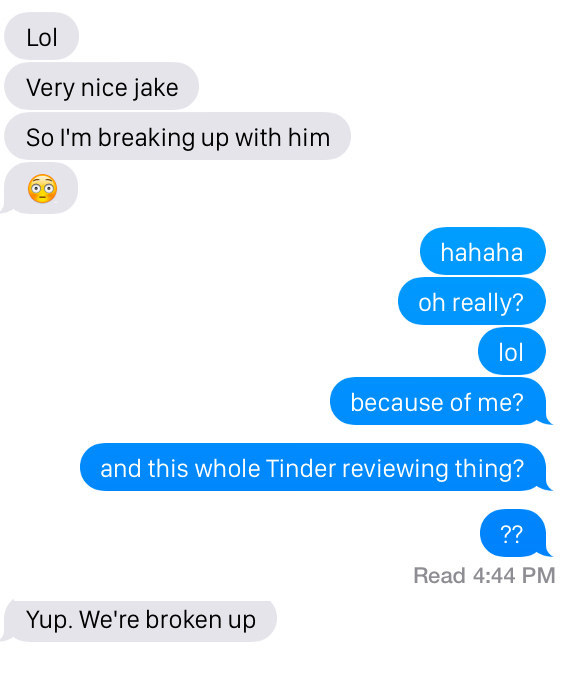 Chapman told us:
Taylor and me have always had this weird tension between us, the way everything went down back on New Year's Eve 2008 that led to us breaking up was completely my fault. I was a complete asshole and was super drunk and was just being an idiot.
And then she sent him this text: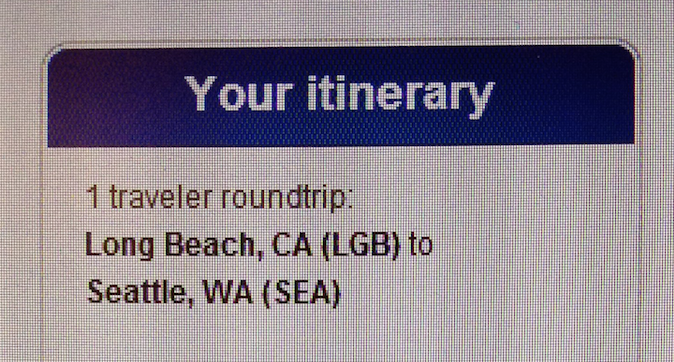 BuzzFeed News reached out to Taylor. She said:
I had no idea Jake's Tinder profile was going to cause ... such a stir. I wanted to be one of his reviews because I figured since I couldn't be with him, maybe there was someone out there who could. Jake and I have known each other for over five years and he's definitely "the one that got away". I don't know what the future has in store for us, but I'm excited to fly up and find out. If things don't happen to work out between us, we know that we will always be friends and be there for one another.
Chapman said:
We had actually talked a long time ago about her flying up here and we both thought that would never actually happen. So when she texted me the plane ticket I was shocked she actually pulled the trigger and did that. She will always be a special girl to me, but to say that something is going to happen between us is having expectations. Which is one thing I won't do, just adds stress and tension to something that should be fun and enjoyable. To spend time together and just enjoy each other's company and show her around my city.
I'm not crying, I've got something in my eye. Good luck, guys.