This is Sarah Tetley, 26.
Yesterday she told ITV's This Morning how she met her husband, Charlie Tetley, now 34, while working in a village pub when she was 18.
She told the programme:
He'd come in with his friends from time to time. He seemed like quite a charming person, had quite a lot of friends... He was just charming and decent. My boss never explained why she didn't like him – she said she didn't like him coming into the pub that much.
Sarah said that after a while of being with Charlie, she felt it was easier for her to give up her job: "He'd always say 'I can support you' ... and that it would be easier if I stayed home."
She moved in with his parents, who she said were unfriendly: "After a few months we avoided each other as much as possible." Then she became pregnant, whereupon his behaviour became extremely odd, she said:
He was OK with me being pregnant but was adamant he didn't want a son, he thought boys were disgusting, he said if we were having a boy we were getting rid of it. ... I was quite scared really. ... A few weeks before she was born he was saying "You've got to lose weight or I'll leave you". ... I started to believe his threats more and more because it wasn't an offhand comment. He didn't hold our daughter till she was about 3 months old.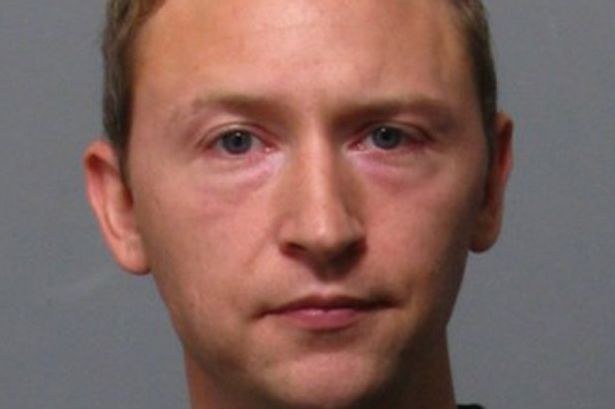 The pair got married. Sarah said: "He proposed soon after we met. I was ... 18 and I sort of put it off. He said one day I'd have to. Once we had our daughter and were a proper marriage, I thought that was the time."
It was then that he made some strange admissions to her, including that "he'd had three prostitutes on his stag do".
But in November 2013 things got even odder. Tetley told the programme:
I woke up in the morning in that drowsy waking up stage and realised he was molesting me in my sleep. At the time I thought I'd just pretend I was asleep. ... He stopped pretty quickly and I left the bedroom and went downstairs and sat up watching some rubbish on TV. Once it got to daylight and he went to work I went round to my neighbour's and I said, "It's wrong, and I want to lock him out."
She said:
Every couple of days I was getting calls from the police saying there [were] more and more videos – I think there were 316 altogether. ... The police officers were just telling me they were disgusting, some of them seemed quite shocked by what was in them.
She told the programme that she had to watch 16 of them in total: "There was a couple where I didn't appear to be breathing or moving, it looked like I was dead in some of them."
She believes her husband must have been drugging her, although tests were inconclusive. This Morning declined to go into further details about what exactly he was doing, but said he was "using instruments" on her.
Tetley said: "A lot of the videos weren't just of him, they were of household objects and things he'd decided to do with those." She added that she'd sometimes see the household objects near the bed or wake up with "a dead arm" but had no idea what he was doing.
Her husband eventually pleaded guilty to 26 counts of rape and assault: "He got 12 years for that," she said.
She said:
I had trouble sleeping for ... four or five months. ... I don't think I trust that many people at the minute. I'm on a waiting list for counselling. ... I do think that if you're being abused in any way you should tell someone, whether it's mentally or whatever it is, and if people are very secretive you should wonder why.
Looks like there are no comments yet.
Be the first to comment!