Twitter Has Been Flipping Out Over This Woman Who Breastfeeds Her Six-Year-Old Daughter
Denise Sumpter, 44, appeared on This Morning to defend her decision.
I can't express but I feed my children whenever I want. ... It's not just a drink – it isn't like cola – it's nutrition, it's a living food. It changes hour by hour so that child gets a perfect nutritional fix.
She told the paper:
Mums who feed for longer are often accused of being selfish. There are things I get out of it – like calm, happy children. But I can say with certainty I've done this entirely for the benefit of my kids. When Belle finishes I'll be sad but it's a natural progression. Her milk teeth are going and I get the impression she won't be feeding for much longer. But she can take her time.
Sumpter had originally planned to breastfeed Belle for six months:
She told This Morning that "we don't know much about breastfeeding... It's not very visible," and that this can put women off doing it. She said the important thing was getting support from family, the community, and medical professionals.
She said expressing isn't an easy thing for everyone: "It's not like pouring something into a drink".
Last year she told The Mirror:
I try to help parents with the information I have as it saves lives, empowers women, and makes children happy.

When mums are told to cover up while breastfeeding in Claridge's or ignorant politicians like UKIP leader Nigel Farage tell nursing mums to "sit in the corner", it only does harm. What we need is more openness and more truth so mums can make informed decisions.
Clare Byam-Cook, a breastfeeding specialist, was also interviewed on the show.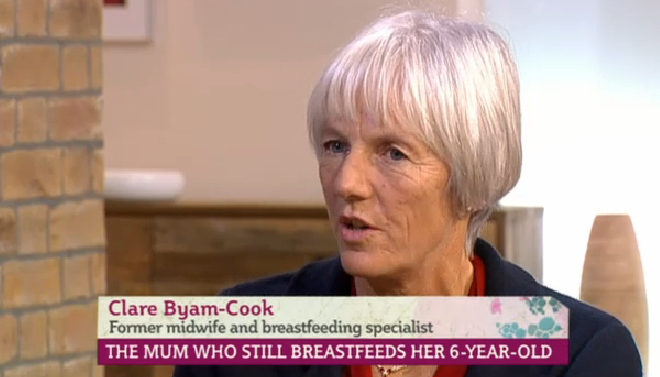 The Twitter reaction has been mixed.