People Are Panicking Over Claims That A YouTuber Was Kidnapped By ISIS
I don't even know where to begin with this.
Overnight, an online panic broke out about the fate of YouTube star Marina Joyce, a 19-year-old Briton best known for her beauty vlogs.
Soon there were hundreds of tweets and blogs making the claim that Joyce had been kidnapped and was being forced to make videos against her will. The hashtag #SaveMarinaJoyce began to trend worldwide.
The Metropolitan police confirmed on Wednesday morning that Joyce is in fact safe.
As has Joyce herself.
She also attempted to reassure fans with a livestream broadcast on Wednesday morning.
The panic had escalated last night following a tweet from Joyce's account inviting people to meet her at 6:30am in Bethnal Green, London.
It appears she was in fact tweeting about a morning dance event that's due to happen on 3 August in the area.
And then people, many of them from the US, started flagging how dangerous Bethnal Green is based on internet research.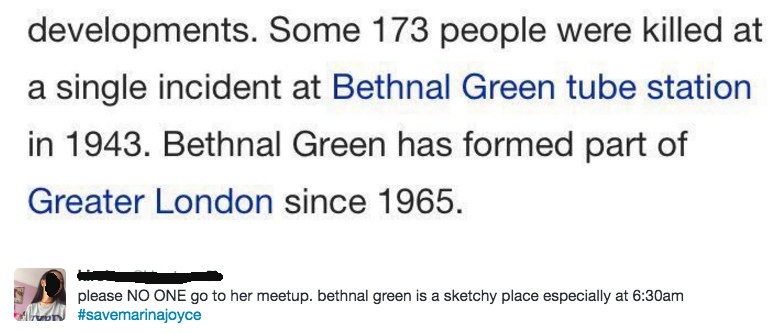 The thing is, a lot of these people were American teens who'd never been to Bethnal Green, and weren't aware it's actually a pretty gentrified bit of east London.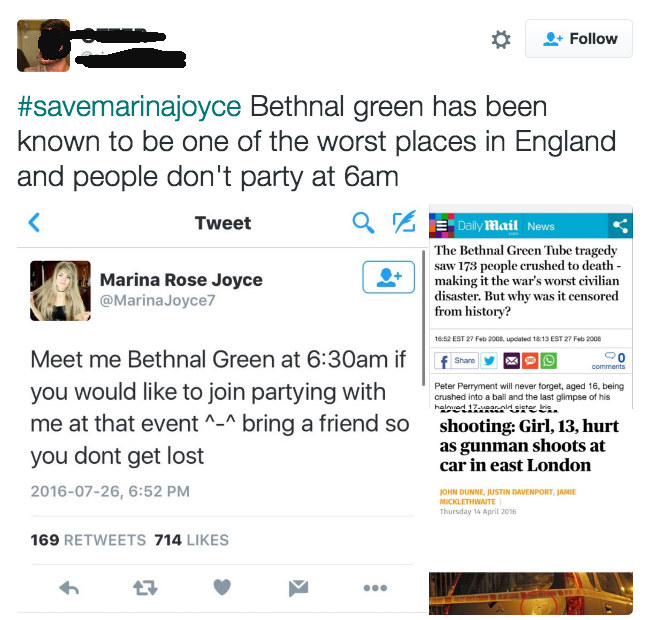 And now there is – how to put this – a lot of banter.