Fraley wrote this song. On Reddit, he writes: "I recently stopped bringing my guitar to my Mom's home because she no longer recognizes me and doesn't respond to it anymore."
Joe tells BuzzFeed News: "I was extremely surprised and honored by the overwhelming response to it."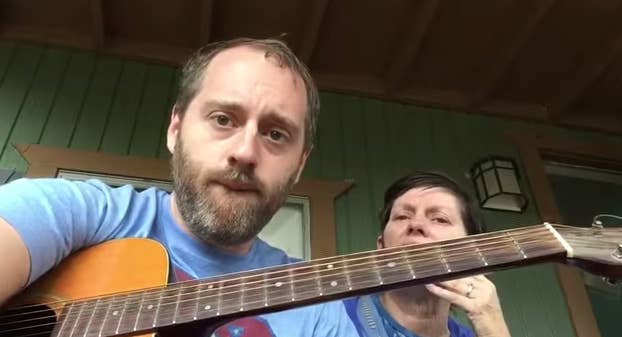 He says:
I uploaded the video to YouTube a few months ago and had it set to private for my family. For the past week and a half my mom hasn't recognized me or my Dad. She wasn't responding to my music and wanted me to stop playing. I was having a rough day and re watched the video and for some reason I wanted people to see it. I shared it with my friends and they were so touched by it that i uploaded it to Reddit as well. I missed my Mom's smile so much when I played that I wanted other people to see it.

I have a few videos of me playing to my Mom but that was the last one I recorded. The other videos I have are a lot more heartbreaking to me because they were taken months before and you can clearly see how much she had changed over such a short amount of time. After I posted it I felt embarrassed because it was so personal, but the responses I have incredible. So many people wrote me and told me how touched they were and shared their stories of what they went through with a loved one.
He tells us he has "a million things I could say about the disease."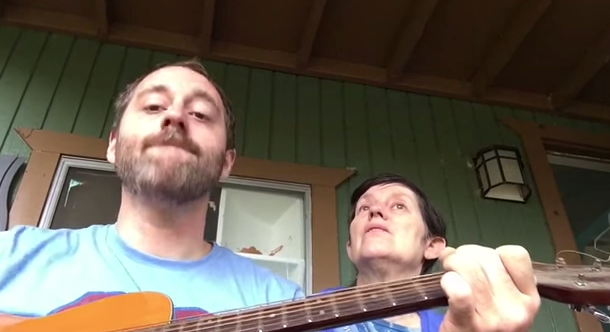 He adds:
I moved back home about a year and a half ago to help my Dad take care of my Mom. It got to the point where it was too much for us to take on and we had to move her to assisted living. We started a go fund me to take care of the initial costs and raised enough to get her into a home. Luckily my Dad is a veteran and so some of the costs are covered, if not I don't know how we could have afforded it.

Taking care of people with Alzheimer's is incredibly difficult. The day after i posted the video I took my guitar to play for my mom. One of the caretakers had seen the video and told me that it made her cry and told me how hard it was to work there. We both started crying and hugged eachother. I played and my Mom didn't respond to the music but the other residents did and they were dancing. I would highly encourage anyone who does music to play for residents, their reactions to music are the most genuine of any audience I have ever seen. I'm going to continue to play there even after my Mom passes.
Joe tells BuzzFeed News:
I have been playing in bands for the last 12 years trying to make it as a musician. I was in a band called Klum for 9 years and then started my own band King Devil,. We played for a couple years but I stopped playing music right around the time my Mom was diagnosed.

I didn't have the emotional energy to put into a band. I had pressed 2000 CDs and they were collecting dust in my parents house. I posted on Reddit saying that I would ship the CD to anyone who wanted it. My Mom and Dad helped me send out over a thousand CDs and it was a really fun couple days. It was as gratifying for them as it was for me. I had always dreamed of becoming this rockstar and buying my parents a big house. I wanted them to be proud of me. I didn't become a big rockstar but in my Mom's eyes I always was.