...Dave Grohl has decided to fight a battle for a teenage band from Cornwall.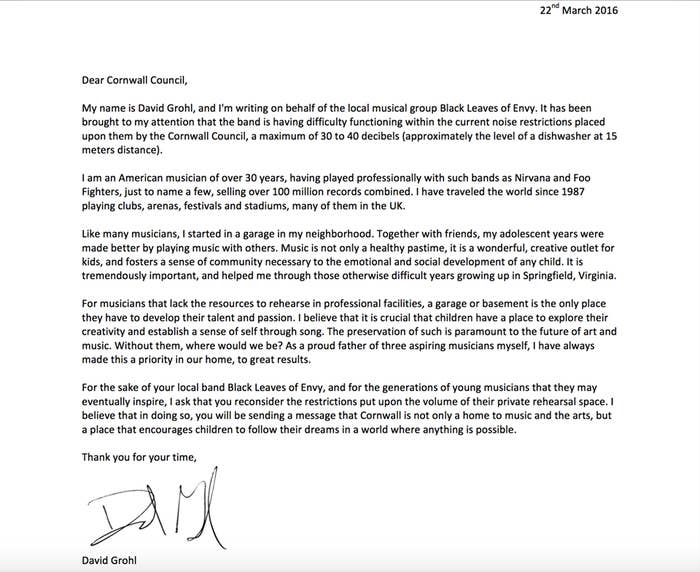 According to local media reports, Grohl wrote the letter after Black Leaves of Envy, a teenage band from Praa Sands, Cornwall, contacted him to say they had to keep the noise down to about 30 to 40 decibels after their neighbours complained.
In the letter, Grohl describes himself as "an American musician of over 30 years" and writes:
"Like many musicians, I started in a garage in my neighborhood. Together with friends, my adolescent years were made better by playing music with others.

Music is not only a healthy pastime, it is a wonderful, creative outlet for kids, and fosters a sense of community necessary in the emotional and social development of any child. It is tremendously important, and helped me through those otherwise difficult years growing up in Springfield, Virginia."
He goes on:
"For musicians that lack the resources to rehearse in professional facilities, a garage of basement is the only place they have to develop their talent and passion. I believe that it is crucial that children have a place to explore their creativity and establish a sense of self through song.

The preservation of such is paramount to the future of art and music. Without them, where would we be?"
On Facebook, Grohl linked to a guide to soundproofing your performance space.
The father of one of the band members has told West Briton the band has not been able to play for three months, despite only having one nearby neighbour who has not complained. The others, he says, are "a farmer's field away".
Cornwall Council, meanwhile, has responded on Twitter.
Black Leaves of Envy have now recorded this video message to thank Grohl.