This is the Redfoo collaboration "Literally I Can't".
And as a result, over 20,000 people have signed this petition asking Channel 7 in Australia not to rehire him to be a judge for The X Factor. He then mounted this Twitter defence. But still the campaign continued.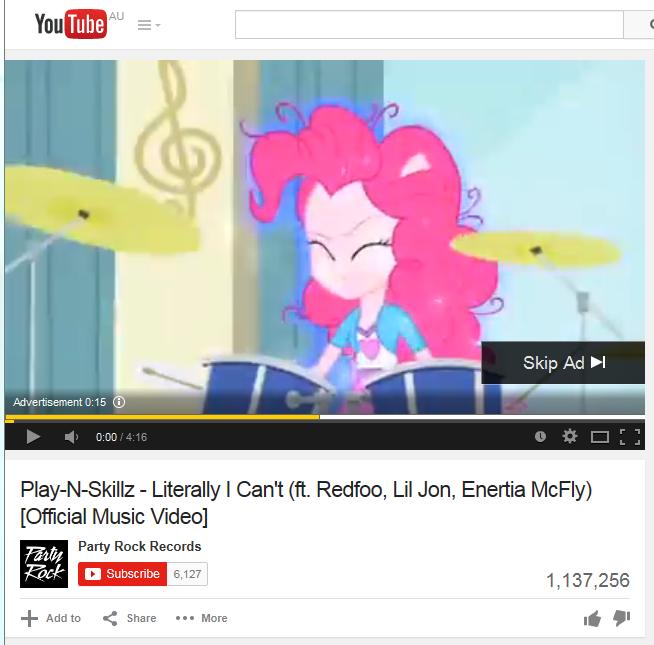 Australian music website The Dwarf published a blog criticising the song. Author Madison Thomas wrote:
Literally... I can't believe that this song made it past the 'inside joke between a bunch of assholes' stage. Literally... I can't believe that this song actually got released. Literally... I can't believe that there are people out there that think that this is okay.
The blog apparently lead to threats from Redfoo's lawyers. Whereupon Thomas wrote a somewhat sarcastic open apology:
I'm sorry that I failed to notice that "Fact #1: The word "slut" never appears in the lyrics to #LiterallyICant". I guess I was too stunned that a song telling women to "shut the fuck up" saw the light of day.

I'm sorry that I don't see "Fact #2: I love & respect women and feel they are the most powerful people on this planet! #LiterallyICant" as an excuse. I love women too. I love my mum, and my sister, and my grandma, and aunties, and cousins, and friends. I love women so much that I fail to see how this wart of a tune ever seemed like a good idea.

I'm sorry that I don't get the joke. "Fact #3: @PlaynSkillz @LilJon @EnertiaMcFly & I made a comical party song to satirize the cliche #LiterallyICant. Some get it, some don't." I suppose if I was to find humour in this song, I'd have to really split my sides at casual misogyny, and the perpetuation of rape culture, which I unapologetically don't.

I'm sorry that Australia, my home, has put you in a position of power over young singers, many of them women. I always found the idea of singers being judged by someone who fluked their career, partially by birthright, partially by producing repetitive songs with lyrics like "the ladies love us when we pour shots, they need an excuse to suck our cocks", kind of icky. I never quite got why, with genuinely talented singer/songwriters dangling from overripe vines, Australia felt the need to import talent but that is another story for another day.
(Continues here),
And this disclaimer has been added to the video, along with its description. But now he's gone on the radio to discuss "women with an agenda".
He goes on to say: "We live in this society where it's about the blog … all these blogs are designed to get clicks. That's the economy of these blogs and negativity gets attention and gets clicks."
Which has not gone down all that well.
BuzzFeed News has reached out to Redfoo for further comment.