People Are Hugely Moved By Gareth Southgate Showing His Class After England's Win
The England manager put his arm around Mateus Uribe, who suffered the same devastating experience he had 22 years ago.
This image of Gareth Southgate consoling Colombia's Mateus Uribe in the wake of his crucial penalty miss against England has gone hugely viral.
The reason is the backstory: 22 years ago, at Euro '96, Southgate's penalty miss against Germany at Wembley led to the England national side being knocked out of the tournament.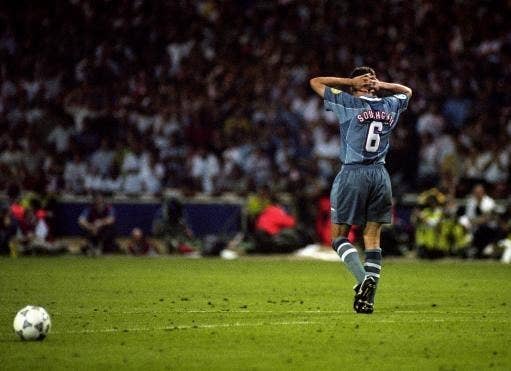 Prior to the match against Colombia, England had lost six of their last seven penalty shootouts at major tournaments.
Speaking about his memories of the incident recently, Southgate said: "I was a volunteer, really [in Euro '96]. The type of character I was, I felt you should put yourself forward. It is probably braver not to, if you are not confident."
He has been determined, as a manager, to make sure that his own players should "own the process" of taking penalties, rather than the manager looking for volunteers.
People have praised Southgate for the class he showed after a niggly match.
And the fact he spared a thought for the opposition during what must have been a moment of huge personal redemption.
In summary: