This footage of a black bath bomb has had 1.4 million views since it was posted on Instagram by @toxicbitchcraft.
And it has people on Twitter and Tumblr absolutely losing their shit.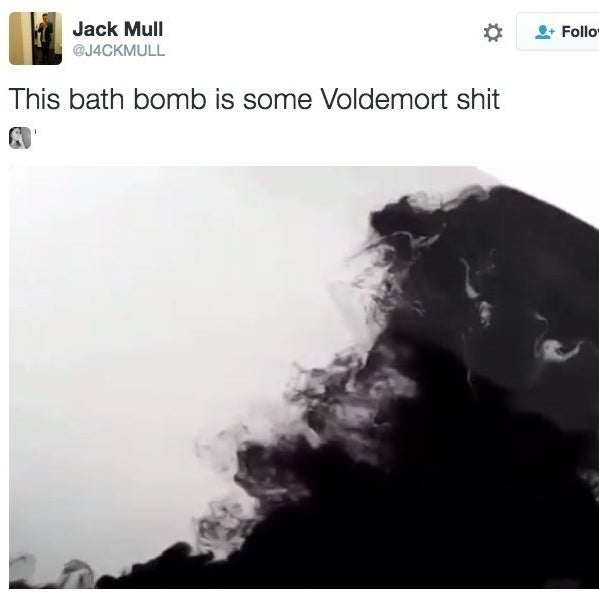 It's also not the only amazing bath bomb the company sells.
Maria (she declined to give her last name) from Bella Muerte told BuzzFeed: "Our hex bombs are completely handmade. As we own a gothic clothing store, I have had a huge interest in the gothic subculture and fashion since I was a teenager. I had been thinking about creating beauty products that would appeal to likeminded individuals and that would be unique."
She went on: "I started with the designs for hex bomb in January 2016, made a few prototypes, made a few mistakes but with a lot of trial and error, product testing and certification, we released the product through Instagram."
"To our surprise the response to hex bombs has been amazing," she said. "I honestly just wanted to make a gothic product that I would have been happy to purchase."
The company's first bath bomb was "Bathory", which Maria said was "our blood bath bomb, to basically test the gothic waters".
"Now videos of our 'Black as Your Soul' have been seen by millions – thanks to our customers who have been our best promoters."
And what's in them? Maria said: "All products have different fragrant oils – Black as Your Soul [is] rose scented. The recipe is secret obviously as a lot of copycats have been asking, but all ingredients are on the tubs."
She added: "As well as being safety-assessed our products are cruelty-free and vegan! We have some new products up our sleeves which we will be releasing next Monday 13th 😀"