MP Criticised For Hosting Celebration Of Bahrain In Parliament After Taking Funding From The Kingdom
Jack Lopresti MP told BuzzFeed News he was "delighted" to welcome the Bahraini ambassador to the House of Commons.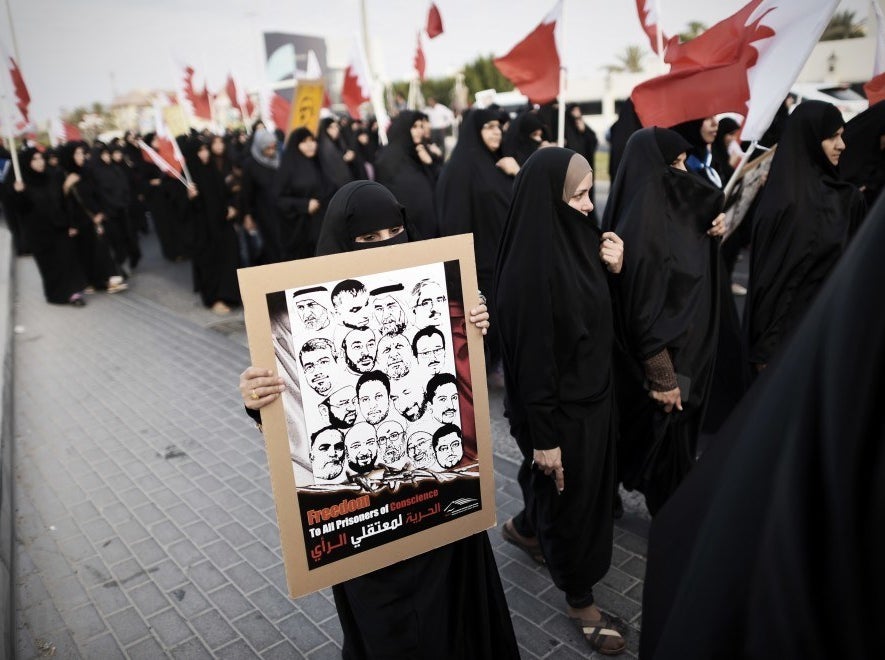 Right, a Bahraini woman holds a placard featuring portraits of jailed political activists during an anti-government protest in the village of Jannusan, 5 September 2014, and left, Jack Lopresti MP.
An MP has been criticised for sponsoring and hosting a parliamentary event at which Bahrain's relationship with the UK will be celebrated after recently receiving thousands of pounds' worth of funding for foreign trips from the repressive Gulf kingdom's rulers.
Jack Lopresti, Conservative MP for Filton and Bradley Stoke, has, on behalf of Sheikh Fawaz bin Mohamed Al Khalifa, the Bahraini ambassador to the UK, invited fellow MPs to an event in the House of Commons on Monday titled "Celebrating the Bicentenary of Bahraini–UK Relations".
Over the last two years, Lopresti has received a total of £7,803 from Bahrain's Ministry of Foreign Affairs to participate in the IISS Manama Dialogue and the Conservative Middle East Council "parliamentary fact finding delegation", despite not being a member of the council.

Liberal Democrat MP Tom Brake told BuzzFeed News: "MPs must be squeaky clean and above any suspicion when it comes to dealings with foreign governments, particularly those with poor human rights records. Sponsoring an event in parliament for the Bahrain government, which has paid for expensive foreign trips for that MP to that country, whilst perfectly legal, fails the Persil test."
Labour MP Helen Goodman said: "Every day we hear of new human rights violations in Bahrain. Jack Lopresti should be asking the Bahraini ambassador some very hard questions – instead he is being wooed by paid for trips and promoting the repressive Bahraini state in the House of Commons."

However, Lopresti defended the event, telling BuzzFeed News: "I will be delighted to welcome Sheikh Fawaz bin Mohamed Al Khalifa, the Bahraini ambassador, to the House of Commons on Monday to celebrate the bicentenary of Bahraini–UK relations. Bahrain is one of our country's key strategic allies in the Gulf and the Bahrainis are in the process of building the UK's first naval base east of Suez since the 1970s.
"I was pleased to attend the Bahraini Airshow in January when it was announced that the Bahraini national carrier, Gulf Air, would be purchasing 29 Airbus aircraft to the value of $3.4 billion, which is great news for engineering jobs and the economy here in the UK; and, indeed for my constituency of Filton and Bradley Stoke."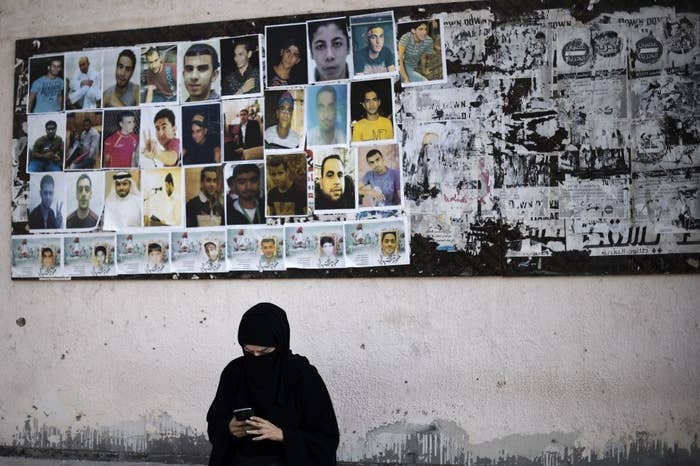 In 2010–11 Khalifa was the head of the Information Affairs Authority, Bahrain's information ministry, which closed down – and subsequently reopened – Al Wasat, the country's only independent newspaper.
Sayed Ahmed Alwadaei from the Bahrain Institute of Rights and Democracy said: "Sheikh Fawaz oversaw the worst crackdown on media freedoms in Bahrain's history. Instead of being held to account for this, he was rewarded with one of Bahrain's top diplomatic jobs. No MP who believes in the freedom of press should have any association with this man."
The revelation comes weeks after another Conservative MP was criticised for his links to a Gulf state. Rehman Chishti MP is facing an investigation by the parliamentary commissioner for standards after The Times revealed that he had been receiving £2,000 per month from a think tank with links to Saudi Arabia and had made statements in the Commons advancing Saudi interests. He told The Times he believed he had acted in accordance with the rules. Chishti has similarly advocated for the government of Bahrain.
This week the British government responded to written questions from Goodman regarding BuzzFeed News' story last month that showed Britain used conflict resolution cash to water down human rights concerns that were due to be expressed by the UN regarding Bahrain.