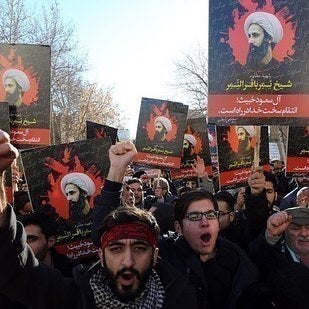 (Left) Protesters in Tehran following executions in Saudi Arabia on 3 January 2016 and (right) Sheikh Nimr al-Nimr lies wounded in the back of a police car, following his arrest on 8 July, 2012.
A Liberal Democrat MP, Tom Brake, has tabled a question in parliament asking for the foreign secretary to make public reports his department has received from the Saudi Arabian military regarding the Saudi-led coalition's bombing campaign in Yemen.
The existence of the reports was revealed last week by Philip Dunne, the minister for defence procurement, at the committee on arms exports controls. He said that officials based in Riyadh were receiving reports from the Saudi air force into its raids in Yemen.
Brake's question was tabled the day after the international development select committee published a report concluding that government's claim that Saudi Arabia's campaign has not breached international humanitarian law was "deeply disappointing".
David Cameron's governments have overseen the sale of over £5.6 billion of military licences to Saudi Arabia since 2010, according to research published by Campaign Against Arms Trade. The UK's support for the kingdom has generated overwhelming criticism from campaigners, who accuse them of breaking international law.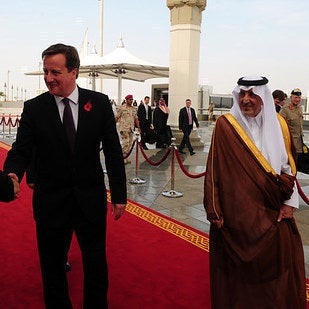 Brake told BuzzFeed News: "After months of evasion, the government is finally opening up about their role in Saudi Arabia's brutal bombing campaign in Yemen, which has been accused of severe breeches of humanitarian law.
"It is clear now they have access to Saudi reports on each strike, and I believe these reports should be fully published. The government has so far claimed they have not breached human rights law by providing arms to Saudi Arabia, and if this is the case they have nothing to hide. For full the sake of full transparency, publishing these documents is clearly the right thing to do."
The foreign secretary, Philip Hammond, has thus far faced down calls for an independent report into the Saudi-led coalition's bombing campaign, despite criticism from Médecins Sans Frontières (MSF, aka Doctors Without Borders) after a number of the charity's health facilities came under attack from Saudi-led airstrikes and claims from the UN that civilians have been targeted.
Quite apart from these allegations, there is a growing humanitatrian crisis in Yemen due to the bombing – a recent Unicef report has claimed 320,000 children are at risk of severe acute malnutrition, and 1 million children are projected to suffer from moderate acute malnutrition.
Yesterday the international development committee said that Saudi Arabia's internal investigation into the bombing campaign was inadequate, conlcuding: "The failure to hold parties to the conflict to account for their actions appears to have contributed to an 'anything goes' attitude by both sides to this conflict."