The Mirror is making significant cuts to its online news and new formats sections, BuzzFeed News understands, with both Ampp3d and UsVsTh3m likely to be axed.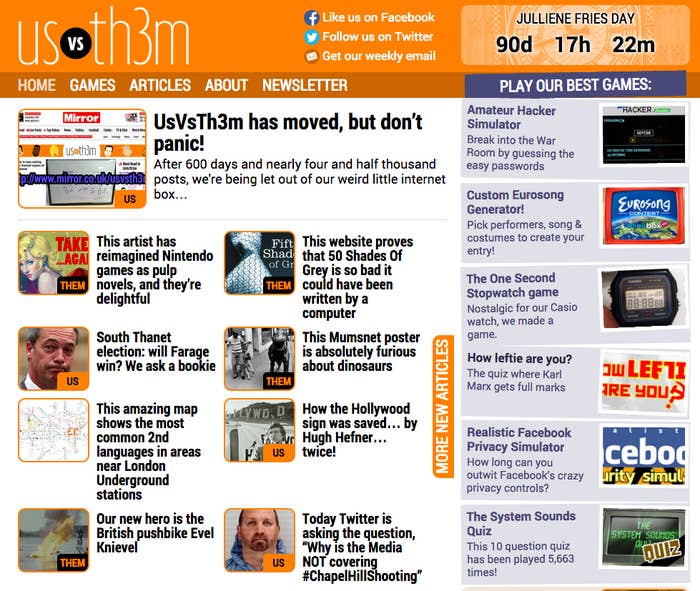 The move comes months after Pete Picton, former deputy publisher of MailOnline, became editorial director of Mirror Online. He took over from Malcolm Coles.
BuzzFeed News understands that 14 jobs across UsVsTh3m, Ampp3d, and Row Zed are at risk of redundancy after a 30-day consultancy period. All three brands will continue to publish content, but on a reduced basis.
It is expected that 27 redundancies will be made across the Mirror operation as a whole, with the remainder on the print side. However, eight new online roles will be created.
A Mirror spokesperson told BuzzFeed News:
"We have been open about the need to manage costs, ensuring we are making the best use of our resources as well as driving growth as part of our core strategy.
"UsVsTh3m and Ampp3d are more niche areas and have very high costs for the volume of traffic. It is therefore more sustainable for us to invest resource in an integrated digital team, focusing on the main areas of the Mirror site which have more mass-market appeal.
"We remain committed to digital and will continue to invest and innovate in this area, including with new roles both now and in the future. The sites will remain for the time being.
"We are also proposing reducing a small number of roles in our print editorial and production teams. This is largely as a result of more effective ways of working following the integration of the Sunday teams last year, but also includes amalgamating some of our district cover."
The Mirror's new formats team was started by Coles and consultant Martin Belam in 2013 with the creation of UsVsTh3m, an experimental site focused on sharable content and games. It was initially launched on Tumblr rather than The Mirror's main website.
This was followed by with the launch of data journalism site Ampp3d later in 2013 and sport-focused offering Row Zed in 2014, with Belam joining full-time as new formats editor in early 2014.
However, when The Telegraph poached Coles in December 2014, the new formats operation is understood to have lost its main backer among Mirror executives, and the different brands have already been folded into the main Mirror website.
Sources close to the online team told BuzzFeed News that they believe Picton's vision for The Mirror's websites is based around the MailOnline model, so the current crop of brands do not fit with his plan.
Staff were apparently told that quantity of traffic was one of the reasons for the decision, although some have challenged this, citing the fact that Amp33d in particular was an attempt to produce more highbrow content.
Martin Belam told BuzzFeed News:
"I've had the most amazing fun over the last couple of years. Watching millions of people play things like 'Are you hated by the Daily Mail?' or read articles like '7 toilets that we'd rather have as justice secretary than Michael Gove' from a national newspaper group has been brilliant.
"I think traditional media organisations have struggled to find a character or tone that really reflects what the web is like, and all of my projects at Trinity Mirror were an attempt to do that.
"And they were all experiments.
"We initially set up both UsVsTh3m and Ampp3d with everybody on three-month contracts, to try and replicate the energy you need to make a start-up work.
"The fact that they lasted this long and will be missed by the people who enjoyed them is a testament to the talent of the teams themselves, who I love like family. I think Ampp3d and UsVsTh3m have just produced a brilliant range of coverage of the general election and the aftermath, and I'm very proud of that.
"It was great that Simon Fox was prepared to take a risk on finding something like this, and Chris Ellis and Malcolm Coles were very generous in giving me the time and space to build things the way I wanted to.
"We're going to stop doing them, which is sad, but I'd always much rather try something new than sit on my hands fretting about the future of digital media without actually trying to influence or change it."