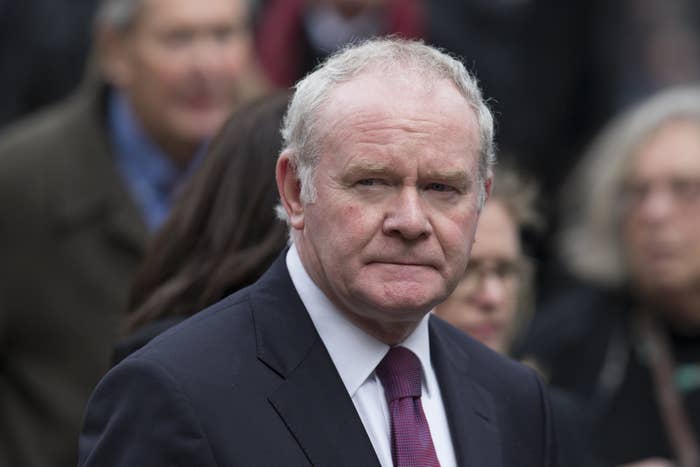 The former Northern Irish deputy first minister Martin McGuinness has died aged 66. He was understood to be suffering from a rare heart condition and reportedly spent two weeks in hospital at the end of February.
McGuinness's resignation from politics earlier this year, in protest at a botched energy scheme, sparked a political crisis in Northern Ireland.
As a former IRA leader who became a peacemaker, McGuinness was always a controversial figure for many both in Ireland and those over the Irish Sea. However, he was Sinn Féin's main negotiator during the peace process, and he later built a working relationship with Ian Paisley of the Democratic Unionist Party, who was first minister when power sharing was restored to Northern Ireland in 2007.
McGuinness once said: "My war is over. My job as a political leader is to prevent that war and I feel very passionate about it."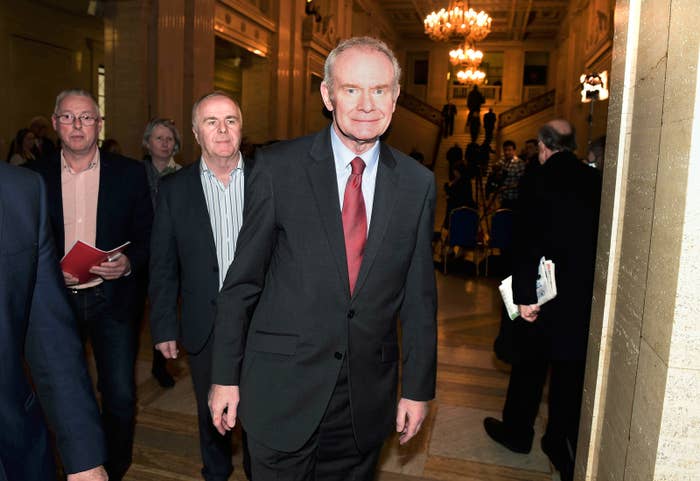 UK prime minister Theresa May said that although she could not condone the earlier part of McGuinness's life, he "ultimately played a defining role in leading the Republican movement away from violence".
"While we certainly didn't always see eye-to-eye even in later years, as deputy first minister for nearly a decade he was one of the pioneers of implementing cross community power sharing in Northern Ireland," she said in a statement.
"He understood both its fragility and its precious significance and played a vital part in helping to find a way through many difficult moments."
Former PM Tony Blair said he grew up hearing about McGuinness's IRA activities, only to come to know him personally as a man "who set aside that armed struggle in favour of making peace".
Blair said those involved in the Northern Ireland peace process knew "we could never have done it without Martin's leadership, courage and quiet insistence that the past should not define the future.
"Whatever the past, the Martin I knew was a thoughtful, reflective and committed individual. Once he became the peace maker he became it wholeheartedly and with no shortage of determined opposition to those who wanted to carry on the war."

Labour leader Jeremy Corbyn said McGuinness played an "immeasurable" role in bringing peace to Ireland, "after years as a key protagonist in the tragedy of the conflict".
Corbyn said McGuinness's "absolutely crucial role" in the peace process "remains an example throughout the world of what can be achieved when the will is there".
"As we reflect on his role," Corbyn said, "the past twenty years have shown us that if there is leadership and the will on all sides, we can achieve change."
Scotland's first minister Nicola Sturgeon said that "without his hard and brave work to bridge the divide, peace would not have been achieved".
"I had the opportunity in recent years to get to know Martin through our work in the British Irish Council and Joint Ministerial Committee – his deep understanding of both the importance and fragility of the peace process, and also his optimism for the future, was obvious to all," she said.
The Irish premier, Enda Kenny, said McGuinness's death "represents a significant loss, not only to politics in Northern Ireland but to the wider political landscape on this island and beyond".

After McGuinness came to believe in the peace process, Kenny said, "he committed himself to working tirelessly to that end.
"His commitment to securing enduring peace and prosperity for all of the people of Northern Ireland was unwavering throughout this time. He strove to make Northern Ireland a better place for everyone, regardless of background or tradition."
Arlene Foster, leader of the DUP, expressed her "sincere condolences" to McGuinness's family, adding: "Today's news will come as a shock to many people.

"First and foremost, Martin McGuinness was a much loved husband, father and grandfather. My thoughts and prayers are with his wife and the family circle at this very painful time of grief and loss."
Sinn Féin president Gerry Adams said that throughout his life McGuinness was a "passionate republican". He "showed great determination, dignity and humility and it was no different during his short illness", Adams told Irish newspaper The Journal.
Adams, who worked alongside McGuinness during the peace negotiations, said: "He was a passionate republican who worked tirelessly for peace and reconciliation and for the re-unification of his country. But above all he loved his family and the people of Derry and he was immensely proud of both."
Colum Eastwood, the leader of rival nationalist party the SDLP, said McGuinness's "remarkable journey from paramilitarism to peace was a hallmark of the transformative effect of the peace process".
Eastwood said McGuinness's "warm and affable nature" allowed him to reach beyond his traditional political base, demonstrating " a rare gift that came as much from his personality as his politics. It is that gift which is needed in our politics at this moment."
Ulster Unionist leader Mike Nesbitt, a member of the Northern Ireland Assembly, said today would be "challenging" for relatives and friends of victims of the Troubles.

"I believe no one needed to die to get Northern Ireland to where it is today," Nesbitt told The Guardian. "Clearly Martin McGuinness very actively disagreed with that analysis, but I also accept in his later years he was on a journey to create change through politics, becoming a pivotal figure at Stormont.
"It would be less than honest if I said other than that I found him a straight-dealing politician in any engagement I had with him. History will reflect a complex life story."
Colin Parry, whose son Tim was killed by the IRA in Warrington town centre in 1993, told the BBC that while he and his family would never forgive the IRA, he knew McGuinness as a "quiet man of peace".
McGuinness was brought up in poverty in Derry's Bogside during the 1960s. As a young adult, he was drawn to violent republicanism, becoming second-in-command of the IRA at a time when the organisation's bombing campaign was at its peak.

He was present when 13 protest marchers were shot and killed by soldiers on "Bloody Sunday" in 1972. He served two prison sentences as a result of his membership of the IRA, but by 1974 he claimed to have quit the organisation.
He gradually became the public face of Sinn Féin's transition as it overtook the SDLP as the biggest nationalist party in Northern Ireland.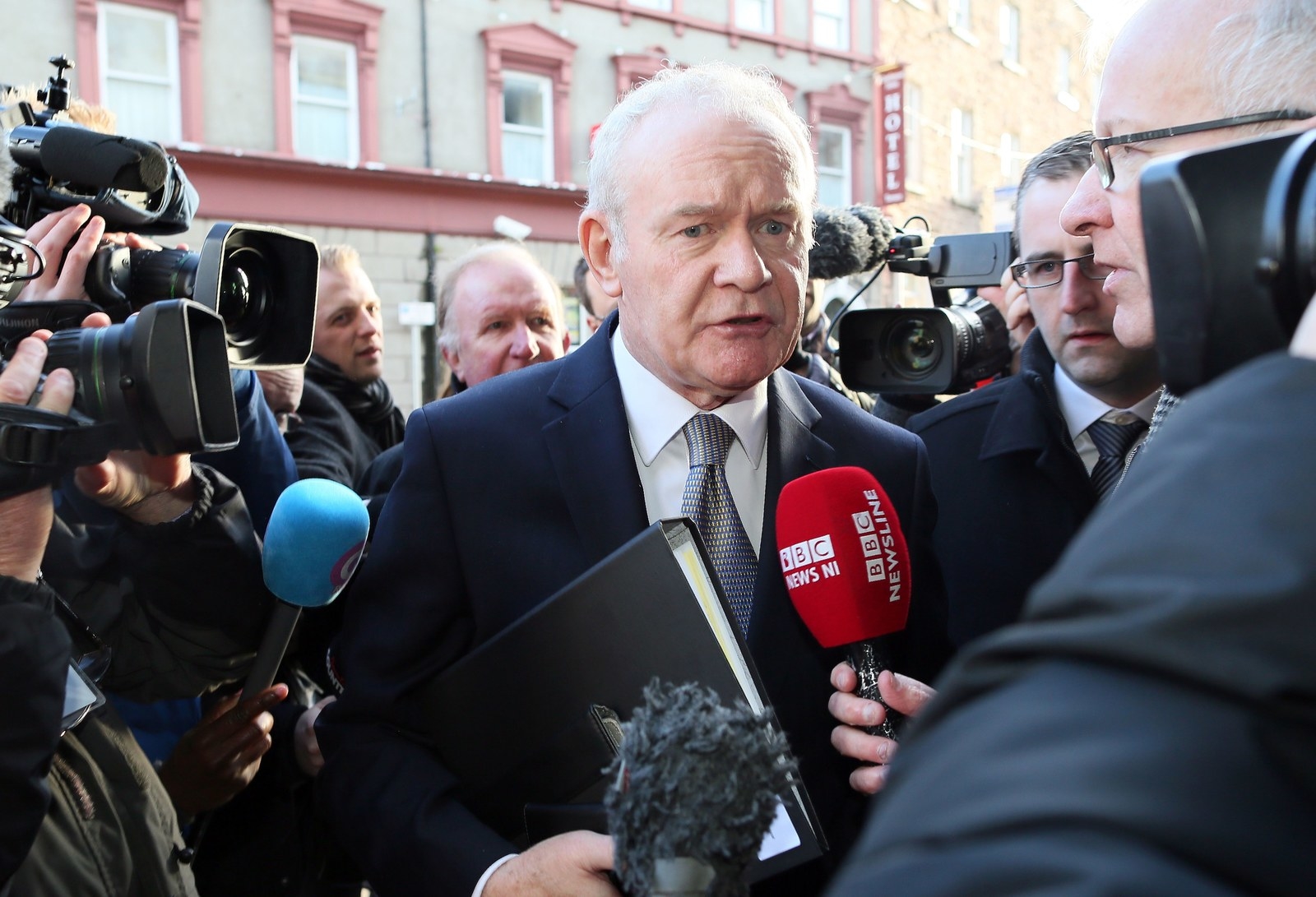 When in 1997 he became the MP for mid-Ulster and took on the role of education minister at Stormont, he was at the heart of the government during the historic Good Friday Agreement.
The peace accord, also known as the Belfast Agreement, is seen as the beginning of the end to the Troubles – although one of the Real IRA's deadliest attacks, in which 29 people died in a bombing in Omagh, came after it was signed.
David Trimble, later knighted, headed up the coalition government as leader of the Ulster Unionists, the largest party in Northern Ireland. He recalled McGuinness as a calm individual, a counterpoint to Gerry Adams' more aggressive style. "I don't think I can remember any occasion bar one where either during negotiations, or indeed when McGuinness was the local education minister, that he ever lost his temper or shouted at unionists in meetings," Trimble told The Guardian.
By 2012 McGuinness was famously shaking the Queen's hand in Belfast. A photograph of the event became synonymous with how far the peace process, and Northern Ireland, had come following the Troubles.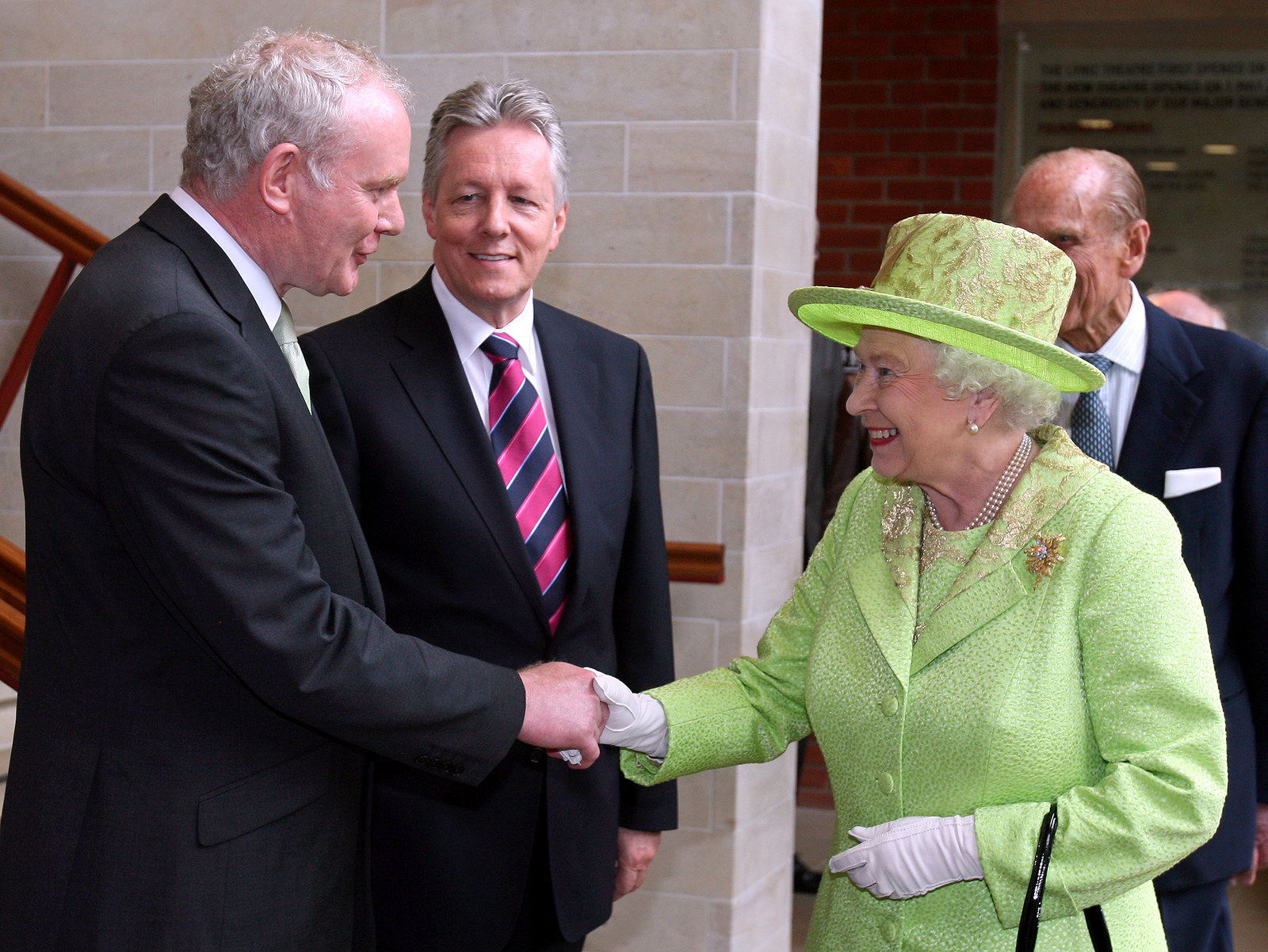 It was a remarkable scene given the questions that dogged his reputation in the 1980s and '90s – with McGuinness forced to deny that he was aware of an IRA bomb in Enniskillen that claimed 11 lives and TV documentary claims that he was a leading IRA member at at time when the organisation was murdering hundreds of people.